Atlantic Spain and Portugal: ORCA Interaction Advice to Yachts
Previous Page
News Intro
Following reports of pods of Orca harassing and in some cases ramming yachts in the area from the Straits of Gibraltar to NW Spain, Spanish and Portuguese authorities have devised an action plan for yacht skippers. This information shared by The Royal Cruising Club Pilotage Foundation and important information for yachts on passage north or south along this coast.
Last Update - April 23, 2021
News Item Content
Plan of the likely route and areas for attack risk.
In 2020, several groups of Orca whales were encountered between 2 and 8NM from the coast off the Iberian Peninsula, that interacted with yachts both sailing and motor-sailing, in some instances in a "threatening" manner.
This is an endangered subpopulation of killer whales that migrate around the Iberian peninsula. The map adjacent shows the likely migration route and areas where the likelyhood of encountering Orcas is high.
Ruth Esteban, PhD, of the Madeira Whale Museum, told Noonsite that at this time there is no clear defined timing for Orca migration. Normally they tend to stay until late August in the Straits of Gibraltar and then leave to migrate north, however last year they moved to the north earlier than expected. It cannot be overlooked that the Orcas may be migrating into the Bay of Biscay this year.
Henry Buchanan, author of
Atlantic Spain and Portugal
from the Royal Cruising Club Pilotage Foundation, has shared this "Action Plan" with Noonsite, that was devised for yacht skippers by the Portuguese and Spanish authorities in March 2021.
If Orca are sighted and begin to interact with your boat:
STOP the boat (take down the sails), leave the wheel loose if sea conditions and pilotage allow it.
Contact the authorities (by phone on 112 or by radio on VHF channel 16).
Take hands off the steering wheel and secure the boat for possible collision effects.
Do not shout at the animals, do not touch them with anything or throw things at them, do not let yourself be seen unnecessarily. But if you have a camera phone, or other device, record the animals especially their dorsal fins, to help identify them. All information of this sort should be sent by email to:

[email protected]



After a while check operation of the rudder, and if necessary request assistance from the authorities through VHF channel 16 or phone on 112.
Make notes of the interaction, record the date/time and your position.
Medium-sized yachts, equal to or less than 15m, were most affected with structural damage to the rudder in some.
One of the Orcas photographed by the Spanish Naval yacht "Mirfak"
Ruth explains that the Orca chase the Tuna until the fish gets totally exhausted, even paralysed, and the parts that the whales prefer is the belly of the Tuna which is the meatiest. It is still not known why the Orca whales go for the rudder, but it could be totally unrelated to the fact that they prey on Tuna.
In 2020 a call was made cautioning the media to focus information "on knowledge and conservation" instead of creating "animosity" towards Orcas.
Biologists reminded everyone that "this species is classified as vulnerable in the catalogue of threatened species and that Spain has specific protection standards for them."
This brand new webpage, by the Atlantic Orca Working Group (of which Madeira Whale Museum is a part) is an excellent resource for sailors with lots of great information about Orcas and boats, safety protocols, regulations in Spain, maps of interactions, ID photos and much more.
Our thanks to Henry Buchanan for sharing these details with Noonsite and to Ruth Esteban, PhD, of the Madeira Whale Museum, who supplied much of this information.
Marcos Cesar Garcia Ferreira who encountered Orcas off Barbate in May 2021 when sailing from Gibraltar to Cádiz sent us the following images: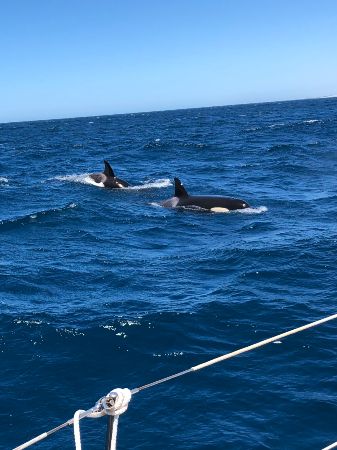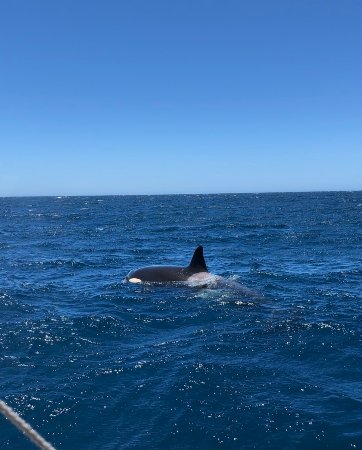 ………………………………………………………………………………………………………………………………………
Related News:
Related Links:
Further Reading:
Update History
April 2021: Action Plan forward by Royal Cruising Club Pilotage Foundation
User Comments
You must register first or be logged-in to leave a comment.