French Polynesia, Tuamotus: Coral Bombies, Snorkelling and Sharks
As they track their way across the Pacific and through French Polynesia, Canadian cruisers Brent Crack and Mary Bevan continue to explore some of the lesser-visited islands. Having left the Gambiers, they headed for the Tuamotus, a group of over 70 atolls circling turquoise lagoons. Here they found a contrasting environment of moonscapes on land and crystal clear waters teeming with wildlife.
Published 3 weeks ago
Hao (Haorangi)

This large coral atoll in the central part of the Tuamotu Archipelago has a population of approximately 1000 and was used to house the military support base for the nucleur tests on Mururoa. It's shape resembles that of a harp, hence its name "Ile de la Harpe".
For us, the main town Otepa was a blasted, moonscape of a town. It's a former French Navy base and they pulled out many years ago. Since then, locals have moved into old base buildings or scrounged pieces to build shelters. It was quite sad and depressing. Two other cruisers there had similar views.
There were two small grocery stores there. Most provisions are available – just be prepared to pay a fair bit (but prices aren't as high as in the Gambiers). The post office has an ATM. If you arrive on the weekend, nearly every store or shop is closed. The town feels like a ghost town on weekends as there is nobody around. It is definitely not like other villages we have visited.
Free internet is available at the Mayor's office, after hours and on weekends. It's 4G, so pretty nice speeds compared to the last number of months.
Another positive of Hao is the old navy marina: a concrete walled basin with enough space for about nine (9) boats, plus more can anchor inside. It was glass calm in this old marina, with no wind except from the northwest. We tied up in there and did a mast inspection. It was fantastic for being up the mast. There were three other cruising boats there at the same time as us.
Mast inspection at Hao.
Although the third largest atoll in the Tuamotus, the population is only approximately 800 people. The settlement – Pouheva – is a very scenic community. Everything is painted and nice. There is a good bakery, three stores and a few restaurants/snack shops. Again, there is good internet here – 4G – which is a nice change. The Post Office has SIM cards and they will also sell data-only cards (first place so far in French Polynesia). People are super friendly – be prepared to say Hello in French and Polynesian a lot! There are very few vehicles as most people ride bicycles. Electric bikes are quite prevalent and seem to be mostly driven by little old ladies going super fast!
Main Street, Makemo.
For the bakery – go early (before 6am) or they are sold out. We went at 5.30am and it seemed like every local was there buying bread. One can also order a day in advance and pick up any time the following day.
The anchorage in front of the village is quite scenic and sheltered from all but southerly winds. Be prepared to float your anchor chain as there is no spot to anchor without coral bombies around. You will wrap your chain if it's not floated.
Makemo Atoll Anchorage
Take the time to snorkel the pass from low slack to incoming tide. We saw some of the best snorkelling I have had since Bonaire. Lots of sharks, lots of fish and a stunning array of vibrant coral. A fun drift snorkel.
Makemo Atoll Sunset
We sailed down the atoll to exit from the west end. A bow watch is a must! Although the water is 20-30 meters deep, coral bombie towers that come within a few centimetres of the surface are prevalent. About 90 percent of them are charted on Navionics. The ones that are not charted are the smaller ones – more like spires than towers. They still come to the surface and will wreck your day if you rub them. I would never think of navigating inside the atoll without a bow watch and good light.
Makemo Atoll – Half Way Anchorage
Tahanea Atoll
A national park within the Tuamotus without people or pearl farms – the uninhabitated Tahanea Atoll has the clearest water we have seen yet. Every detail of the sand below is visible from the boat, making it easy to spot bommies and see fish living their lives. Floating the anchor is necessary as there are lots of bommies, but the clear water sure helps to find the optimum spot.
With only the seasonal small copra harvesting village, Tahanea is a host to many sharks, rays and fish, all of which are curious and don't shy away. It's one of the best snorkelling spots I have seen in French Polynesia. There were only two other boats there when we visited.
While there are three passes into Tahanea, the NW pass has an absolutely amazing drift snorkel. During our stay and drift snorkels, we saw many sharks, rays, fish and a great variety of coral in the incredibly clear water. One of the other boats saw a Marlin during their drift snorkels and we saw four Napoleon Wrasse during ours.
Black tips sharks circling our boat constantly in Tahanea.
While each spot we have anchored in French Polynesia has had cleaner fish greeting new boats, Tahanea has young black tip reef sharks. We had between one and six of these sharks circling the boat at any given time. We believe that people have been feeding them, since any time anything touches the water they rush up to see if it's food — please don't feed the sharks. These sharks followed us while snorkelling the anchor, but kept their distance.
During our stay, one of two boats we anchored near had Starlink. This is a game changer for sailing remote areas without cell coverage. They were able to warn us about an incoming storm and then, when we were all waiting out the blow, was kind enough to share their wifi with us. Instant, high speed internet, allowed us to update our plans based on the rapidly changing weather.
Though there is limited shelter in Tahanea, we managed to move behind a palm treed island on the atoll's northern edge. This basically eliminated most of the waves and swell, so there was only wind to worry about. With a top wind speed of 42kts overnight we were safe and secure – while using internet to chat with friends and family.
The main pass at Tahanea.
While we had perfect timing for entering and exiting the channel, we heard that others found the outgoing tide to be very unsafe with large pressure waves. There is a tidal reporting station on the atoll that can be looked up on most chartplotters. It seems fairly accurate for slack/low current times.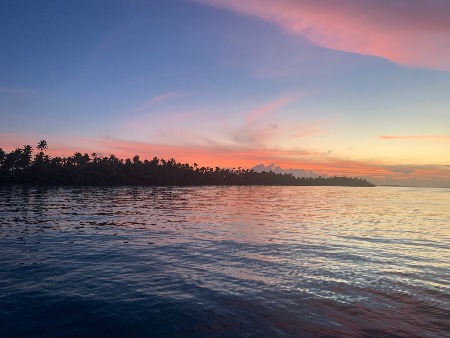 Tahanea is a special place within the Tuamotus. Whether it's out of your way or a possible stop, we recommend taking the time to see this atoll and experience it as it is — quiet, curious and full of life. In many of the atolls we have been, the water is quite cloudy, but Tahanea was gin-clear with visibility well into the hundreds of feet. The water clarity alone is worth the visit.
Toau
Toau Atoll: Anse Amyot/False Pass
On the northern end of Toau Atoll is Anse Amyot and the "False Pass" – so called because it looks like a pass but actually has moorings inside. This False Pass provides very good protection from all directions except west. There are 10 mooring balls available for use and they are in great shape at the time of writing. Various reports have them at $5 for off season use or $10 for in season, but it is a bit of an unknown factor.
Toau moorings.
The house in the False Pass belongs to Valentine and Gaston. They are friendly and welcoming to cruisers and Valentine speaks English. In the past, reportedly, cruisers paid them for the use of the mooring balls, however when we attempted to pay they said it's free. Valentine did ask for something to trade and we provided her with some extra kitchen utensils which she was delighted with. Valentine will reportedly cook a traditional Polynesian meal for cruisers, but reservations must be made in advance.
Snorkelling and diving are the things to do in this location. There is a lot of dirty/high turbidity water exiting the atoll during the falling tide and water clarity is quite poor. As such, the best times seem to be about two hours into the rising tide. There are lots of sharks, wrasse, trumpet fish etc. to see. Also the occasional pelagic fish – we saw a large tuna in about 40' of water which was quite interesting.
So far in our travels in the Tuomotus, this would be the only anchorage I would feel comfortable entering on a dark and stormy night. Due to it being a false pass, there is not a lot of current and it is well lit up with range markers and green/red lights as appropriate. The moorings are large and easy to spot. Quite an easy entrance no matter the weather. If the moorings are full, there appears to be a large sand pad immediately south of the green channel marker and this area does not have very many bommies.
All in all, a nice comfortable last stop in the Tuomotus! Next stop Tahiti!!
Brent Crack and Mary Bevan
SV Knot Safety
………………………………
About the Authors:
Brent Crack and Mary Bevan are two Canadian citizens who are currently sailing across the Pacific. They are on a Lagoon 400 catamaran and are heading for French Polynesia via some of the more remote islands of the South Pacific.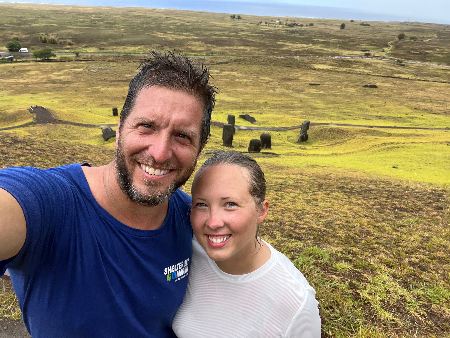 ………………………………
The opinions expressed in this article are the author's own and do not reflect the view of Noonsite.com or World Cruising Club.
………………………………
Read more about Brent and Mary's journey westward across the South Pacific:
See more "Off the Beaten Path" articles and resources here.
………………………………
Find out all news, reports, links and comments posted on Noonsite, plus cruising information from around the world, by subscribing to our FREE monthly newsletter. Go to https://www.noonsite.com/newsletter/.