Pitcairn Island: Well Worth the Journey
After leaving Rapa Nui (Easter Island), Canadian sailors Brent Crack and Mary Bevan set sail for Pitcairn Island. Once there, they found another unique destination with friendly locals and an experience that they say would be hard to replicate anywhere else.
Published 2 months ago
On January 15, 2023, we set sail from Rapa Nui (Easter Island) to Pitcairn Isand. Our journey spanned eight and a half days of mainly downwind sailing.
No barriers to entry
Prior to departure, we had emailed Pitcairn Island contacts and enquired about entry requirements, in addition to providing notice of our impending arrival. Their response was quick and there were no special requirements for entry.
Ten miles to the island, we called in and received a clear response. We were told that we would be best to anchor on the west side of the island that day. On our five mile call, we asked for the coordinates to the western anchor position and they provided a spot from a previous boat. Our route to the western anchorage took us directly in front of the main town, and all the locals watched as we went by. We were visible to everyone and all knew we were there because they had been monitoring the radio.
Weather dependent anchorages
The western anchorage is visible from some lookout spots on the island, but is otherwise hidden and private. Had we been able to anchor on the eastern side at Bounty Bay, we would have been in front of the town. Since the island has no sheltered anchorage options, our stay and choice of anchorage was entirely weather dependent.
Pitcairn Island Anchorage.
Island landing fees are $100 NZD per person, which cover an assortment of fees and include a visit to the island museum. Getting from your boat to the island includes two options — you can take a dinghy in, or they can come out to get you for $50 NZD from Bounty Bay or $100 NZD from the western anchorage. We chose to lower the dinghy after confirming that it would be able to handle the journey.
We kept a portable radio with us as there is no cell reception on the island and everyone uses radios or wifi. Customs and immigration met us at the dock and helped us to lift the dinghy out of the water — something which had to be done each time. We filled out paperwork there and were given a ride up to the treasury office to pay our fees.
Novelty visitors!
We were informed that we were the first cruising vessel in months to visit Pitcairn Island, and only two cruising vessels had visited in the last year. Those vessels had a total of 14 passengers and were both superyachts. As such, we were viewed as a bit of a novelty, being only two people on a catamaran.
The island itself is a magnificent rugged landscape of volcanic rock covered in diverse plant life. There are fruit trees growing wild nearly everywhere you go with an abundance of mangoes and bananas. There are a few species of plants and flowers here which aren't found anywhere else in the world, as well as animals such as crabs, skinks (small gecko sized lizards), and birds. Bring good walking shoes with excellent grip for some of the more adventurous hikes and root-filled walking paths.
The rugged beauty of Pitcairn Island.
Provisioning on the island is good. They have one market open three days a week from 8am to 10am. They take only cash, but will accept NZD as well as USD. Our time on the island was only days before the resupply ship and we were still able to find most of what we needed. Fruit and vegetables can be purchased from locals or picked from the sides of the roads.
Pizza and bread can also be purchased from locals — ask and someone will guide you in the right direction. With a current population of 44 people, everyone on the island is able to direct you where you need to go or who you need to talk to. They are also able to fill propane bottles on the island – North American fittings can definitely be filled and reportedly there is a fitting available for other tanks.
Well worth the journey
Transportation around the island is by either walking or a lift from a local on a quad. It is not a large island, but the hills do require some good walking shoes and a water bottle. Roads are either paved near the town or dirt. Water on the island is rainwater.
At the time of our visit, no children live on the island — all have left for boarding school in New Zealand. The locals are very welcoming and friendly. As we are English speakers, it was great to visit an English-speaking island and made for easy communication and direction.
This island is well worth the journey to visit, though they get very few visitors aside from cruise ships, which typically keep passengers on board while the locals go out to meet them, though some do come to the island.
Pitcairn Island is a long way from anywhere!
Since the only way to visit the island is by boat, Pitcairn Island is a stop we very much recommend be added to your list. It has certainly gone down as a unique visit and one that can't be replicated elsewhere.
Brent Crack and Mary Bevan
SV Knot Safety

………………………………………………………………………………………………………………………………………..
About the Authors:
Brent Crack and Mary Bevan are two Canadian citizens who are currently sailing across the Pacific. They are on a Lagoon 400 catamaran and are heading for French Polynesia via some of the more remote islands of the South Pacific.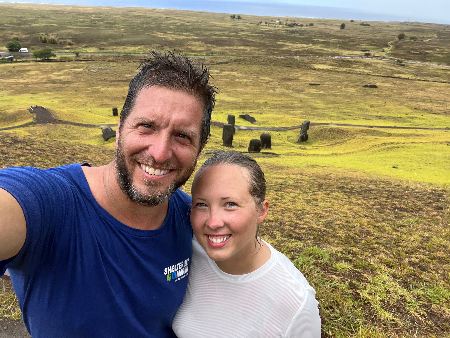 ………………………………………………………………………………………………………………………………………..
The opinions expressed in this article are the author's own and do not reflect the view of Noonsite.com or World Cruising Club.
………………………………………………………………………………………………………………………………………
Read about their visit to another remote South Pacific Island:

Rapa Nui (Easter Island) – Nothing Short of Amazing

See more "Off the Beaten Path" articles and resources here.
………………………………………………………………………………………………………………………………………..
Find out all news, reports, links and comments posted on Noonsite, plus cruising information from around the world, by subscribing to our FREE monthly newsletter. Go to https://www.noonsite.com/newsletter/.