French Polynesia: Obtaining Authorization to Enter with a Compelling Reason
French Polynesia is now open to cruising yachts with vaccinated crew with no restrictions (other than pre-authorization), however prior to August 8th all yachts needed a compelling reason to enter (still a requirement for un-vaccinated yachts). SY Dunracin, on passage to Australia, needed to stop at Nuku Hiva for supplies and then subsequently had to make an unscheduled stopover in Papeete for urgent repairs. Here's how they did it.
Published 1 year ago
Safely at anchor
Our initial entry into French Polynesia was at Nuku Hiva on August 21, 2021.
Compelling Reasons
When we made the application to enter FP, all yachts had to have a compelling reason to get authorization. On the DPAM form when we entered Nuku Hiva for the fist time, our compelling reason was that we were in transit to Australia (and needed to stop for supplies).
When we re-entered FP in Papeete (after departure from Nuku Hiva and suffering rigging failure) our compelling reason was that we needed to repair our rigging.
The Application Process
We engaged the agent Kevin of Nuku Hiva Yacht Services. We sent him the DPAM application and $100 US and we had approval to enter French Polynesia in three days. Note the DPAM form is very different today because the day before we checked in, the islands went into lockdown.
Kevin then helped us check in. He also has a laundry service 1500 XPF for a wash, dry and fold. He charges 1000XPF to take you and your jerry cans to the service station near the wharf for fuel. Fuel was 133XPF per litre. The fuel dock is the main wharf and it is too rolly to tie up to, it is suggested you drop anchor and go stern to. We saw a fishing boat do that and decided against trying it.
From Nuku Hiva to Australia – via Papeete for Repairs
We then checked out of Nuku Hiva and we're on our way to Australia when we had a failure of one of our D2 rigging wires. (We had both D2s replaced in Panama so we were surprised by the early failure). We were 150 miles from Tahiti so we headed to Papeete for repairs.
We emailed DPAM our intentions and request to enter French Polynesia again. They did not reply in text but instead sent us the DPAM application form. On the iridium Go email it took several tries and around 20 minutes to download. I had a PDF editor on my iPad so I was able to fill it out and send it back to them.
Forms Frustration
We arrived at Point Venus next morning and received an email from DPAM that I assumed was our approval, no text just a form. Twenty minutes later it turned out to be the same blank form I had already filled out. No text, just the form. I sent them the form again and emails asking if the form was ok and all I received in reply was another copy of the form. After getting nowhere in four hours I told them I was going to get my agent to send them the form.
I had my sister in Australia submit the exact same form I had filled out the day before and within minutes they acknowledged receipt of the form and said they would start processing it.
Next morning I received an email, no text, with the attachment. Twenty minutes later I had it downloaded and it was stamped permission granted. I think they were just wasting my time with all the emails.
Arriving in Papeete
When we arrived we checked in to the Marina de Papeete, 27,337 XPF for one week plus 500XPF for 1,760 litres of water. Next day we went to the Gendarmes at the airport to check in. The Gendarmes can be found at the international arrivals hall at the airport. They said we had to have permission to enter, we showed them the DPAM form, then they went and found it on their system. Then they couldn't understand why we wanted to check in again as we'd already checked in at Nuku Hiva. It took around 40 minutes and they eventually worked out what was going on, gave us a passport stamp and were all smiles as we left.
Tahiti is a lovely place.
Then we had to go to Customs back at the port and they had a similar confusion over re-entering the country. Eventually they also worked out what was going on and explained that the temporary import of the boat is dated from the date of first entry, as we didn't go to another country when we checked out from Nuku Hiva. That's not an issue for us as we are going to Australia as soon as the rigging is repaired.
Further Restrictions

As far as on going monitoring, we didn't see any in Nuku Hiva and none here in the marina at Papeete. There is a requirement to check in with the Harbour Master Office. The marina office did that for us. Then if you are going more than 50 miles from Tahiti you must request a clearance from the Harbour Master three days before departure from Tahiti or Moorea.
It's a long process but worth it. Tahiti is a lovely place. Weekend lockdowns are now over but there's still a curfew from 2100 to 0400 everyday.
The Facebook page of the Haut Commisariat has an English version of the COVID restrictions on shore- https://www.facebook.com/hcrpf987.
Earl Dagan
SY Dunracin
Australia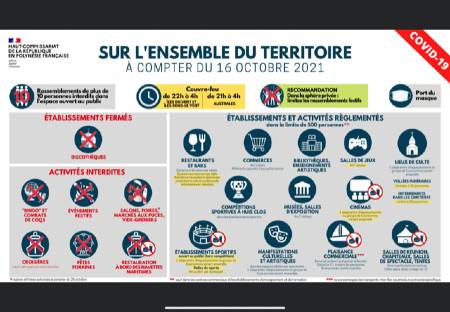 ………………………………………………………………………………………………………………………………………….
Related Reports:

Read all French Polynesia Formalities on Noonsite, including how to get a long stay visa here.
………………………………………………………………………………………………………………………………………….
The opinions expressed in this article are the author's own and do not reflect the view of Noonsite.com or World Cruising Club.
………………………………………………………………………………………………………………………………………….