Just a few days ago SV Europa arrived in Cuba from the DR. Arrival procedures were straightforward with just one test required on arrival due to passage time being incorporated into quarantine days. Here skipper Fabian Eder reports on the arrival protocols and the current situation in Varadero and Cuba.
Published 2 years ago
SV Europa in Varadero
A few days ago we sailed to Cuba from the Dominican Republic and I would like to share some useful information for others coming behind us.
Arriving in Cuba:
Coming from Luperón, Dominican Republic, we planned to sail to Puerto de Vita and make the entry procedures at the Gaviota Marina "Oriente". Unfortunately the port was closed due to Covid-19 (and still is), but the marina answered my e-mail and told me that the only ports in Cuba open for yachts to carry out all entry procedures are: Marina Gaviota Varadero, Marina Hemingway, Marina Cayo Largo del Sur , Marina Cienfuegos, and Marina Santiago de Cuba.
Yachts can only clear-in at a Marina. Yachts are not welcomed in commercial ports as long as there is no urgent reason like very bad weather or technical problems. The commercial port in Havana allows yachts to enter only in these specific circumstances and charges a minimum of 200 USD / Day.
Clearing-in at Varadero and Covid Protocols:
There are two marinas in Varadero. The "Darsena Varader" belongs to Marlin Marinas (see details further down this report) and is the smaller one. It is not a port of entry. The "Gaviota Marina Varadero" is the Port of Entry for Varadero. The Marina offers places for approx. 500 yachts. We counted about 20 catamarans for tourist groups and another 20 charter motoryachts based in the marina. Besides that there are 5 private yachts in the water. The Marina is empty.
We arrived on a Wednesday. The Clearance was straight forward. At the Customs dock the dockmaster was our communicator with the officials. He gave us all the paperwork and asked questions on behalf of the officials. Everybody was wearing masks, gloves and face shields/glasses and direct contact was avoided.
On arrival you need 2 PCR tests within 5 days. One should be made in the country of origin, the second is made when you arrive. In case you sail 5 days or more, the passage time is taken into account as a quarantine and you will be free with one test. Until you receive the result, you must stay in quarantine. The results usually takes 72 hours.
After Clearance we had to immediately take a PCR test.
After the test we were advised to berth on a separate pontoon, kind of a "quarantine" dock. We were not allowed to leave the dock and move into the marina until the results of the test arrived (within 72 hrs) – assuming they were negative.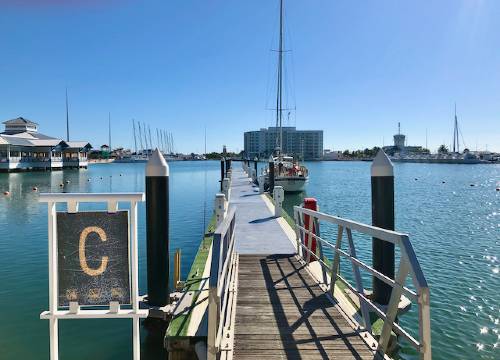 After 72hrs, on the Saturday, we received negative results and the good news came that we didn't need a 2nd test, because the authorities took our passage time into account as quarantine (we were on passage for 5 days). We were now free to travel to all places within the public lockdown restrictions.
Today a Canadian yacht arrived coming from Key West. The owner told me, they made a test in the USA before departure which they showed upon arrival. So they also have just to do one test. Key West is approx. 80 nm from Varadero.
If you have to wait in quarantine and take the second test, then COVID-19 clearance takes approximately 8 days. After the first test results (assuming they are negative) you are allowed to move around the marina. Getting supplies during quarantine was difficult. The staff supplied us with some bread and vegetables on a private basis – the dockmaster was so kind to bring the things from his village. But ideally bring enough supplies for at least a week after arrival to deal with quarantine.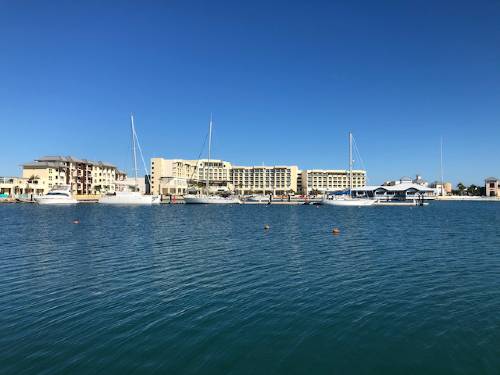 Gaviota Marina Varadero:
The Marina Varadero has a very helpful and polite staff, especially the dockmasters Jose and Francisco, who do their jobs very passionately, are extremely helpful and assist with organizing things like internet cards or small provisioning. The water on the pontoons is drinking quality. There is a fuel dock, a travelift and a hard stand area.
However, the Marine is remote. Without a taxi or the bus you get nowhere. There are some restaurants in the Marina, which is part of a hotel resort. The hotels are closed at the moment, and so are most of the restaurants. Between 5:30pm and 8:30am the Marina is completely empty, only a few security staff are present.
In the Marina there are 2 restaurants which are open during daytime. When the few local tourists leave at 5pm, they close. There we could order some chicken with rice, as well as a limited selection of fish and tapas – which tasted really good!
Varadero is no Hurricane Hole. The staff recommends to keep the boat in the water for this period. As the Marina is nearly empty, they tie up the boats between the pontoons or bring them into the mangroves if necessary. The dry dock offers no tie-down facilities and is therefore not suitable for the storage of a vessel between July and end of November.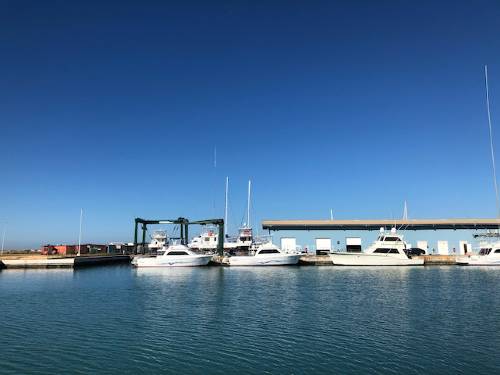 Provisions and Spares:
There is a "supermarket" on site. People, mostly locals, line up the whole day as only small groups are allowed to enter (Covid-19), so shopping can take quite a while. It's takes about an hour of waiting. Once you make it inside, you will be disappointed. There are no fresh goods – such as meat, bread, fruits or vegetables. Only canned food, rice and noodles and a small selection of cosmetics and probably some deep frozen fish, if you are lucky. But they have Coca Cola and beer and some other things which are obviously difficult to get for locals. Payment is by credit card only. Anyway – we recommend to buy whatever one finds useful as you do not know when, or where, you'll find the next possibility for provisioning.
Due to the fact that we were already completely released from quarantine, we drove to the farmer's market in Varadero today. This was disappointing, we only got some tomatoes, a lettuce, onions and some pineapples. The line for the bread was long. The Covid protocol in the open air market very strict. Masks, disinfection and distance. The taxi driver told us that all meat production is locked down due to Covid. You can't get any meat, eggs and we even couldn't find milk.
Provisioning in Cuba is not easy – in pandemic times it is a real challenge!
We talked to a German couple, who were locked down here in March 2020, and have an aluminium vessel which is here now for 1 year. They are quite desperate and told us that it is very hard or impossible to get things here – for example they cannot get antifouling for their boat.
Probably it is good advice to carry urgent spare parts for the engine, anodes, antifouling etc. with you if you plan to travel to Cuba. Also fill up on everthing provisions-wise – coffee, rice, pasta, canned food, long-life milk etc. Although everybody does everything to help – supplies are very limited.
Marinas:
There are two marina "companies" in Cuba:
Marlin Marinas
http://www.nauticamarlin.com
Zandrino Daybelis Perez – [email protected]
Jose Javier Culumbie Rodriguez – [email protected]
[email protected]
Marlin run well equipped marinas and also have a lot of small marine facilities especially in the west and south. These places are not "marinas", but usually have a pontoon to berth. I did not research all places, but sailors should check depth carefully in order to decide if the place is suitable for their yacht or not. All are on their website.
Gaviota Marinas
https://www.marinasgaviota.cu
Reservations Marina Oriente Puerto Vita – [email protected]
Dockmaster Marina Vadero – [email protected]
The Gaviota Group runs well equipped marinas.
Both websites have all the information you will need for planning a cruise to Cuba. Both companies run several marinas and the locations and facilities are very well listed on the websites. Both answered e-mails within a day and both gave very helpful information also regarding Covid-19 procedures.
Marina Hemmingway is the most expensive marina in Cuba. Discounts are only given after a 2-year stay in the marina, but all other marinas start giving discounts after one month, and these discounts are significant depending on the facilities. Except Marina Hemmingway, berthing costs at marinas are similar or cheaper than elsewhere in the Caribbean.
Cruising Guides:
Besides the marina websites, we found the »YACHT PILOT'S CRUISING GUIDE TO CUBA« by Capt. Cheryl Barr is a very useful tool to sail Cuba – although it is from 2015.
Covid-19 Situation in Cuba:
Probably one should know that Cuba has the "best medical doctors in the world", as UN general secretary Ban Ki-moon said. Cuban doctors are sent to all parts of the world and there are more Cuban medical staff in the world's crisis regions than of all G-8 members together.
The Covid numbers are very low in Cuba and the numbers are absolutely trustworthy. Due to the embargo, Cuba is cut off from the Pfizer / BioNTech vaccine as well as from most others. Cuba developed its own vaccine, of which one is now in phase 3 testing in Iran, because the Covid infection numbers in Cuba are too low for a broad study. Rumors are that the vaccination program will start in a few days.
Just as the Covid restrictions worldwide are in a constant state of flux due to the mutations, so they are in Cuba and change day by day. Yesterday we heard that travelling on land to Havana is not possible, while sailing to Marina Hemingway should be possible. Anyway we will try to sail there next week (update below).
Marina Hemmingway
Marina Hemmingwa – Havana
Before arrival call the marina on VHF 77. The dockmaster will give you the information you need. The entrance channel leads through very shoal reefs. It is very well marked, but only approx. 65-70ft wide. It is risky to enter during the night and in strong northern winds.
Once through the entrance you must berth at the Immigration and Coastguard station – even if you come from another Cuban port. The paperwork is straight forward and takes about 30 minutes.
The Marina consists of 4 parallel canals, each one about one kilometre long – the numbers of the canals rise from sea to land. For the moment yachts will be sent to channel 2 where you have to berth alongside. While the layout of marina could host several hundred yachts, there are just a very few sailors here. In the week we visited, the maximum was 3 boats with crews, and a handfullof yachts that berth here long term.
Fuel is available (but no spare parts), 110/220V electricity and water available on the dock. If you leave your boat here I strongly recommend to disconnect the shore power, as in unlikely conditions water may rise higher than the dock. The dock is concrete and not in the best condition. Tide rises approx. 40-50cm, you may need to adjust your fenders. Toilets and showers are not new, but clean – bring your own toilet paper! The washrooms are closed during the night, one must ask for the key at the dockmaster, if necessary. The marina staff are very kind and try to help as much as possible and make the most of the very limited resources. Despite that, the marina is run down as there has been no money invested for a very long time.
The marina does not have a dry dock / hard stand and it is not possible to put the yacht on land. In case of hurricanes, the boats are tied in the middle of the channels/canals. In the history of the marina no boat has sunk in a hurricane, but of course it is no hurricane hole.
In the area of the Marina the hotels are closed due to Covid, only 2 restaurants offer quite good food to take-away and close at 5 p.m. and it is good advice to bring along your own plate, as they probably do not have take-away-boxes. The "supermarkets" on site have nothing but some rum and cigars. Internet is only available in the area of the Club Nautico, which is about 1 km walk from the area, where most boats are docked. You need the ETECSA cards to use it (1h = 1USD). Ask in the closed hotel for cards, if you are lucky one of the employees will sell you some. ATM is also in the hotel, which you can access despite it being closed.
If you need to fly out of Havana, a PCR test not older than 72 hours might be required at the airport. There is a clinic close to the marina, tests are about 30 USD, the dockmaster can help you to arrange an appointment.
Outside the marina there are long lines at every supermarket. At the biggest supermarket we saw people lined up over several hundred meters and the taxi driver told us that these supermarkets offer a very, very limited range of goods. You will not get meat, milk or eggs for the moment (but available in dishes you order in the restaurant). We found a limited, but useful, variety of vegetables and fruits in one of the markets downtown, where the lines are not so long. Wearing a mask is obligatory in Cuba both in- and outdoors, fines are very high (reported to be up to 2000 USD).
While the Covid numbers in the Autumn were really low, many expat Cubans from the U.S. visited their relatives for Christmas. I heard that there were around 700 new cases beginning of February 2021 – only in Havanna. The city is therefore in a lock-down, which is even stronger than elsewhere. In the city all stores closed and restaurants offer only take away too. Nobody is allowed to enter or leave Havanna on land.
Marina Hemingway
Rasiela Nieto Matamoros – [email protected]
[email protected]
[email protected]
Fabian Eder
SY Europa
…………………………………………………………………………………………………………………………………..
The opinions expressed in this article are the author's own and do not reflect the view of Noonsite.com or World Cruising Club.