Caribbean: Hurricane Season is Here
Previous Page
Report Intro
The 2021 Atlantic Hurricane Season officially started on June 1, although one tropical storm – Ana – has already been named and formed earlier than usual in May. Here we give you an outline of what to expect, tips for hurricane tracking from Don Street, plus useful resources for yacht owners staying in the Caribbean for Hurricane season.
Last Update - June 03, 2021
Report Content
Image from NOAA
While 2020 was one of the most active hurricane seasons on record, researchers around the United States are predicting between 14 to 18 named storms and up to eight hurricanes for the 2021 season.
NOAA is predicting a 60% chance of an above-normal 2021 season, with a likely range of 13 to 20 named storms, including 6 to 10 hurricanes.
The updated seasonal averages are 14 named storms, seven hurricanes and three major hurricanes. After Tropical Storm Ana in May, the next named storm this season will be Bill.
In the 2020 hurricane season there were 30 named storms and 13 hurricanes, including six that were considered "major" (category three and higher).
Be Prepared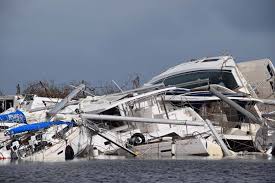 Many sailors do remain in the Caribbean during hurricane season. Some find a place outside the hurricane zone and others continue cruising the islands, monitoring the weather closely to make sure they are never far from a safe hurricane hole should it be needed.
If you are in the Caribbean, either afloat or ashore, ensure you are well informed by reading as much material as you can about hurricane behaviour in the Caribbean, plus advice from fellow cruisers that have weathered hurricanes in the area before.
Noonsite has plenty of links to useful hurricane information on the Weather page.

Caribbean cruising guide author Don Street has a large hurricane section on his website –https://www.street-iolaire.com/– with a great deal of useful information for all sailors in the Caribbean whether afloat or ashore. Don arrived in the Caribbean in November 1956 and since then has made an intensive study of hurricane tracks using the NOAA hurricane book that shows the track of every hurricane from 1851 to the present time. The hurricane section of his website gives a ton of information and advice on all aspects of hurricanes as to how they affect the islands in the Eastern Caribbean. Don has weathered seven hurricanes on yachts and brought all yachts through the hurricanes with no damage.
Here Don gives his tips on tracking hurricanes:
Dorian wind speed probabilities by the National Hurricane Center https://www.nhc.noaa.gov/
Tracking Hurricanes
During hurricane season, now late May thru early December, low pressure waves form off the coast of Africa, Southwest of the Cape Verde islands. As they move into the Atlantic they sometimes pick up a circular motion at which point NOAA start tracking and naming them as a tropical depression, plenty of rain with winds under 50 kn. These sometimes build to tropical storms with winds of 50 kn, becoming a hurricane when winds over are over 64 kn/73 mph.
As long as they stay below 19N, since 1851 hurricanes have tracked west or turn north but never more than 5° in 24 hours. Occasionally they take a turn to the south, but only twice has the turn to the south lasted more than two days. The latest, Irma, was also distinctive in that Irma went to 19 06 N, then headed south for three days. Irma was only the second hurricane since 1851 to do this. Once hurricanes get above 19 N, they can go absolutely anywhere.
Some continue west hitting the Bahamas, whose warm waters increase the size and intensity of the hurricane. They continue on, some hitting Florida, others swinging north. Some parallel the coast doing no damage but keep surfers happy Others hit various parts of the US East Coast doing minor, major, or sometimes disastrous damage – as did Sandy. Other hurricanes wander off into the Atlantic traveling all sorts of unpredictable tracks.
Once hurricanes hit the warm waters of the Bahamas and Gulf Stream, their size becomes so great there is no possibility of dodging them. It is a case of hunkering down and trying to weather them.
When hurricanes hit the islands of the Eastern Caribbean they are often small, but intense. Dominica was completely destroyed twice, yet the southern end of Guadeloupe and the northern end of Martinique did not suffer significant damage.
Once hurricanes pass through the islands of the Eastern Caribbean, all alterations of course are to the north.
Since 1851 there have been five hurricanes that formed in the Eastern Caribbean and headed northeast. The first one in 1954.
Hurricanes in the Gulf of Mexico are almost impossible to predict and their tracks are completely erratic.
………………………………………………………………………………………………………………………………………
Related Articles on Noonsite:
Further Reading:

Useful Links:
………………………………………………………………………………………………………………………………………
The opinions expressed in this article are the author's own and do not reflect the view of Noonsite.com or World Cruising Club.
Places
Bahamas
,
Barbados
,
Belize
,
Bermuda
,
Bonaire
,
British Virgin Islands
,
Cayman Islands
,
Colombia
,
Costa Rica
,
Cuba
,
Curacao
,
Dominica
,
Dominican Republic
,
Grenada
,
Guadeloupe
,
Haiti
,
Honduras
,
Jamaica
,
Martinique
,
Mexico
,
Montserrat
,
Panama
,
Sint Maarten
,
St. Barts
,
St. Kitts & Nevis
,
St. Lucia
,
St. Martin
,
St. Pierre & Miquelon
,
St. Vincent & the Grenadines
,
Statia
,
Trinidad & Tobago
,
Turks & Caicos
,
Venezuela
,
Update History
June 2021: Hurricane Season Update

User Comments
You must register first or be logged-in to leave a comment.
No comments for this post.