Across the Indian Ocean to Tanzania
Previous Page
Report Intro
Peter and Donna Schmieder are a German/American couple who live and travel around the world on their catamaran Kokomo, a Quasar50, made by Prout. Having crossed the Indian Ocean from Cochin, India to Tanga, Tanzania, they became "stuck" in Tanzania when surrounding countries locked down during the height of the Covid pandemic. This is their account of their Indian Ocean crossing and time spent cruising down the coast of Tanzania en-route to South Africa.
Last Update - October 14, 2020
Report Content
Peter and Donna touring India.
We are currently in Tanzania and would like to share some information about our Indian Ocean crossing and sailing down the coast of Tanzania to Mtwarra [where we are currently, waiting for a good weather window to sail to Richards Bay, South Africa].
We crossed the Indian Ocean from Cochin, India to Tanga, Tanzania in January/February 2020. We were planning our trip across the Indian Ocean for several years.
2018:
In 2018 we were ready to take the southern route via Cocos Keeling, Rodriguez….to Madagascar. At Sunda Strait we discovered a potential problem with one of our rudders. We did not want to take the risk and turned around and hauled the boat out for repairs.
We re-enforced the rudder and sailed to Sri Lanka. We did not want to sail back to Sunda Strait because in 2018 it was a long and exhausting motor sail trip we did not want to repeat.
The marina at Cochin, India.
2019:
In 2019 we were planning to sail south from Sri Lanka to Rodriguez. We had read lots of reports from cruisers that took this route, stopping in the Maldives and Chagos on their way to Rodriguez.
As often, plans can change. In Sri Lanka we decided to see India, before leaving this part of the world. We ended up staying in India for 10 months, a little bit long even though we enjoyed the country and the people, but it was time to think about our next move. How do we get to South Africa by the end of 2020?
Some passage reports by cruisers who went south via Maldives, Chagos to Rodriguez did not sound encouraging or comfortable. So we thought, how about sailing from Cochin, India southwest directly to Tanga, Tanzania? We looked at the grib files for the month of our planned passage and decided that that was the way to go – even though we would be missing all the beautiful islands like Chagos, Rodriguez, Renuion….
Light winds mostly on our passage across the Indian Ocean.
2020:
We left Cochin on January 22nd 2020. The total distance from Cochin to Tanga was 2515 NM. The weather was very different from what we expected.
Weather:
It took us a few days to get away from the coastline and find wind that would take us SW to Tanzania:
10 days we had 5kn or less of wind;
8 days with 10kn of wind;
5 days with 10-15 kn of wind.
We had one squall with heavy rainfall and 30kn of wind for one hour. The rest of the time we had beautiful weather and it was very hot.
We sailed 8 days without using the engine and 15 days we used the engine part of the day/night. The wind was not consistent. The total engine time was 211 hrs.
We had several tropical disturbances, low pressure areas further south of us while we were underway. No problem for us since we were too far north, but it looked like it was sucking all the wind out of our area.
Approaching Tanzania dealing with variable currents.
Currents:
The Equatorial Counter Current created more problems than expected because we did not have enough wind to overcome the current. Our Iridium Go with PredictWind and current information was very helpful. We stayed in contact with Des Carson the entire time but he could not get us more wind either.
Getting closer to the African coastline the main current throughout the year is the north-going East African Coast Current. During the North Monsoon the current we had was around 1-1.5kn.
Approaching Tanzania:
Sailing at night closer to shore and around Pemba and Zanzibar Island is not recommended. There are lots of fishing boats and nets and no lights.
So we decided to anchor for the night on the west coast of Pemba at S05 13.989, E 039 36.443. Not a great anchor spot but it was alright for one night. Next morning COG 285 and 36NM later we were anchored at the Tanga Yacht Club.
Tanga Yacht Club.
Tanga, Tanzania:
Checking in:
When we arrived we took the dinghy to the Yacht Club to get information about checking in to the country. We spoke to the Manager, Mrs. Merci. She made some phone calls and told us to go back to our yacht because the health inspector does not allow us on shore before he has checked us in.
Twenty minutes later the inspector showed up on Kokomo. With his help we filled our some paperwork and he checked our body temperature on our left ear. He asked for vaccination papers. We had some old vaccination paperwork and he was happy.
Then we met the nicest Immigration officer at the Yacht Club. Checking in was easy and US citizens get a one-year multiple entry visa for US$100. EU Citizens pay US$50 for a three month visa. They have no other options. Make sure you have US$ available because that is the only currency they except. The friendly Immigration officer took us to town to the ATM to get Tanzania Schillings and returned us to the Yacht Club.
Next day we took a tuck tuck to the customs office which is located in town at the small Terminal area. The officer asked for copies of the boat papers, crew list, clearance paper from our last port and copies of the passports. Easy and painless and no charge.
Before you leave Tanga you need to go back to Customs to get clearance for your next port in Tanzania.
Dar es Salaam Slipway anchorage.
Tanga to Dar es Salaam:
We spent 2 weeks in Tanga and then started our passage down south. We visited Zanzibar Island and sailed to Dar es Salaam to re-do the antifouling for our upcoming trip to Mayotte and Madagascar. That was when Covid19 and the lockdown of the world caught up with us.
After spending an unexpected 7 months in Tanzania we were ready to head south again. Tanzania has been good to us and we were happy to be here during the Covid 19 time, where most of the countries around us were in lockdown. We were lucky.
Dar es Salaam to Mtwarra:
We left Dar es Salaam on September 19th in the morning for our trip going south along the Tanzania coast line to Mtwarra were we are checking out of the country.
Anchorage 1: Our first day was a short one, just 15 NM south of Dar es Salaam we dropped the anchor at Ras Ngede, S 06 51.330, E 039 26.047. The anchorage was rolly and unpleasant, very different to the protected "slipway" anchorage in Dar es Salaam.
Anchorage 2: Our second day was from Ras Ngede to Koma Island, a 50NM run. We anchored at S 07 32.560, E 039 22.713. We had a light SE wind so we motorsailed almost all day. A good stopover when going either south or north.
Anchorage 3: Our third day a short 27NM run to Mafia Island. We anchored at S 07 53.063, E 039 40.001. It was quiet and we had internet. Not much more to report.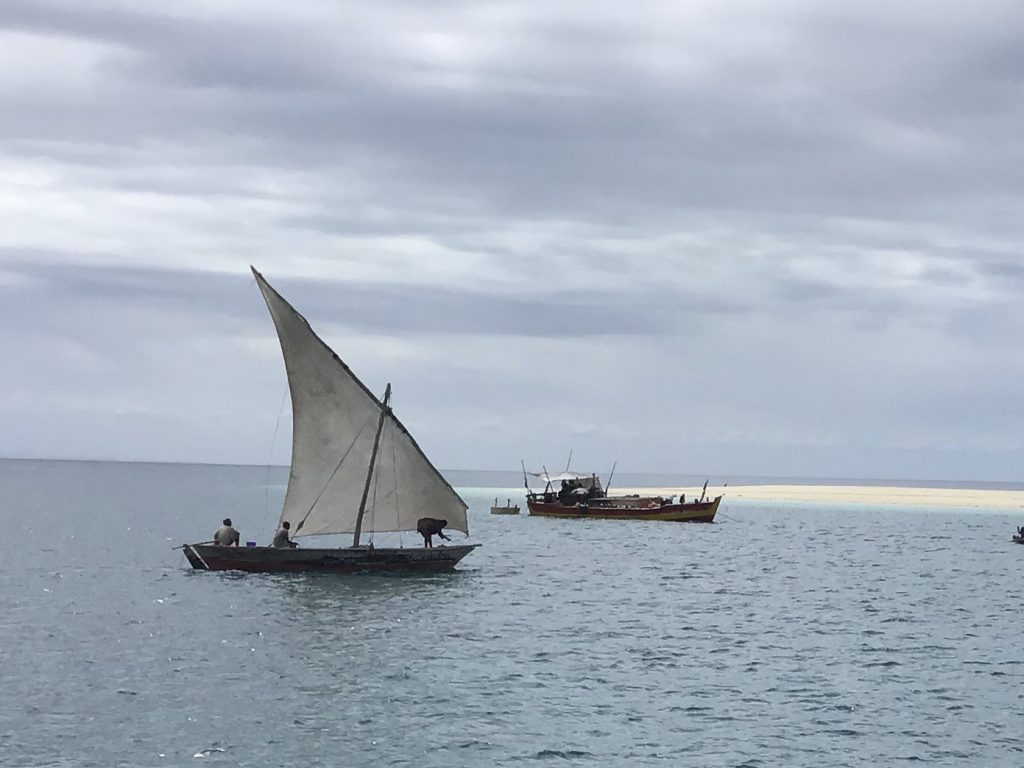 Anchorage 4: From Mafia Island we sailed to Songa Songa Island, a passage with lots of reefs, small Islands and sand dunes along the way. We dropped the anchor at S 08 30.668, E 039 28.747 behind a big sand dune at low tide. The anchorage has good protection from the E to SE. During the night the wind shifted more to the south and picked up to 10 -15 kn and it got uncomfortable very quick. A few local fishing boats were anchored here waiting to start the night shift.
Songo Songo has several gas platforms and a gas processing facility to remove water and other hydrocarbon condensates on the island. It is then transported through a 225 kilometre pipeline to Dar es Salaam where it is used in Songas' Ubungo power plant, the largest gas-fired power station in East Africa.
Anchorage 5: From Songa Songa we sailed to Kilwa, a short 35NM sail. We anchored at S 08 55.954, E 039 31.243. The entrance channel appears to be wide and deep. There is a lot of current when entering the inlet. We had an out-going tide and wind behind us which made the entrance a rough ride.
In the past Kilwa was one of the principal ports of trade on the Indian Ocean, trading gold, ivory and iron. The ruins in Kilwa are the best preserved in Tanzania.
Anchorage 6: Kilwa to Mchinga Bay is a 55NM trip. We had 10 knots of wind coming from the ESE and a current of 1-1.5 kn coming from the south. Very deep water along the coastline. It was a pleasant sail. We anchored at S 09 44.409, E 039 43.719 in 20ft of water.
Mikindani anchorage.
Arriving in Mtwarra:
The next day we left for Mikindani (next to Mtwarra) which is a 45NM trip along the coast. The entrance to the fully enclosed bay is fairly narrow and you have to watch the depth coming in and in the bay as well. Our Garmin chart plotter was accurate until now. Garmin did not provide any details to enter. We used our Navionics charts which were pretty helpful.
The anchorage is very well protected and flat calm. We anchored at S 10 16.674, E 040 07.829.
You can leave the dinghy at the "yacht club" and ask one of the club personnel to call a taxi or Tuck Tuck for you or you can pick up transportation on the main road.
Here we are waiting for weather conditions to sail to Richards Bay, South Africa. For us, these are our last days in Tanzania. We were happy to have the chance to get to know this beautiful country and the very nice and helpful people.
Conclusion:
Looking back it was the right decision not to sail to the Maldives and Seychelles. At the time we felt it was too expensive to visit the Maldives with all the regulations and restrictions. When we left we did not know about Covid but the Maldives and Seychelles were in a very strict lockdown. Tanzania stayed open. In that respect we were lucky. In Tanzania we were able to move around with no restrictions. Good healthcare was available in Dar es Salaam.
Peter and Donna Schmieder
SY Kokomo
………………………………………………………………………………………………………………………………………
Related Reports:
………………………………………………………………………………………………………………………………………
The opinions expressed in this article are the author's own and do not reflect the view of Noonsite.com or World Cruising Club.
Places
User Comments
You must register first or be logged-in to leave a comment.