Previous Page
General Info
Dar has a lot to offer cruisers and is only a 25-minute drive from an international airport. Entering into the country here is relatively straightforward and it is a worthwhile stopover on your cruising itinerary.
Position 06° 48.51'S, 39° 18.89'E (harbour approach)
Clearance
This is a Port of Entry.
See the main noonsite/Tanzania/Formalities page for full details of clearance.
This is a small, but busy commercial port, with virtually nowhere to anchor a yacht. Luckily, it is permitted to anchor your yacht elsewhere (closest place being the Slipway anchorage) and take a taxi to the port to clear in.
Mafia Island or Mtwara in the south, Tanga in the north, or Zanzibar in the east are other ports of entry for yachts.
Last updated: August 2018
Docking
Msasani Bay is home to the Dar Yacht club, however, unfortunately, docking facilities here are only available to members, and membership is reported to be extremely expensive.
That leaves anchoring the only option to visiting yachts, however, the Slipway facility (see details below) makes getting ashore and services just a little bit easier.
Anchor off the Slipway complex in about 30 feet of water. Holding is good in mud. Moorings here are all taken by local boats, however, if staying long term it is possible to buy and install a new mooring, which you can sell on departure – talk to Jason at The Slipway.
Security is considered to be excellent, but normal preventative measures should be taken.
From December to March the Northerly winds (Kaskazi)
cause an unacceptable chop to develop in this anchorage. Tanga may be a better option during this period.
Last updated: July 2018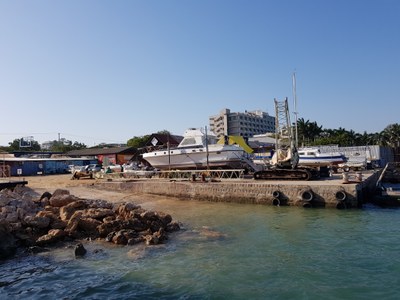 Related Businesses
Slipway Complex

Address: Msasani Bay, Dar es Salaam, Tanzania,

Position: 06°45S, 039°16E

Jason Banks runs this facility and offers several services to visiting yachts. For a very reasonable monthly fee, he provides a water taxi service, water and assistance with local information. The complex also has hotels, shops and restaurants.

Haul out (max LOA 42'), ramp for beaching catamarans. Jason can... Read More