Previous Page
General Info
COVID19: OPEN PORT
The St. Maarten Government has approved the new Protocol for Yachts for the 2020-2021 season
See full details at Sint Maarten Biosecurity.
Description:
Simpson Bay Lagoon is a 12 square mile inland lagoon on Saint Martin which is connected to the Caribbean Sea by two small channels spanned by lift bridges; one is in the north-west and flows into Baie Nettlé in St Martin (Sandy Ground Bridge) and the other is in the south-east and flows into Simpson Bay in Sint Maarten (Simpson Bay Bridge). The French-Dutch border runs across the centre of the lagoon.
There are two small islands in the lagoon: the larger, Grand Ilet is in the French region of Saint Martin and Little Key, is on the Dutch Sint Maarten side. Much of the island's maritime infrastructure is found in the bay, and Princess Juliana International Airport lies close to the lagoon's southern shore. The bay is serviced by more than half a dozen marinas and also has mooring balls and good places to anchor.
Cruiser Highlights:
Calm water; large cruising community; yachting infrastructure; provisioning; fuel; water; marinas; access to airport; restaurants and bars.
Entrance Notes or Cautions:
Note bridge times when planning entrance and exit. The narrow channels limit the flow of fresh water into the lagoon and urbanized areas of the lagoon, such as Cole Bay and Marigot, are highly polluted. After an extensive clean-up, there are no longer any hazards to navigation in Simpson Bay or the lagoon that did not exist before Hurricane Irma.
Position: 18° 02″N, 63° 06″W
Clearance
For full details on clearing into Sint Maarten see the main Formalities page.
General Clearance:
After docking in the lagoon skippers should immediately come to the free clearance dinghy dock Simpson Bay Bridge, adjacent to the channel into Simpson Bay Lagoon.
Immigration and Port Clearance are located in the Police Station adjacent the channel into Simpson Bay Lagoon. In high season it is open 08:00-16:00, 7 days a week.
Bring bridge, clearance and mooring fees and your crew list, passports and vessel registration.
Outward Clearance:
Clearance papers are necessary on departure if you are sailing to another island, even a Dutch one. But clearance is not required if sailing across to French St Martin.
Last updated: February 2019
Related Businesses
Clearance Office – Simpson Bay

Address: Sint Maarten,

Office is closed on public holidays. It is possible to clear out in advance.... Read More

Customs – Simpson Bay

Address: Sint Maarten,
Docking
Anchorages
Simpson Bay: Located outside the large anchorage has a good holding in normal easterly winds but if the wind veers to the south or if there's a large swell gets the anchorage becomes less calm. Traffic in and out of the lagoon through the Simpson Bay Bridge can be uncomfortable.
Cole Bay: Close to the marine trades and easy access to town.
Simpson Bay Lagoon: There is a popular anchorage off of Grand Ilet.
Dinghy Docks:
Can be found at Budget Marine, Island Water World, Lagoonies, Electec, Sint Maarten Yacht Club (closed due to damage Feb/Mar 2021), all the marinas, Dinghy Dock Bar (must be customer) and police dock by the bridge (open till 6pm).
Security:
Locked dinghy and outboard thefts continue to be a problem in the lagoon, particularly on the French side. Be sure to lift and chain and lock your dinghy and outboard at night and sleep with your doors and hatches locked. See Security.
Marinas:
Many marinas are targeted to the megayacht sector, but some including Port de Plaisance cater to cruisers.
Bridge Opening Times.
Simpson Bay Bridge (Dutch side)
This is the main access into and out of Simpson Bay Lagoon from the Dutch side of the island. The bridge is located in Simpson Bay and will accommodate vessels up to a maximum beam of 56 feet (17 meters) and a maximum draft of 17 feet (6 meters). Wide beamed vessels must request pilotage.
When the bridge is closed there is 8.6 feet (2.6 meters) clearance in the port channel and 8 feet (2.4 meters) clearance in the starboard channel. Note: Clearance may vary depending on the state of the tide.
Special bridge openings available upon request, just hail the bridge on VHF Channel 12. Be sure to motor through the bridge briskly as they prefer not to have it open too long.
Simpson Bay Bridge hours:
08.30 hrs – Outbound
09.30 hrs – Inbound
10.30 hrs – Outbound
11.30 hrs – Inbound
15.00 hrs – Inbound
16.00 hrs – Outbound
17.00 hrs – Inbound
Simpson Bay Causeway Bridge
This cross-lagoon causeway bridge is at the head of the Simpson Bay Inlet. The causeway runs from the north of Yacht Club Port de Plaisance to the airport runway. It has a maximum clearance of 28 feet. Vessels with a mast height of more than 28 feet are restricted to the opening centre part of the causeway which will act as a swing bridge.
Vessels transiting the lagoon should stay within the marked channel.
There is a 3mph speed limit for all vessels using the access channel, and within the lagoon, all marinas and yacht anchorages are deemed "no wake zones".
Most seasons the bridges open six times during the day in order to handle the vessels that make use of several marinas in the Simpson Bay Lagoon.
Simpson Bay Causeway Bridge hours:
In and Outbound Traffic: 0800, 1000, and 1530 (each opening is for traffic both ways).
For information call Bridge Operator on VHF Ch 12
Tel: +1 721 – 545 5230 / +1 721 545 3183
Email: [email protected]

Sandy Ground Bridge (French Side):
This bridge is the main access into Simpson Bay Lagoon from the French side of the island.
The official VHF Channel for the Bridge Operator is Ch: 16, Tel: (590) 87 20 43. It's quite possible you won't get an answer. Cruisers recommend the best way to verify opening times is to hail Shrimpys (morning net controller) on channel 10.
The Simpson Bay Lagoon Authority (SLAC) is responsible for managing the Simpson Bay Lagoon (St. Maarten side) as well as the operation/maintenance of the bridges; collection of fees etc.
SLAC Clearance Office: +1 721 545-3183
Email: [email protected]
Website: www.portstmaarten.com

Last updated: March 2021
Related Businesses
Yacht Clubs
Related Businesses
St Maarten Yacht Club

Address: Welfare Road # 90, Simpson Bay Bridge, Sint Maarten,

This club hosts many racing and cruising events. Clubhouse with restaurant and bar. Note rules re. dinghy docking:

Inside the longer side of the 'T': No... Read More
Courtesy Flag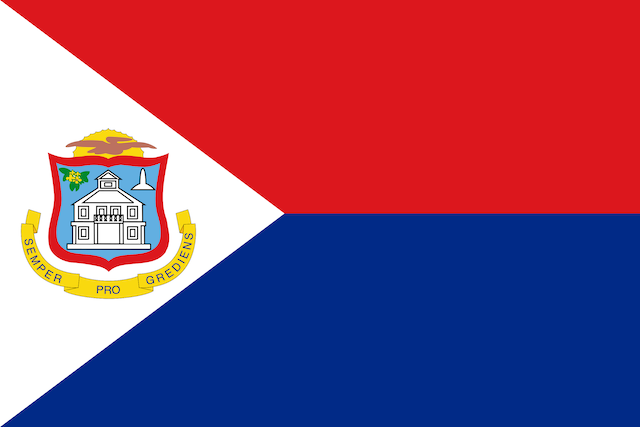 YachtFlags.com offers a discount to Noonsite members.
YachtFlags.com provides high quality courtesy flags that are manufactured in durable Knitted Polyester fabric. Knitted so that the fabric itself does not deteriorate in the constant movement that marine flags are usually exposed to, and polyester so that the flag does not weaken in the strong UV-light usually found in the main sailing areas of the world.
Use the coupon code NOONSITE_5A2B when checking out to get 10% off today.
Buy Now On YachtFlags.com
Places