Previous Page
General Info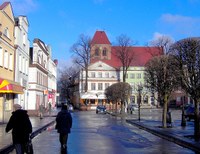 Puck Market Square: © http://en.wikipedia.org
Located on the mainland approximately 15NM north of Gdynia, Puck is an old town and fishing port. It makes for an interesting stop in this part of the Gulf of Gdansk. There is a marina and boatyard here.
Position: 54°43′27″N, 18°25′04″E (marina)
Docking
There are two harbors which can be used by yachts. The southern one contains the Municipal marina and yacht club. The northern one is the old fishing harbor, used by the scouts' yachts and visitors. It has one pontoon with finger berths.
The marina has some facilities, including toilets and showers.  Water and electricity available on the dockside. The yacht club can arrange repairs.
If entering the Old fishing harbor, beware of the sandbank lying between the two harbors. The approach has lit beacons and by day you can use the transit towers, but the most characteristic point is the brick church and tower next to the harbor. There is electricity on a jetty. The toilets and Harbour Master's office are in a new building (go upstairs, open only during the day) close to the pontoon.
Last updated:  January 2019.