Previous Page
General Info
A fishing port located on the Hel Peninsula within the Bay of Gdansk, with records going back to the 14th century. It is now a popular holiday center.
Position: 54° 41'N, 18° 40'E (approach channel)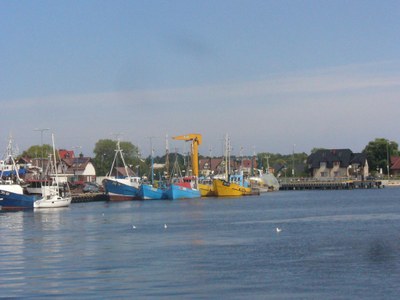 Jastarnia Harbour: ©ewelinaa
Clearance
No facilities for Customs/Border Guard clearance at this port.
Last updated:  December 2013.
Docking
Jastarnia lies midway along the 33 km long (20.5 miles) Hel Peninsula extending eastwards from the western shore of the Gulf of Gdansk. It is connected by a railway to the mainland. In places, the peninsula is only 200 meters wide and not much more than a meter high.
The harbor is on the southern shore but can be a little exposed to swell from that direction. In strong winds from this direction, it is better to go to Gdynia or Gdansk. The approach to the harbor is simple and well marked (buoys, leading light, beacons), but keep to the channel as each side is very shallow. Keep a sharp lookout for fishing nets.
In the northern part of the harbor, there are three pontoons (two with fingers) with water and electricity. 10 – 15 guest moorings with a maximum draft of 3.5 meters
There is free mooring at the pier on the eastern side of the harbor, but it has no water or electricity. Moor alongside or med-style using an anchor.
Kuźnica
This old fishing harbor lies about 5NM further north of Jastarnia along the Hel Peninsula. It is a useful alternative destination when Jastarnia is crowded.
The approach channel should have channel markers (2014) but is dredged and yachts with a draft of up to 2 meters can enter. The church tower makes a conspicuous landmark.
In this recently re-built harbor, there are toilets, electricity, and water and the town also has good fish bars and some provisions.
Last updated:  January 2014.
Port Authority (Miejski Zarząd Portu Jastarnia)