Previous Page
General Info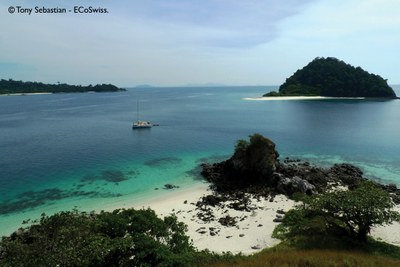 Description:
This amazing group of over 800 islands lies just off the coast of southern Myanmar. It is one of the few untouched, unlogged areas in Asia. Its people still clinging to their traditional way of life.
Due to its spectacular underwater scenery, it is becoming a popular diving destination.
There are hundreds of beaches, hidden freshwater springs, mountain tops to be climbed, Moken sea gypsy villages to be visited and mangrove rivers to be explored. One can spend a month in this area without getting bored.
Position:
12° 26.61'N, 98° 35.59'E (Mergui town)
Clearance
See main Clearance for details and fees.
Check in at the Port office, Customs, Immigration, and the Harbour Master before proceeding into the town. The office is at the entrance to the floating pontoons.
It is compulsory to have a guide on board while cruising here. The guide sometimes called a 'spy', is a totally wrong assumption. They are young guys working for the Ministry of Travel & Tours (MTT) and earn very little money. Sailing on a yacht as guides, they are there to translate for you when you visit sea gypsy villages, trade for fish or have any meetings with local folks, who mostly do not speak a word of English. Also, the guides know the area quite well and are more than happy to help with daily chores on board.
Last updated: October 2017
Docking
Mergui Port
There are three floating pontoons off Mergui town for shore access. Use the middle one.
There is a good anchorage just south of the town in front of a large statue of a reclining Buddha. Depth is about 15m.
Mergui Archipelago
The islands themselves are very beautiful, with plenty of bird & wildlife. Although there are practically no cruising boats, there are, at times, many fishing boats.
Sadly, it has been reported that there is a noticeable amount of plastic and other garbage on the beaches. The garbage is washed up at high tide and as these islands are unoccupied, there is no one to clear it away. However, you will find untouched beaches without a single footprint and no sign of habitation.
For scuba diving, local knowledge of the dive sites is vital for locating the best sites. There are some really stunning places, but they are far apart and a lot of traveling is required to be able to dive them all.
Cruising Information – Sources
The Mergui Archipelago Burma Yacht Cruising Guide
https://www.boat-yacht-charters.com/burma-mergui/burma-mergui-yacht-guide/burma-mergui-archipelago-cruising-guide.php
Free online cruising guide (2016) by Paul Johnson, who wrote the Mergui section for the latest edition of the South East Asia Pilot.
Last updated: October 2017
Courtesy Flag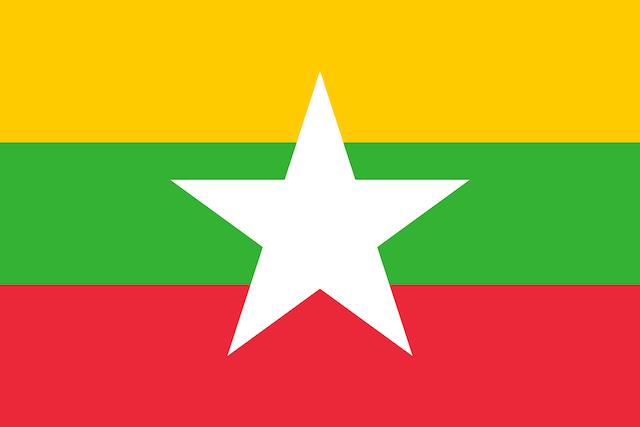 YachtFlags.com offers a discount to Noonsite members.
YachtFlags.com provides high quality courtesy flags that are manufactured in durable Knitted Polyester fabric. Knitted so that the fabric itself does not deteriorate in the constant movement that marine flags are usually exposed to, and polyester so that the flag does not weaken in the strong UV-light usually found in the main sailing areas of the world.
Use the coupon code NOONSITE_5A2B when checking out to get 10% off today.
Buy Now On YachtFlags.com
Places