Previous Page
General Info
Description:
Malta has been blessed by nature with one of the best natural harbours in the Mediterranean and the decline of its traditional role as a Navy base and shipping centre has led to the development of its yachting facilities, which are already among the best in the region.
Marsamxett Harbour, historically also referred to as Marsamuscetto, is a natural harbour on the island of Malta. It is located to the north of the larger Grand Harbour. It is on the northern side of the peninsula on which sits the city of Valletta, the other side of which is Grand Harbour.
Cruiser Highlights:
The Island has a variety of cruising amenities including a number of repair facilities and shipyards, mainly located on Manoel Island. There is good provisioning in Valetta and a wealth of historical options given that the city is a UNESCO World Heritage Centre.
It is an easy and short sail to the island of Comino and the Blue Lagoon, reputed to be the most beautiful bay in Malta.
Entrance Notes and Cautions:
It is not advisable to enter Marsamxett harbour at night.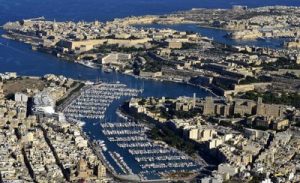 Photo of Marsamxett Harbour :©http://marinamalta.com/
35° 54.28'N, 14° 30.97'E (harbour entrance)
Clearance
For full details on clearing into and out for Malta see the noonsite Malta Formalities page.
General Clearance:
All arriving yachts should call Malta Port Authority before entering the harbor. This is a formality and a safety issue as there is a lot of traffic going in and out of the harbors.
All yachts arriving from non-EU waters have to report to Customs. During office hours, visitors are normally directed to the reception dock, located at the root of the D pontoon, in Msida and Ta' Xbiex Marina (see map). Visit them with passports and boat papers after you have berthed or anchored. Everyone is supposed to visit them, but if you are from outside the EU it is especially important.
The Immigration Police office is in a building on the south side of the Marina.
Yachts may remain on anchor in midstream until a berth has been found.
Outside office hours clearance is done in the commercial port, Grand Harbour (which is much more complicated to get to). You may experience difficulties getting your passport stamped at the Cruise Ship Terminal (which is the out of hours location for clearance).
There is no provision for yachts here, and anchoring near the Customs office can be difficult. Yachtsmen are strongly advised to time their arrival to enable them to clear inward at Msida and Ta' Xbiex Marina.
Outward clearance is also obtained from the Customs and Immigration offices at the marina. It is possible to clear out on any day provided the boat is leaving before 08:00 the following morning. Outside of office hours, go to the Customs House in Valletta. A receipt for the payment of berthing fees must be obtained first in order to clear out. Customs will require a crew list. It is possible to clear out on a Friday if leaving the following Sunday.
Last updated: April 2019
Docking
All arriving yachts should call Malta Port Authority before entering the harbour. This is a formality and a safety issue as there is a lot of traffic going in and out of the harbours.
As you enter Marsamxett harbour, Manoel Island is to starboard with Manoel Island Marina and boatyard located on its southern side.
The main marine facilities are in the creeks leading off Marsamxett harbour.
Anchoring
Space for anchoring is very limited, but it might be possible to do so off the Manoel Island Slips & Haulout Facility (NOT Manoel Island Marina) in Sliema Creek (north of Manoel Island). No visiting yachtsman should tie up to any of the large yellow mooring buoys in Sliema Creek; these are private buoys, not available for general use.
Another place is in front of the Royal Malta Yacht Club, at the entrance to Msida Creek, north of the jetties, in 30 ft over mud. This is conveniently close to many services.
Marinas:
Msida and Ta' Xbiex Marina: There is a breakwater at the opening of Msida Creek, increasing the protection of the Msida and Ta' Xbiex Marina.
This marina is privately run, Berths can be booked in advance (see their listing below for details). The busiest period is during September/October when visitors arrive for a winter stay and local yachts have not yet been hauled out. By November, there is usually space available for boats wishing to over-winter here.
Visitors normally moor to the inside of the Breakwater. Photo courtesy of: ©http://marinamalta.com/
Two jetties have been laid by the RMYC at the entrance to the Msida and Ta' Xbiex Marina, which are neither in NAVIONICS charts nor in the IMRAY guides. When you approach the entrance to the marina at night – be careful.
Roland Marina: Lazaretto Creek houses Roland Marina with pontoons and stern-to moorings on either side (Lazaretto and Ta'Xbiex quays) and these are used mainly by larger yachts. It is very exposed to the swell caused by the "gregale", a northeasterly wind, and yachts should not be left unattended here when it is blowing.
Marina Di Valletta: is now open (with on-going works) in Pieta Creek, to port as you enter Msida Creek (marked on google earth photo).
Last updated: April 2019
Related Businesses
Marina Di Valletta

Address: Hay Wharf, Pieta, Marsamxett Harbour, Malta, Malta,

35°894''N 14°498''E

The newest and last marina to open here. Clubhouse still under development and toilets and showers currently in a portacabin (April 2018). Transit berths... Read More

Msida & Ta'Xbiex Marina

Address: 53/1 Ta' Xbiex Seafront, Msida MSD 1515, Marsamxett Harbour, Malta, Malta, MSD 1515

Refurbished marina with good all round shelter. Customs Clearance on site. Max. length 18m. Visitors' berths inside the Breakwater at the starboard entrance to the... Read More

S&D (Roland Marina)

Address: Marsamxett Harbour, Malta, Malta,

Contact Giti. Open to the NE. Pontoons, Med mooring, have locked security gates.... Read More

Sandy Marina

Address: "Sea Breeze", Guze Cali Street, Ta' Xbiex, Marsamxett Harbour, Malta, Malta,

The Royal Malta Yacht Club

Address: Ta' Xbiex Seafront, XBX 1028 Ta' Xbiex Malta, Marsamxett Harbour, Malta, Malta, XBX 1028

The Clubhouse has a good restaurant, bar and very helpful staff. There are two jetties which can be used by visiting yachts, but these can... Read More
Yacht Clubs
Related Businesses
F.L. Yachting Limited

Address: 34 Cathedral Street, Sliema SLM 1532, Marsamxett Harbour, Malta, Malta, SLM 1532

Registration of yachts & other legal services.... Read More

The Royal Malta Yacht Club

Address: Ta' Xbiex Seafront, XBX 1028 Ta' Xbiex Malta, Marsamxett Harbour, Malta, Malta, XBX 1028

The Clubhouse has a good restaurant, bar and very helpful staff. There are two jetties which can be used by visiting yachts, but these can... Read More

Valletta Yacht Club

Address: Ta'Xbiex Seafront, XBX 028 Valletta, Marsamxett Harbour, Malta, Malta, XBX 028

Information on chartering is available.... Read More
Places
Malta, Malta, Marsamxett Harbour