Previous Page
General Info
Another of the Frisian islands, Norderney is a spa town and a popular tourist destination. It is three kms (1.8 miles) from Juist.
Position: 53° 41.89'N, 07° 09.92'E (harbor entrance)
Docking
Moor "bow-to" to the floating pontoon or tie up on the west harbor wall. There are facilities on the quay.  Shelter is good, but it gets very crowded in high summer.
The town has provisions, post office, bank, bar and restaurants.
Fresh bread can be ordered from the Harbour Master for the next morning.
Showers and toilets are new. The key is obtained from the Harbour office.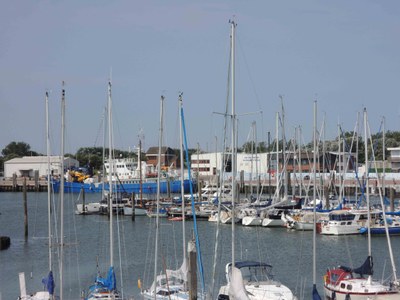 Norderney Harbour: ©Christiane Schnee
Last updated:  August 2013.
Related Businesses
Marina Norderney

Address: Am Hansendamm 1, Norderney, Frisian Islands, Germany, 26548

Am Hansendamm 1 , 26548 Norderney, Germany

Tel:  +49 4932 83545

Mob: +49 175 2785687

Fax:  +49 4932 934853

VHF Channel 17

24 hour access, but tricky at low water... Read More
Places
Frisian Islands, Germany, Norderney