Previous Page
General Info
This long, narrow sandy island lies between Norderney and Borkum. It is a quiet place as only the fire and medical services have motorised vehicles. Bikes and horse-drawn carts are the normal form of transport. There are two villages on the island –  Juist, in the centre and Loog, 1.6 kms (one mile) to the west.
Position:  53° 40.28'N, 6° 59.83'E (harbor entrance)
Docking
The approach to the harbor requires careful timing and pilotage. The lighthouse is merely ornamental and does not serve a navigational purpose. If the ferry is in the fairway to the port, wait until it is either berthed or clear before approaching.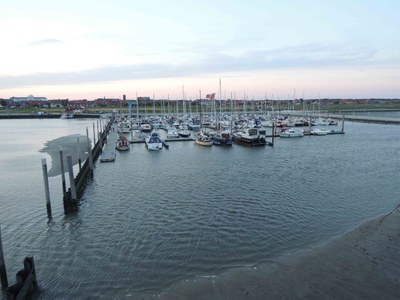 The harbor at Juist: © Christiane Schnee
The harbor dries so only boats which can take the ground can remain more than an hour or so.
Last updated:  August 2013.
Places
Frisian Islands, Germany, Juist