Previous Page
General Info
This is the main port of French Guiana, located on the NW bank of the Mahury river, however facilities ashore are very limited. The buoyed channel is excellent and well lit, although reports recommend to enter in daylight at slack flood as the tides run strong. It may be shallow at buoy 12 (mud bottom), however they dredge the channel often.
Head upriver a couple of miles and you will find yourselves deep in the jungle. There is a small bar up here where you can anchor overnight. The islands lying off the mouth of the river, should not be missed.
Location 4° 51'09″N, 52° 16'34″W. (Marina at Dégrad des Cannes).
Clearance
See French Guiana Formalities for detailed clearance information.
There is now an annex of the Harbour Master's office in the marina who will deal with yachts clearance. However, the office has quite limited hours (open until 13:00 Mon-Fri, and 15:00-18:00 Tues & Thurs.). They no longer stamp passports.
It may be necessary to visit Immigration at the airport to get the passports stamped.
Last updated June 2016.
Docking
It can be more comfortable (and mozzie free) to anchor in the river. A good anchorage is to be found about 300m beyond the 'marina' and 150m off the north shore, where there is excellent holding in stiff mud in 4.5m (plus tide). Beware of dragging in local squalls and for the dredger as it works daily in the harbour.
Boats also anchor further up the Mahoury River, off the village of Stouppan. The river is well buoyed.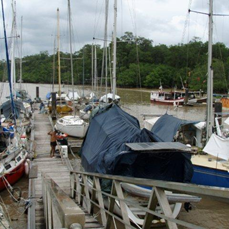 The floating pontoons opposite the anchorage (Marina Degrade de Cannes, see photo by Terry Teperson) are generally full of long-term French boats, but they do have water and electricity (220V).
Update August 2018: The berthing facilities at the 'marina' were close in 2017.
Local Services
Yachts at anchor can take water for free from the pontoons. Fuel by jerry can from petrol station about 4km away.
There are no shops around, except for a small restaurant in the commercial harbour, 2 km away. Nearest shops (with many French products) are 8 km away at Cayenne, "Core" is reported to be the best supermarket. There is a recently opened and well stocked Carrefour Supermarket on the edge of town, beside the main Degrad/Cayenne road.
There is a local bus-van service at about 3 Eu to Cayenne. It is safe to walk and many people hitchhike. There are no taxis, however it is possible to hire a car.
The chandlery (with a big Yamaha sign) just before the commercial port may be able to help with repair services if required. There is another chandlery on the way into Kourou – on your left with lots of small boats outside it, however you will need a car or transport.
Very little English spoken here.
Last updated August 2018.
Related Businesses
Marina de Degrad des Cannes

Address: Degrad des Cannes, Cayenne, French Guiana,

Degrad des Cannes, Cayenne

This facility was closed in 2017. No information as to if or when it will re-open.... Read More
Places
Degrad des Cannes, French Guiana