Previous Page
General Info
This important commercial port is located towards the western end of Cyprus' southern coast. It is a popular tourist location and a lively city. The town has a castle, many restaurants and tourist shops.
The new marina (opened 2014) offers good yachting services and is a pleasant spot to spend the winter.
Position 34° 42.50′ N, 33° 10.06′ E (harbour entrance)
Clearance
Both marinas offer full clearance procedures.
Call Limassol VTS on VHF channel 09 or 16 on approach.
All the authorities are in one building in the commercial harbour.
Last updated January 2018.
Docking
Anchoring
Although it is permitted to anchor in the western corner of the commercial harbour, most yachts prefer the fishing harbour in front of the town if they can find space. Here yachts can possibly berth alongside, or, alternatively, berth bows-to at the pier immediately to the east.
Good anchorages can also be found between the marina and the commercial harbour. The one to the west offers the best protection and good holding in sand. The one to the east is more convenient for the town and has excellent hold in the mud.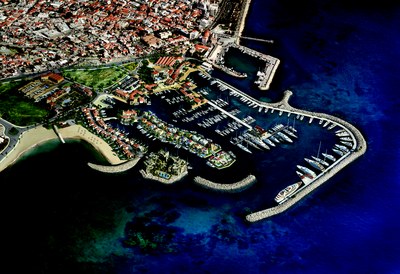 Marinas
St. Raphael Marina in the northern part of the bay is a little remote from the town, being built in deep water and accessed by a causeway.
The newer Limassol Marina has installed three navigational aids in the waters outside the Marina to help sailors safely approach or exit the Marina.
When approaching from the East, leave the Safe Water Mark to PORT and the Green Lateral Mark to STARBOARD. Then pass between the Green and the Red Lateral Marks to reach the Lighthouse and the entrance to the Marina. When approaching from the South, you will cross the Limassol Commercial Port entrance and shipping channel. Before doing so you will need to get permission from VTS (Limassol Vessel Traffic Services) on VHF Channel 09. After crossing, you may leave the Safe Water Mark to STARBOARD and the Red Lateral Mark to PORT on your way to the Marina entrance.
Located on the breakwater walls on each side of the Marina entrance itself are a Lighthouse, Green Starboard Mark and a Red Port Mark. Rules concerning speed and navigation while in the Marina apply from this point onwards.
A useful report by a boat that wintered here 2014/15 can be found here.
Last updated January 2018.
Related Businesses
Limassol Marina

Address: P.O.Box 50160, Limassol, Southern Cyprus, Cyprus, 3601

Location 34°40' 7''N 33°2' 23''E ,

A full-service marina with 650 berths. Max length 115m. Facilities include fuel berth, pump-out, laundry, WiFi, chandlery, bars and restaurants, shops, spa and gym. Pharmacy, opticians and provisions. Car rental. 24hr security. Clearance services.

Boatyard for light repairs (liveaboards and working on own boat permitted). 100-ton... Read More

Saint Raphael Marina

Address: Amathus Avenue P.O. Box 51933, Limassol, Southern Cyprus, Cyprus, 3509

Location 34° 42' N, 33° 10' E ,

Channel 09, 16 "St Raphael Marina"

Well-protected from weather and high seas. Located next to Moni power station.

A limited number of visitors' berths. Advance reservations are necessary. All facilities, clearance services, fuel berth, WiFi, chandlery, mini-market, LPG, bar and restaurant, accommodation.

Boatyard with 60 ton... Read More
Places
Cyprus, Limassol, Southern Cyprus