Previous Page
General Info
The Karpaz Peninsula is a stunning, pristine cruising area, only recently opened up after decades of restriction.
Karpaz Gate Marina, located in Yenierenkoy Harbor on the Karpaz Peninsula, is halfway along the north coast, making it a very convenient port of call for those cruising the eastern Mediterranean. It is however quite an isolated spot – see cruisers' reports section.
Position:  35°33.5'N, 34°13.6'E (marina entrance)
Clearance
All yachts entering North Cyprus should fly the North Cyprus or Turkish courtesy flag and the Q flag and proceed to the Customs officials.
Call the marina before entering.
Karpaz Gate Marina is a Port of Entry and has Duty-Free status.
Clearance formalities can be completed here with Customs and Port Police offices on site. The marina does request a 24 hours notice before departure, which is not uncommon in the eastern Med.
There is no limit to the time EU and non-EU yachts can remain here.
Last updated:  February 2018.
Docking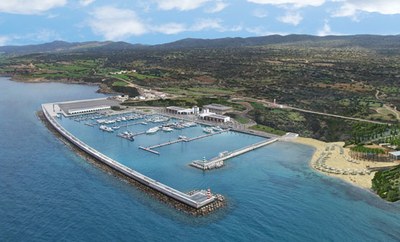 This marina opened in June 2011. It is a five-star facility part of a resort with a wide range of services and duty-free status. It includes a beach club with associated facilities. The staff are reported to be very helpful.
If entering the marina at night, beware of an unlit mooring buoy in the approach to the entrance.
The marina runs a boatyard with a 300 ton travel lift for mono and multi-hulls, dry storage and repair services.
Check out their website for frequent special offers. The marina was awarded 5 Gold Anchors last year.
Last updated:  February 2018.
Places
Cyprus, Karpaz Gate Marina, Northern Cyprus