Previous Page
General Info
COVID19: OPEN PORT
See yachting protocols at Curacao Biosecurity.
Description:
Willemstad is the capital of Curacao and the most important port in this part of the Caribbean. Its Dutch Colonial style of architecture makes it an attractive town and has caused it to be classed as a World Heritage site
Willemstad consists of Punda on one side and Otra-Banda on the other side.
Cruiser Highlights:
Willemstad is more convenient than Spanish Water for provisioning and repair. The Royal Marine Services in Piscadera Bay has berths as well as a boatyard. There is a Cruiser's Net on VHF Channel 72 at 07:45, Monday to Saturday.
Entrance Notes or Cautions:
At the centre of Willemstad is St Anna Bay, through which all ships pass into the large Schottegat Harbour. Entrance into this Harbour is through a channel blocked by a pontoon bridge which opens on demand (call on VHF channel 12). Buoys mark a very shallow area on the approach which you should leave well to starboard on entering.
Position:
12° 06.16'N, 68° 56.29'W
Clearance
See Curacao/Clearance for detailed information about Curacao formalities.
General Clearance:
You must check with at Customs and Harbour Immigration within 24 hours of your arrival.
Yachts should tie up at the commercial dock on the starboard side of St Anna Bay, which is near Customs and Immigration. The Port Authorities will give berthing instructions. The VHF working channels in Curaçao are 12 and 14.
Customs: have moved to a temporary location (February 19th, 2019) on the opposite side of the canal (over the little footbridge) in the old building near the Maritime Museum (Grote Werf in Scharloo). The office is in the cruise ship terminal area. To find the customs office, take 6A Carracasbaai into Punda, exit and walk to the end of floating fruit/veggie market, across the street is a beige building with "Douane" across the top for Customs.
Harbour immigration: (green building) is at Otra-Banda, over the floating bridge to the right, directly under the high bridge. If walking over from Customs via the floating bridge, you can get to Immigration by going through the cruise ship entrance. If you are driving, there is a gate on the eastern side near the giant tanks.
Harbour Inspection: will issue an anchoring permit. They are located up the stairs from Immigration on the left (no signage). This office closes at 11:30 for a long lunch. They will ask you to mark where you are anchored. Be sure to take all your documents. You should be in one of the permitted anchorages.
Immigration: The office (Harbour Police) is located under Queen Juliana Bridge. It should not be confused with the immigration counter at the post office, which is for immigrants, not yacht crews.
Last updated: February 2019.
Related Businesses
Fort Nassau – Willemstad

Address: Willemstad, Curacao,

Immigration Office – Willemstad

Address: Willemstad, Curacao,
Docking
Docking is sometimes possible at the Handelskade or Mathey Wharf, permission must be first requested from the Harbour Master.
Anchorages:
All anchoring needs permission from the harbour office in Willemstad. There is a charge.
Town Dock:
As tying up to the dock in Willemstad for clearance is both uncomfortable and dangerous due to the heavy wash from commercial traffic, many yachts prefer to berth at Spanish Water and travel to town to clear.
Last updated: November 2018.
Related Businesses
Lions Dive Hotel & Marina

Address: Bapor Kibra z/n, Willemstad, Curacao,

Royal Marine Services Curacao B.V

Address: Piscadera Bay, Willemstad, Curacao,

Good DIY marina with travel lift, maintenance and repairs, yard storage and berths. Fuel dock, chandlery. Showers, restrooms and wifi are free of charge. One free week... Read More
Courtesy Flag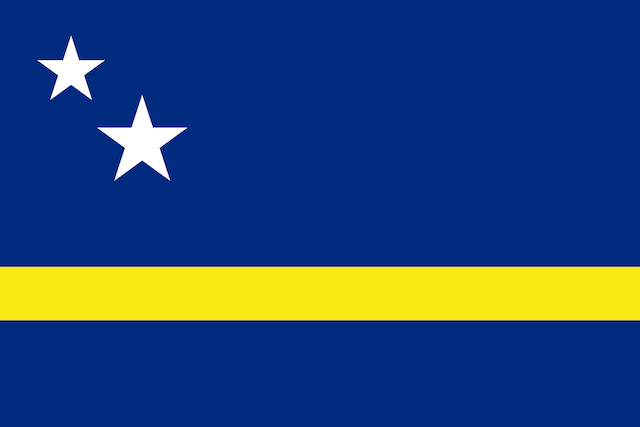 YachtFlags.com offers a discount to Noonsite members.
YachtFlags.com provides high quality courtesy flags that are manufactured in durable Knitted Polyester fabric. Knitted so that the fabric itself does not deteriorate in the constant movement that marine flags are usually exposed to, and polyester so that the flag does not weaken in the strong UV-light usually found in the main sailing areas of the world.
Use the coupon code NOONSITE_5A2B when checking out to get 10% off today.
Buy Now On YachtFlags.com
Places