Previous Page
General Info
Puntarenas lies along a peninsula 5 miles long but only 600 metres at its widest point, narrowing to less than a 100 metres at some points. It projects into the Golfo de Nicoya on Costa Rica's Pacific coast.
The close proximity of several islands, uninhabited and teaming with wildlife (deer, birds, iguanas) makes this an interesting cruising ground.
This is primarily a fishing port, and as such can be a little rough, however, a new resort/marina opened at the end of 2008 which has improved docking conditions considerably. There are good services here.
The estuary leading to the yacht club is continuing to silt up, and it is necessary to enter near high tide. Entry and exit even during high water springs are a challenge to vessels drawing more than six feet.
Position 09° 58'36″N, 84° 51'14″W (channel entrance)
Clearance
See Costa Rica Formalities for full details on clearing into and out of Costa Rica.
Call the International Port Authorities in Caldera on VHF Channel 16. Anchor or pick up a buoy in front of the fishing port, inside the mangroves. Wait to be boarded. After this international clearance, the zarpe can be obtained from the National Port Authorities whose office is behind the fishing port.
The port captain is located in the town near the cruise ship dock. Immigration faces the water, a 10-minute walk from the port captain.
Customs is on the road to El Roble, on the right past the turn to the hospital, and not well marked.
It is now not always possible to obtain clearance through the yacht club (CRY).
Docking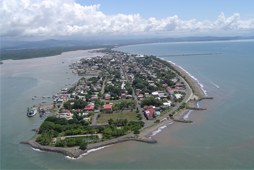 Photo from Costa Rica Yacht Club
The current in the estuary runs at several knots, so take care docking and tie your boat securely. Long term anchoring is not recommended, there is really no good dinghy access and the shoreline is rough and dirty, with quite a few alligators.
Entry and exit into the marina, even during high water springs, are a challenge to vessels drawing more than six feet. The pontoons are very short in length and are subject to strong tidal flow. A number of slips are restricted in use by the positioning of steel pylons reducing stern to mooring availability. There is limited slip space for deeper keeled vessels.
This marina cannot legally provide long term accommodation to foreign-flagged vessels with a Permisode Permanencia.
Last updated: March 2018.
Related Businesses
Puerto Azul Resort & Marina

Address: Location 9° 58' 944" N, 84° 47' 916" W, El Cocal, Puntarenas, Costa Rica,

1.5 miles from the marina to the outlet into the gulf.

90 slips for boats up to 60 feet in length. Min depth 2.5m

All facilities, laundry... Read More
Yacht Clubs
Related Businesses
Costa Rica Yacht Club

Address: Location 09º58.8''N, 84º47.8'W, P.O. Box 151, Puntarenas, Costa Rica, 5400

The yacht club offers a range of repair facilities including a 20-ton travelift, as well as moorings, fuel, and water on the dock, WiFi and... Read More
Places
Costa Rica, Pacific Coast (Costa Rica), Puntarenas