Previous Page
General Info
The yacht club here is reported to be very welcoming. A good place to leave the boat if heading inland to explore, however currently it's not possible to leave your boat unattended here. Repair work was done on the yacht club pontoons after a storm in the winter of 2014 caused a lot of damage and are believed to be operational again. See Related User Comments.
Position: 23° 38'29″S, 70° 24'03″W.
Clearance
Check in with the Armada on arrival, a 15-minute walk along the main waterfront road. An inspector may visit the boat, or alternatively, the Yacht Club Manager may clear with the Armada by fax on your behalf.
Last updated:  April 2015.
Docking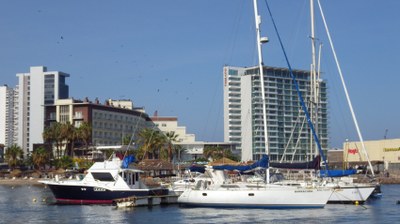 Currently, it is possible to pick up a mooring buoy, fore and aft, off the yacht club, just inside the breakwater (see photo courtesy of Michael Marshall 2015). Good protection and very helpful staff in the yacht club.
It is worth trying to hail the yacht club on VHF Channel 16 if you speak Spanish, however, yachts have reported having to shout to hail the "Lancha" for assistance, and getting no response on the VHF.
The yacht club has a launch, but your own dinghy would be better.
Non-potable water available from long hose from yacht club. Clean fuel available from stations in town using jerry can. Yacht club can assist with obtaining large quantities.
Laundry, excellent provisioning, and Sodimac Home Center in nearby mall.
There is a travelift here which is believed to be operational. See Related User Comments.
Last updated: May 2019.