Previous Page
Facts
COVID-19: Entry protocols for yachts have been affected by the pandemic. See the Biosecurity section for details.
Bermuda is an archipelago of over 150 small islands and islets, lying approximately 1000nm due east of the coast of the USA in the North Atlantic. The largest island is linked together by causeways and bridges into a fish hook shape.
The population in 2019 was 60,833 and as the largest of the British Overseas Territories, English is the dominant language.
Currency is the Bermudan Dollar, on a par with the US$.
The Atlantic Time Zone (UTC -4) is in operation in Bermuda. For specifics see General Info.

The climate is sub-tropical, mild in the winter, spring and autumn, but from late May to October it can be uncomfortably hot with high humidity. See Weather below for more details.
Although Bermuda has little to offer in the way of cruising, every year over 1,000 yachts stop here to rest and reprovision after a long passage, or simply to turn around at the finish of one of the many ocean races which run from the US East Coast.
The well-sheltered St George's Harbour provides a restful anchorage from which to explore this neat and tidy little country. Such exploring is best done by land. The alternative anchorage is in Hamilton,
Although existing repair and service facilities are dispersed all over Bermuda rather than being grouped together, virtually everything one may need is available on the island even if it may take some time to find it. Marine supplies or essential parts that are unavailable can be ordered from the USA to which there are several flights every day. For more information, see Yachting Essentials.
Security
Overall Crime and Safety
There is minimal risk from crime in Bermuda which has reduced significantly in recent years. However, serious incidents, including the use of weapons, do occur. Take precautions to safeguard yourself and your possessions.
Specific areas of concern:
There are a few dangerous areas in Bermuda which it is advisable to avoid. Specifically, the area around Court street in Hamilton, which is known locally as Back o' Town, has a reputation for drug dealing.
Maritime Issues:
Crime against yachts here is rarely reported.
Reported Incidents:
August 2018, Bermuda Police Public Advisory: Over the last few weeks, a number of personal watercraft as well as commercial vessels have been broken into and had items taken from vessels. In some cases, large amounts of alcohol, boat parts and other valuables such as fishing equipment have been removed and these occurrences have been island-wide.
General Emergency Numbers:
For more detail see Emergencies in General Info.
Last updated: October 2019
Weather
The Gulf Stream makes the climate subtropical, with mild winters and warm humid summers. The Azores high dominates the summer months, bringing steady SW winds. June to November is the hurricane season with September the most dangerous month, although the majority of these storms pass to the west of Bermuda.
Weather Information:
Marine Forecast – http://www.weather.bm/
Continuous local weather on VHF Ch.02 (162.4MHz)
Weather information and warnings are broadcast by Bermuda Harbour Radio on VHF Ch.27
Navigation Warnings – http://www.rccbermuda.bm/nav_warnings.aspx
Local weather: Dial 9771
Marine forecast: Dial 9772
Hurricane watch: Dial 9773
Bermuda Weather Service: Dial 2936659
For Bermuda weather from overseas: Dial 441 297 7977
The Bermuda Yacht Reporting Centre, located on Ordnance Island, St. George's, provides the following amenities to local and visiting yachtsmen, 08:00-23:00 daily: –
A display of the latest North Atlantic Weather Forecast charts (up to four days ahead, 24 hours a day) tropical warnings and advisories, Gulf Stream surface temperature analysis
A special dedicated telephone that may be used to book pre-sail weather briefings from the meteorologist at the Bermuda Weather Service (BWS) (all weather briefings from BWS should be booked at least 6 hours in advance), or dial the recorded marine weather forecast and warning numbers (9772 and 9773 – as above)
Departure weather briefing packets, which will include copies of the latest weather forecast charts and Gulf Stream Analyses, are provided to yachtsmen by BWS upon request.
For links to free global weather information, forecast services and extreme weather information see the Noonsite Weather Page.
Last updated: October 2019
Courtesy Flag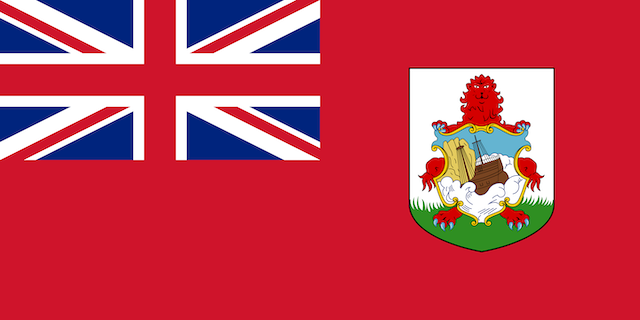 YachtFlags.com offers a discount to Noonsite members.
YachtFlags.com provides high quality courtesy flags that are manufactured in durable Knitted Polyester fabric. Knitted so that the fabric itself does not deteriorate in the constant movement that marine flags are usually exposed to, and polyester so that the flag does not weaken in the strong UV-light usually found in the main sailing areas of the world.
Use the coupon code NOONSITE_5A2B when checking out to get 10% off today.
Buy Now On YachtFlags.com
Places