Western Pacific: Super Typhoon Halong Astonishing Meteorologists
Previous Page
News Intro
With peak winds at close to 305kmh and a transformation from a Category 2 hurricane to Category 5 overnight, super-typhoon Halong's intensity makes it the most powerful typhoon so far this year in the Western Pacific, and possibly the most powerful since records began.
Last Update - November 06, 2019
News Item Content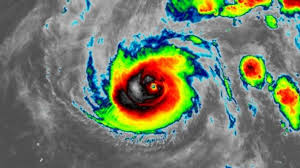 Halong began last Saturday as an area of low pressure which grew into a tropical depression a few hundred miles east of the Northern Mariana Islands.
Very quickly (a matter of hours) it became Tropical Storm Halong and by Monday was a Category 2 hurricane. Incredibly overnight the storm intensified to a Category 5 hurricane and by midday on Tuesday the Joint Typhoon Warning Center estimated Halong's intensity at 255kmh.
Meteorologist @MichaelRLowry tweeted today: It's no stretch to say Super Typhoon #Halong this morning is one of the strongest storms observed *globally* since satellite records began in 1979. An extreme event, but thankfully no threat to land.
Fortunately, Halong is forecast to remain at sea and weaken as the week progresses, however currently near the center of the storm wave heights are reaching 30 to 40 feet.
Halong comes just a month after Typhoon Hagibis struck the Tokyo area of Japan causing widespread severe flooding and Halong is the seventh super typhoon in the western Pacific this year.
Further Reading:
Super Typhoon Halong is among the strongest storms ever observed by satellite (Nov 6, 2019 – www.stuff.co.nz
Super typhoon Halong among strongest storms ever seen on Earth (Nov 5, 2019 – www.theweathernetwork.com)
………………………………………………………………………………………………………………………………………
Noonsite has not independently verified this information.
Places
User Comments
You must register first or be logged-in to leave a comment.
No comments for this post.