Super Cyclone Harold: A Disaster for Vanuatu
Previous Page
News Intro
Super Cyclone Harold (Cat 5) roared across the central part of Vanuatu on April 5th and 6th, totally devastating the island communities of Espiritu Santo, Pentecost, Malecula and Ambrym.
Last Update - April 11, 2020
News Item Content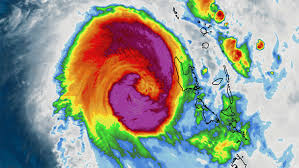 This disaster could not have happened at a worse time. Vanuatu is trying to keep Covid-19 out of the country and currently has 0 recorded cases. Borders are closed and the country is in lockdown yet still aid will be needed following the Cyclone.
No Outside Aid for now:
It has been decided, however, that the risk of bringing Covid-19 into Vanuatu is too high and for now support from outside is on hold.
Vanuatu's National Disaster Management Office (NDMO) and other government departments will decide when it's safe to invite relief help. Currently local disaster response teams, NGO's, NZ Army personnel and residents are all handling the clean-up as best they can bearing in mind the restrictions presented by the Covid-19 crisis.
Equipment, goods and materials are being landed in Vanuatu after being fumigated and sterilized, however this process means a delay in relief supply shipments of approximately 10-14 days or more from source out to the affected areas.
Heavy Damage:
Damage in the Islands as reported by SEAL Superyachts:
• SW and South Santo – extreme/heavy damage.
• Luganville – heavy damage.
• Aore Island and Ratua – heavy damage.
• Malo Island – extreme/heavy damage.
• West and South Ambae – heavy damage expected. No report yet.
• South Maewo – moderate to heavy damage expected. No report yet.
• North and South Pentecost – extreme/heavy damage.
While all these areas have been badly damaged several villages have been completely destroyed.
Some areas are still inaccessible due to roads being blocked or no roads at all. Some areas remain isolated and its expected that it could take time for relief teams to get to those areas.
Financial Devastation:
Like the rest of the world Vanuatu's tourism industry came to a complete standstill about 4 weeks ago. This is causing huge financial strain on the country, local small businesses, farmers etc. Recovery from the financial devastation caused by a cyclone in normal times is very difficult as it is. Add the crisis resulting from Covid-19 and Vanuatu is in trouble without significant outside financial support. It's also important now to support local suppliers and businesses as this helps to stimulate the local economy and keep people employed. If you consider making donations, please keep this point in mind.
Support Needed:
The scale of support needed is going to be significant and will come in many forms such as: possible foreign debt relief, cash donations by foreign governments, NGO's, companies and individuals, donations of goods and materials (please consider local purchase), support from foreign humanitarian groups and teams to aid rebuilding efforts only once it's safe to bring people in to the country.
How to Donate:
………………………………………………………………………………………………………………………………………
Noonsite has not independently verified this information.
Places
Ambrym
,
Anatom Island (Aneityum)
,
Anelcauhat
,
Asanvari Bay
,
Banks Islands
,
Divers Bay, Ureparapara Island
,
Efate
,
Epi Island
,
Espiritu Santo
,
Lamen Bay
,
Lenakel
,
Losalava, Gaua island
,
Luganville
,
Maewo Island
,
Malekula Island
,
Milli Bay, Mota Lava Island
,
Olal/Nopul
,
Port Resolution
,
Port Sandwich
,
Sola
,
South West Bay
,
Tanna
,
Vanuatu
,
Velit Bay Plantation (Shark Bay)
,
Vureas Bay, Vanua Lava Island
,
Waterfall Bay, Vanua Lava Island
,
User Comments
You must register first or be logged-in to leave a comment.