St. Vincent & the Grenadines: La Soufrière Volcano Erupts
La Soufrière volanco on the small Caribbean island of St. Vincent erupted on Friday April 9, sending a plume of ash and smoke more than 20,000 ft into the air and causing a mass evacuation of islanders.
Published 2 years ago
Hazard Zones on St. Vincent from the National Emergency Management Organisation.
The volcano, which had been dormant since 1979, started showing signs of becoming active again in December 2020. Then on Thursday evening April 8 a lava dome became visible on the mountain and the Prime Minister Mr Ralph Gonsalves immediately urged more than 16,000 residents in "red zones" to evacuate.
On Friday morning, April 9, seismologists from the University of the West Indies confirmed that an "explosive eruption" was under way.
The island of St. Vincent plus over 30 Grenadine Islands are part of the Windward Islands of the southern Caribbean and are a popular yachting destination.
The volcano is located on the northern part of the largest island and the nearest port is Chateaubelair. The Red Zone is the immediate area surrounding the volcano and this is the area where evacuation orders have been given along with some villages in the Orange Zone. The Orange, Yellow and Green Zones comprises the major proportion of the population.
Evacuation
There is no word currently on evacuation success with 16,ooo+ people needing to be evacuated south or to neighbouring islands. Cruise ship companies have been sending empty ships to assist with the evacutaion. Islands that will be accepting evacuees include St. Lucia, Grenada, Barbados and Antigua. The pandemic is complicating evacuation efforts because the cruise lines will require people boarding the ships to be vaccinated, as will the nearby islands where the evacuees will be taken. St. Vincent officials are talking with their counterparts on other islands so that ID cards would be accepted, as not every island resident has a passport.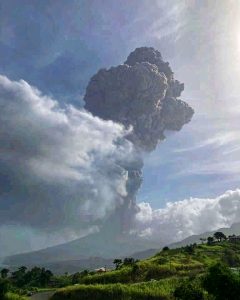 Significant Ash Plume
The eruption has put a significant volume of ash into the atmosphere with prevailing wind conditions sending the plume in a north-easterly direction.
Communities across mainland St. Vincent will experience varying degrees of ashfall and The Grenadines may also be affected. The Barbados Meteorological Services report that light ashfall can be expected and the neighboring islands of St. Lucia and Grenada may also experience ashfall in coming hours.
Find out more at https://www.facebook.com/nemosvg/

Mass Exodus of Cruisers
Kia Koropp currently on her boat in Admiralty Bay, Bequia reports: "We didn't get much warning. Yesterday morning it blew a huge plume of ash into the air and residents in the "red zone" started to be evacuated in the morning. It went again in the afternoon. Everything in Bequia was quiet until the second blow, then everyonen started to get excited and locals were in the street with their phones, definitely a buzz amongst all. That day, Friday, the wind was blowing NE so we had a clear sight of the plume with clear skies. Overnight the wind shifted and there is a thick, grey haze everywhere today. Businesses were open all day yesterday, but this morning it is a completely different story as the island is now covered with ash, and ash in the air. The boats are covered.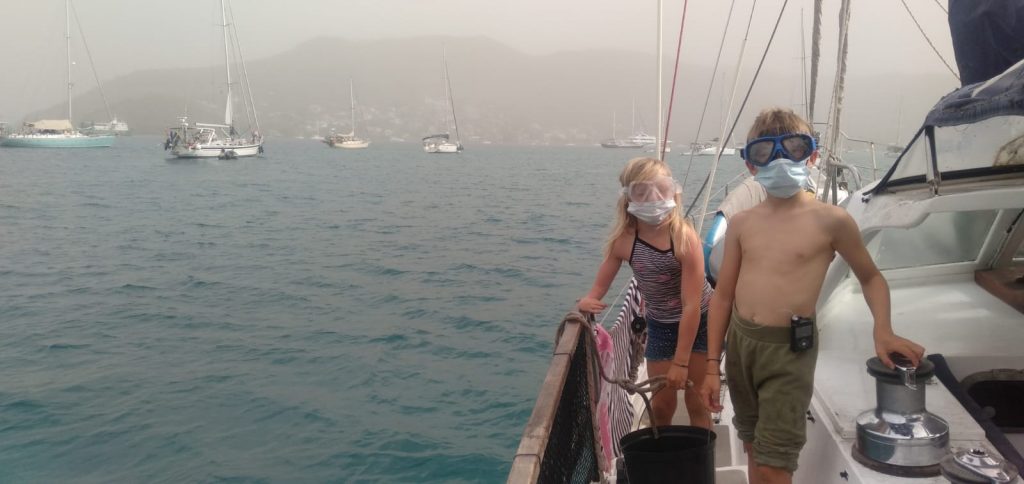 "There is a mass exodus of boats now, heading for clear air hopefully in the islands…. perhaps Tobago Cays unless we stop short in Canouan".
Subsequent reports from cruisers are that St. Lucia, Barbados and Grenada are all suffering with ash falling.
Advice to Sailors
If sailing near St Vincent, if/when PDCs (pyroclastic flows) reach down the valley to the sea, they will cause the sea to boil. It is recommended that a buffer zone all around the north of the island should be observed by all vessels including fishermen, staying at least 3 miles offshore from any of the area around the volcano.
Joan Conover of the SSCA advises yachts cruising in these waters to try and sail as much as possible as the ash will ruin the engines. Using watermakers, the pre-filter should be able to handle the ash that may be in the sea water, what could hurt the RO membranes would be organic hydrocarbons that could be associated with the fallout. Solar panels should be hosed off frequently, as should decks.
Previous eruptions
The volcano previously erupted in April 1979 creating a large ash plume that reached Barbados, 160 km (100 miles) to the east of Saint Vincent. There were no reported casualties from this eruption as advance warning allowed thousands of local residents to evacuate to nearby beaches.
La Soufriere volcano also erupted in 1812 resulting in many casualties and in 1902 when more than 2,000 islanders were killed.
How to Donate to SVG Volcano Relief:
Government of SVG Disaster Relief Fund: full details for wire transfer can be downloaded here.
Rise Up Bequia: This non-profit social organisation run entirely by young Bequia volunteers and community leaders, is conducting a drive to provide assistance in the provisioning of Shelters in St. Vincent. Full details can also downloaded directly here.
Through Consulate General to SVG in N. Ireland: Explanatory document with bank details can be downloaded directly here. The Ministry of Foreign Affairs has confirmed that help is being sought through various SVG Consulates and that this request is legitimate.
Through SVG High Commission in London: H.E Cenio Lewis, High Commissioner of St. Vincent and the Grenadines in London is working closely with the UK-SVG FRIENDSHIP TRUST to coordinate the various fundraising efforts by Vincentians living in the UK Diaspora. The UK-SVG Combined Response to La Soufriere Eruption has a GoFundMe page here. The Ministry of Foreign Affairs has confirmed to us that this GoFundMe page has the full sanction of the SVG Government.
Action Bequia: Targeted, tax efficient donations be made via Action Bequia see here. Board Chair Lucille Cozier will allocate resources to best effect as the situation develops. Action Bequia has already committed EC$10,000 from its reserves in response to the list of urgent requirements as defined by NEMO for immediate life-supporting necessities.
Locally On Bequia: Bequia Tourism Association Rep. Shevy Pierre is organising a drive for personal hygiene items, toiletries etc for person in shelters for the coming weeks and perhaps months. Items an be delivered to the BTA office See ad page 3.
La Soufriere Relief Telethon: Tuesday 13th April 6.30 – 7.30pm. Hosted by Leader of the Opposition Dr. the Hon. Godwin Friday and the Hon. Patel Matthews – call 1 (784) 495-1651. To donate directly via Payswif see here.
For those wishing to contribute to relief efforts by shipping supplies to SVG, the Gvt. has announced Duty and Tax Free concessions on items shipped directly to a number of relief agencies, on all imported water, and on barrels. See Immediate Needs List, issued by NEMO.
Stay updated on the current status of La Soufriere: http://nemo.gov.vc/nemo/

………………………………………………………………………………………………………………………………………
Related News:
St. Vincent & The Grenadines: Emergency Solar Light Campaign Underway (May 05, 2021)
BBC: Saint Vincent Volcano Erupts

Caricom: Activity at La Soufriere Intensifies

National Geographic: Why La Soufriere has such a deadly reputation

Direct Relief: Immediate Aid Response Underway

Related Links:
St. Vincent & The Grenadines: National Emergency Management Organisation