Portrait of a Cruiser – Jess Lloyd-Mostyn and Family
Previous Page
News Intro
The first of a new feature, giving a face to the noonsite community. Liveaboard Mum of two, Jess Lloyd Mostyn, gives us an insight into the cruising life of her and her family.
Last Update - June 15, 2017
News Item Content
The Lloyd-Mostyn Family
Portrait of a Cruiser – www.noonsite.com
Names of Owners (and crew):
James & Jess (parents), Rocket and Indigo (children) Lloyd-Mostyn
Nationality:
British
Boat Name:
ADAMASTOR
Boat Type/Model and Size:
Angelo Lavranos Crossbow 40, 42ft, built in Cape Town, South Africa in 1990.
Your Home Port:
London, UK
How did you start cruising?
Almost by accident, we had saved up for an extension to our London house but realised we could use the money to buy a boat instead. I'd never actually even set foot on a sailboat before voicing the crazy idea that "We could just buy a boat and sail around the world…". James had spent a season crewing in the Caribbean and done a few other jaunts on yachts. After that, I got serious about my training and it was only about a year from us having the initial thought to sailing off from the UK.
Describe what sort of cruiser you are:
Long-term, liveaboard, full-time global cruising.
What type of cruising are you doing currently?
So far we've sailed all the way from the UK to New Zealand, 32 countries, 2 oceans, and even had two children en route. In our next leg, we'll return to the South Pacific and then onwards towards South East Asia.
Can you list the countries you have cruised?
UK, Portugal, Spain, Gibraltar, Morocco, Canary Islands, St Lucia, Martinique, Dominica, Iles des Saintes, Guadeloupe, Antigua, St Kitts & Nevis, Statia, Sint Maarten / St Martin, British Virgin Islands, Cuba, Mexico (Caribbean), Providencia (Columbia), Panama, Costa Rica, El Salvador, (Mexico – Pacific), French Polynesia, the Cook Islands, Niue, Tonga,
Fiji and New Zealand. (I think I've missed a few here…)
And the oceans/seas you have crossed?
Atlantic ocean, Pacific ocean, English Channel, Bay of Biscay, Caribbean Sea.
Approximate sea miles:
20,000+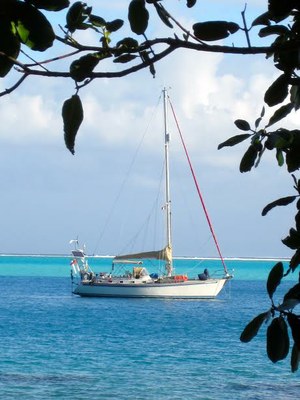 What were the key reasons you selected your current boat?
She was a proven bluewater cruiser, with ocean crossings under her belt already. She's sturdy yet really roomy inside. The main saloon has an exceptional layout for a boat of her size.
What changes have you made to your current boat?
Too many to list here. We overhauled the engine and fuel system and engine access, changed the lighting to LEDs, have added and upgraded sails, seacocks, solar panels and Hydrovane. Our guard rails have netting all along them for the kids. Internally we've changed all the upholstery, built bunk beds, ripped out an old fridge and built shelving, basically adapted her to fit our growing family.
Most useful equipment fitted, and reasons for this choice:
Definitely the Hydrovane. We added this in Pacific Mexico, following the birth of our daughter and, particularly for ocean sailing, it has proved to be indispensable. The ability to have a non-power hungry way of steering the boat without having to hand steer is a real wonder. We actually hand-steered our first 11,000 miles so really felt the difference with using the Hydrovane.
Equipment regrets, or things you would do differently:
Probably researched more into our new sails, buying them as a suite.
Future cruising plans:
Vanuatu, Solomon islands, islands of Papua New Guinea, Indonesia (plan for 2017), Singapore, Malaysia, Thailand…(2018)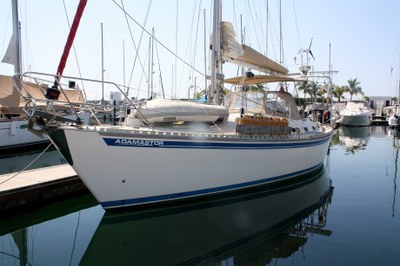 Scariest day on the water:
I wasn't actually there. James and two crew were sailing out from NZ to Vanuatu last season and were hoping to use a low to help send them north. Unfortunately, the weather system mutated and stalled, heading straight towards them. 55 knots downwind. It would have been manageable but both the mainsail and the headsail started ripping and the resulting tangled sheets caused some damage. As they were only one day out from New Zealand they made the hard decision to return and repair her here.
Best cruising moment:
They are so many to choose from. Maybe the big humpback whale that was the same length as our boat that drew up alongside us en route to Tahiti and gave us a big 'kiss' from its blowhole. Or perhaps the stars mid-ocean. Or any time that the sea gets eerily, mill-pond still.
Favourite cruising area and why:
We loved the British Virgin Islands, and adore Mexico and Portugal. Also really liked Tonga's Vava'u group.
Favourite anchorage:
Now that would be telling! We had some pretty lovely ones in Fakarava (Tuamotus – French Polynesia) and BoraBora.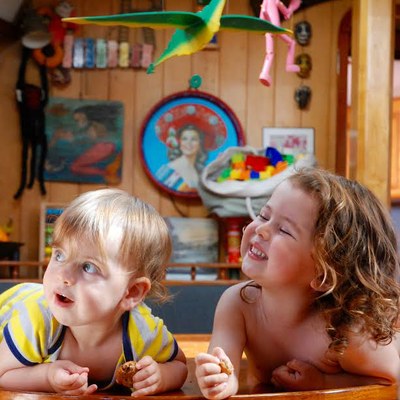 Favourite cruising apps:
Navionics & Predictwind
Favourite cruising websites:
Noonsite, Cruisers Forum
Favourite cruising books:
That's a tricky one. Good cruising guides can be amazing. We really liked Joshua Slocum and Bernard Moitessier. Hal Roth's "How to Sail around the world" and Jimmy Cornell's "World Cruising Routes" and "World Cruising Destinations" are used onboard so often that they're almost falling apart.
What advice or message would you want to pass on to anyone new to cruising or thinking about casting off the dock lines?
Don't wait. We've met so many cruisers much older than us who have said that they wished they set off when they were younger. We didn't wait for our boat to be all perfect before we left but have made changes and upgrades as we go. Which is why we've been able to sail all the time since 2011.
Why cruise? In a few sentences, what is it that inspires you to keep cruising?
It's an ultimate freedom. In a world of noise and distraction, of triviality and frustration, the best moments of cruising are a perfect antidote to the hectic worlds we weave for ourselves. It's not easy but it does continue to be endlessly fulfilling for us.
Blog/website/facebook pages:
https://www.facebook.com/waterlogsailing/
https://www.instagram.com/waterlogsailing/
If you would like to take part in the "Portrait of a Cruiser" feature, please e-mail [email protected]
Places
User Comments
You must register first or be logged-in to leave a comment.