NW Spain: Orca Activity Increasing – Daily Tally of Yachts Damaged
With boat owners leaving the Med to get home to northern Europe for the winter and transAtlantic yachts departing northern Europe for departure from further south, the Atlantic waters off the Iberian peninusula are busy right now. Unfortunately not just with yachts. [scroll down to read comments from cruisers that have been intercepted by orcas]
Published 1 year ago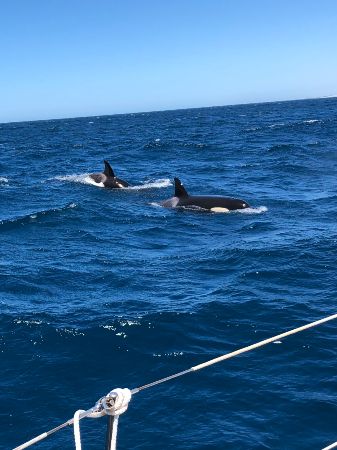 With boat owners leaving the Med to get home to northern Europe for the winter and transAtlantic yachts departing northern Europe for departure across the pond from further south, the Atlantic waters off the Iberian peninusula are busy right now. Unfortunately not just with yachts.
The widely reported orcas that have plagued yachts this year off Gibraltar and southern Spain, now appear to be migrating north. In the last week interactions have been reported off Portugal and southern Galicia.
Orca Activity Moves North
On Wednesday 22nd September, a British yacht attempting to get home was accosted by orcas approximately 50 miles south of Cascais, Portugal at 23:00 hrs. Read an account of their experience on the Med Sailing Facebook page. A damaged rudder meant they had to be towed into Cascais for repairs and their passage home aborted for this year.
On Thursday 23rd September, the Orca Iberica group confirmed there was an interaction between orcas and a yacht in French waters. On the same day there was a group of orcas interacting off Peniche (north of Cascais), and another one in Sines (south of Cascais).
Christopher Mackins reports on meeting orcas in the middle of the night off Peniche – he has posted about his experience at the bottom of this report under comments.
On Thursday 30th September, the local newspaper La Voz de Galicia reported that orcas had returned to Galicia once more. A double-handed British yacht departing Baiona in the Ria de Vigo bound south for Portugal, encountered orcas off A Guarda, at the mouth of the River Minho (the border between Spain and Portugal). Rudder damage forced a tow by the Salvamento north to Cangas for repairs.
At the start of October, some of the Mini Transat fleet pulled into Baiona due to approaching weather and a number of them reported orca attacks. The OCC report them being "thrown around like dinghies by the whales". The aluminium mini 650 support boat's rudder was badly damaged and a few of the minis were hit pretty hard and spun around a bit, with some damage to steering linkages.
On 1st October, La Voz de Galicia reported that a French Boat, "Le Sterne", with three crew on board, had lost its rudder off the island of Salvora (off Ria de Pontevedra, NW Galicia). They were just 1.5 miles off the island and encountered the whales at midday. The local coastguard towed them to Ribeira for repairs.
On 3rd October, at 2300 just off Cape Finisterre, a Swan 441 (SY Carissa from Finland) en-route from La Coruna to Portugal, was intercepted by orcas. The Spanish Coastguard responded to their Mayday call and at 0130 took them under tow for repairs. The Orcas continued to bump the boat until shallow water was reached. Read one crew member's account of the experience here.
See further reports below in comments.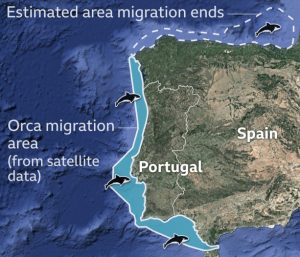 Advice and Resources for Concerned Skippers:
How to make the whales go away if Orcas show an interest in your boat is something every skipper transiting this coast wants to know. The Atlantic Orca Working Group have recommendations, but there does not appear to be a clear method that works every time. Chats on cruiser forums show that skippers are trying their own tactics from deploying a dinghy into the water to act as a distraction to putting the boat in reverse to deter the orcas.
Christopher Mackins reports on meeting orcas in the middle of the night off Peniche and sensing they were excited and trying to communicate (see his comment below). Conversely, a Swan 441 intercepted off Cape Finisterre this month felt they were assaulted by the orca for several hours.
Henry Buchanan, author of Atlantic Spain and Portugal, recommends the Orca Iberica Website as a good source of information. Now posted under "Last Interactions > Recommendations" is a plan with a traffic light system on the forecast Orca migration route off Galicia that should be of help to concerned skippers. This is updated every 24 hours based on information received from boaters and rescue services, interactions and sightings.
The FAQ section of the website is interesting and should help to provide some reassurance for skippers.
Henry also shared the BBC map of the orca migration route first published in 2020 (see above). He told Noonsite, "I was in correspondence with a Galician recently who told me that the Orca were being seen from shore much closer in than they ever used to be".
The OCC recommends avoiding transiting the waters off Galicia in NW Spain until later in October.
…………………………………………………………………………………………………………………
Do share what worked for you if you have encountered the whales this year, by posting a comment on the bottom of this report.
……………………………………………………………………………………………………………………………………..
Related Links:
……………………………………………………………………………………………………………………………………..
Noonsite has not independently verified this information.