COVID-19 Coronavirus: Situation Changing Daily in Many Countries
With the spread of respiratory illness caused by the novel (new) coronavirus (COVID-19) that is occurring globally, many countries are instituting severe travel restrictions and even country-wide lockdowns in an effort to contain the virus. The situation is changing by the hour. What does this mean for the cruising community?
Published 4 years ago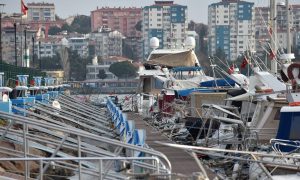 On February 12, 2020. Noonsite began publishing a list of COVID-19 coronavirus restrictions being placed at ports of entry around the world. Just one month on, restrictions being implemented have escalated to the point where many countries are severely restricting travel and in some cases going into complete lockdown.
Bear in mind that these restrictions are announced on an hourly basis, with no warning and of course with no consideration for cruising boats on passage. Many boats have reported arriving at their next destination only to discover there are documents that need to be completed and e-mailed prior to being permitted to enter. Others arrive facing an obligatory 14 day quarantine period at anchor, not being able to go ashore after a long passage behind them.
Compiling information from our worldwide contacts it would seem that the safest course of action for transient cruising boats is to stay where you are for the time being if you are able and follow the WHO guidelines. Don't cast off until you know for sure you can safely arrive prepared at your next destination, entry will be permitted and safe havens en-route can offer the same.
Contact your local embassy, consulate or marina to determine your best course of action.
As much as we are able we are continuing to update the list of countries implementing restrictions, and the Noonsite country biosecurity information, but also recommend you follow cruiser Facebook groups for the region you are cruising to get real-time updates and use the links we provide to gather as much information as possible.
A brief example of the steps countries are taking include:
Panama: The current news is that boats arriving into Panama need to self quarantine at anchor for two weeks before being allowed into a marina. Canal transits for small boats are becoming more restricted.
Galapagos: The Government of Ecuador has just closed all entries to the country, by land, sea, and the airports and are turning away any new arrivals.
Cook Islands:There is a temporary ban on all yacht arrivals from March 16 and at this stage through to 30 June 2020.
Spain: Spain has declared a "state of emergency". Recreational sailing is now banned and it is not recommended to cross/enter any border.
The Azores, Madeira and El Salvador, plus nearly all central America countries and many South Pacific islands, have closed their ports completely to all foreign yacht arrivals.
If the borders aren't closed, remaining countries are imposing a 14-day self-quarantine on arrival and in a few cases just health screening. As the situation escalates even further more countries will follow suit.
The safest course of action for transient cruising boats is to stay where you are for the time being if you are able and research carefully your next country of call should you need to re-locate due to seasonal weather changes.
Please share your own experiences in relation to COVID-19 restrictions with the cruising community by e-mailing: [email protected] or by posting a comment at the bottom of this report.
Useful Links: