Contents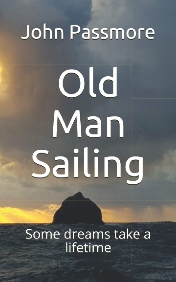 Buy Now
Old Man Sailing: Some dreams take a lifetime
When COVID-19 struck the UK, the government advised the over-70's to "shield" while the country went into Lockdown. One old man went sailing instead.
Single-handed and self-isolated, retired journalist John Passmore used the pandemic to achieve an ambition which had eluded him for 60 years. For 3,629 miles, he disappeared into a world of perfect solitude, adventure and adversity – arriving back 42 days later, short of water and with shredded sails to find himself celebrated on national radio as the embodiment of everybody's Lockdown dream. This is his story.
It is also a story for anyone who ever thought a dream was unattainable.
By: John Passmore
Publisher: Kindle Direct Publishing (23 Jan. 2021)
ISBN-13: 979-8599208402
EXCLUSIVE BOOK DISCOUNTS FOR NOONSITE USERS
Imray & Adlard Coles Pilot Books can be purchased with an exclusive Noonsite discount of up to 15% by visiting our Imray store if shopping from the UK or Europe.
For North America and the rest of the world visit Bluewater Books & Charts. When ordering through Bluewater be sure to enter the coupon code NOON during checkout to save 10%.