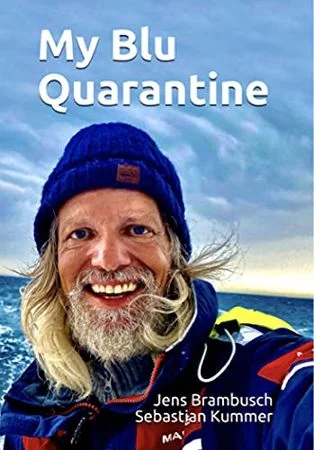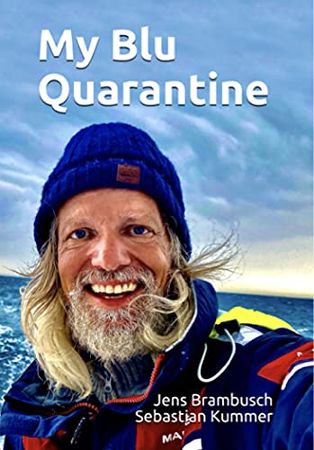 My Blu Quarantine
A 3 month Odyssey under sail in the midst of a Pandemic
Sebastian Kummer's task was straightforward: deliver "Blu", a new catamaran from a shipyard on France's Atlantic coast, to a chartering outfit on the Turkish riviera. From there, he'd change crew and pick up a second yacht for delivery to Croatia, a journey of 4000 nautical miles in total. But just after Kummer sets sail in mid-February 2020 the COVID-19 pandemic steamrolls across Europe, sending one country after another into lockdown and his crew scurrying.
Review by Sue Richards, Editor of Noonsite.com
Co-Authors Sebastian Kummer and Jens Brambusch sent me their book back in August to review for Noonsite. It's the first Covid-related sailing book we've received, which is a surprise considering how many sailors experienced similar struggles (many stories of which can be found on our Covid page). What makes this story different though is how journalist and author Jens Brambusch has cleverly turned Kummer's voyage notes into a very readable mini-thriller. While none of this is fiction, it feels like fiction at times as a simple delivery trip turns into a nightmare with no escape.
Many skippers will be able to relate to the numerous dilemmas Kummer has to face as he deals with loss of crew, breakages, bad weather and closed ports, and although it takes a few chapters to warm up, the book becomes hard to put down as the reader is carried along with Kummer and his mission to get into Turkey.
What I particularly enjoyed was Kummer's eternal optimism when faced with adversity and the humorous anecdotes throughout the book. Confined on board for 90 days, Kummer's ability to see humour and light in his impossible situation and calmly deal with the countless setbacks demonstrate a tenacity possessed by many offshore sailors, one that is perfectly suited to pandemic lockdowns!
Kummer called his experience "the world's greatest quarantine", recognising how blessed he was to be confined on the ocean, not in a house or flat, away from the chaos that surrounded him on land. I'll be keeping "My Blue Quarantine" forever, to remind myself in years to come of the month when the world changed forever.
My Blu Quarantine
A 3 month Odyssey under sail in the midst of a Pandemic
By Jens Brambusch and Sebastian Kummer
www.mit-kummer-ohne-sorgen.org
Available on Amazon
Publication date: ‎ July 19, 2021
ISBN: 979-8568378242
Paperback 12.90 GBP, 18.90 USD
Ebook 8.50 GBP, 9.99 USD