Contents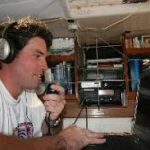 After 10 days of tests and trials of the new Trans-Atlantic Cruisers Net, which is a joint effort of the following four FCC Marine Coastal Stations:
WCY, Chris Parker, Lakeland, FL (https://www.mwxc.com/)
KNC, Dick Giddings, Dover N.C ([email protected])
KJM, Jim West, Ellijay, GA ([email protected])
KPK, Glenn Tuttle, Punta Gorda, FL ([email protected])
We have concluded the need to expand our coverage area by the inclusion of the 8 MHz band in addition to the 12 MHz bands.
Therefore, beginning immediately, the well-known afternoon Doo-Dah Net, managed by Dick Giddings will include check-ins for the Trans-Atlantic Cruisers Net. The Doo Dah Net is considered a follow-up net to the Cruiseheimers morning Net, passing traffic to cruisers from family members, and taking position reports from vessels on passage and recently arrived.
The Doo Dah Net begins daily at 2100 hrs UTC or 1700 hrs Eastern time on SSB frequency 8.152. The Doo Dah Net will continue the same way it's always been run by Dick Giddings, with the exception of now welcoming any vessel wishing to check into the Trans-Atlantic Cruisers Net. Any vessel needing specialized help, like a phone patch, internet search, etc., can be taken to frequency 8.104 to allow the Doo Dah Net to continue uninterrupted.
At approximately 2130 hrs UTC, or 1730 hrs Eastern time, or upon the conclusion of the Doo Dah Net, net control will advise the four Coastal Stations will be switching to frequency 12.350 to listen for distant traffic from vessels making blue water passages. The four Coastal Stations will guard this frequency until approximately 2200 hrs UTC or 1800 hrs Eastern time when Chris Parker, WCY comes on with his regularly scheduled weather broadcast.
We collectively hope this new schedule will serve the needs of the cruising community more effectively. As before, all vessels are welcome to utilize these nets, and relays are always welcomed.
Thanks to all,
Glenn Tuttle
Related content
SSCA's Trans-Atlantic Cruisers Net will resume operation Wednesday, October 24, 2018