Yemen, Southern Red Sea, Hanish Islands: Yacht shot at from ashore – February 2016
February 4, 2016
Incident with Sailing Yacht "Milashka", at Island Jazirat al Hanish al Kabir, near the Bab al Mandeb Strait, Southern Red Sea.
Published 7 years ago, updated 3 years ago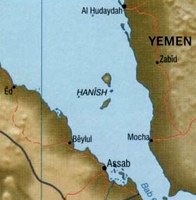 After a strong gale and violent storm in the south of the Red Sea, we decided to find shelter for our yacht near the island Jazirat al Hanish al Kabir, for urgent repair of the damaged sails and rigging.
However, on the western side of the island (13° 42'7.18″N 42° 42'13.82″E) our yacht came under fire from a camouflaged position in the abandoned settlement on the shore. It was shooting to kill. No warning shots, the first bullet hit the hull of the yacht. We miraculously escaped death. Only the yacht was damaged.
Appropriate institutions (UKMTO, CMF) were immediately informed.
We headed to port Djibouti for repairs and reporting.
From Vladimir Melnik (crew member)
After the incident, S/V Milashka made a stop on Socotra Island for one week – http://socotra.info/cruisers-on-socotra.html
Our thanks to Denis Romanov, of Socotra island (www.socotra.info) for passing on news of this incident.