Where the Magic Happens
Previous Page
Report Intro
This is one family's story; a story of a fabulous sailing adventure and an inspirational tale for all those wishing they could do the same;
Report Content
One night when their children were still in diapers, Caspar and Nichola Craven hatched a plan to sail around the world as a family. Most people thought they were crazy. But in the years that followed they embraced every moment of this transformative chapter of their lives.
Five years of planning led to two wonderful years of living their dream of sailing the world–full of moments both magical and scary–enjoying life and learning and growing as a family.
This is one family's story. It's also a story of a fabulous sailing adventure and an inspirational tale for all those wishing they could do the same; it's a practical guide to show you just how you can make it happen; it's a motivational story of leadership and teamwork within a family; and it's a funny, heart-warming tale of slightly unconventional family life.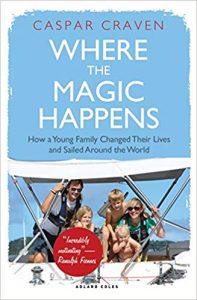 Where the Magic Happens
ISBN 9781472949912
Hardcover | 320 pg
Buy on Amazon
User Comments
You must register first or be logged-in to leave a comment.
No comments for this post.