Venezuela: Yacht on Passage Boarded by Armed Pirates
A single handed yacht on passage from Curacao to Brazil was boarded by more than 20 armed Spanish speaking pirates, approximately 15 miles offshore of the Paria Peninsula, along the north eastern coast of Venezuela.
Published 1 year ago
DATE: 2021-09-15 08.30

LOCATION: Venezuela-Nearshore Islands – Paria Peninsula – Offshore
EVENT: Piracy
HAND: 1
STOLEN ITEMS: Cash, food, alcohol, life-raft, clothing, shoes, sunglasses, phone charger
SECURED: Does not apply
DETAILS:
A single handed yacht on passage from Curacao to Brazil having passed well north of Margarita Island, Venezuela, was boarded at 0830HRS by Spanish speaking pirates 15 miles offshore the Paria Peninsula at position 10-58.744N 062-38.279W along the north eastern coast of Venezuela.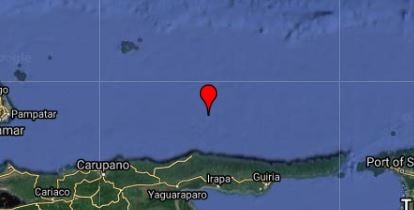 Initially two open boats with multiple large, new outboards and 20 men took control. The pirates were all armed with automatic weapons and handguns. They beat the captain and forced his yacht close to shore in this remote and sparsely populated area. There was a well established house/camp and other armed men visible ashore. Two additional boats (total 4) and men (total 40) then spent four hours threatening the captain with their weapons and ransacking/searching the yacht while he was forced to circle close to shore.
The pirates repeatedly demanded cash, which was surrendered. They also took all alcohol/beverages and food, as well as clothing, shoes and sunglasses. The pirates took the yacht's liferaft, but had no interest in the dinghy or outboard, laptop, the yacht's electronics, the captain's credit cards or his cell phone. The pirates did take the phone charger. They were fairly well organized and under the control of "the boss" who communicated with his men and the captain by VHF.
Eventually the pirates were satisfied they had taken all they wanted, and the captain asked the pirate boss for some small food and diesel so he could depart and continue his voyage. It was provided with a proviso to go and never look back. The yacht proceeded and made safe harbor in Chaguaramas, Trinidad. Assistance was provided by a cruiser who noticed the distressed state of the captain.
The captain was visited by the Trinidad and Tobago Coast Guard who took a full report, he also talked with his consular officials. He was tested and put into 14 day (onboard) COVID quarantine, with limited but necessary support provided by a shore-side marina and boatyard.
CSSN would like to thank everyone who has supported this cruiser during a difficult time made even more so because of Covid restrictions and regulations.