U.K., Southampton, Hamble River: A New Marina Finally has the Go-Ahead
Previous Page
Report Intro
The Royal Southern Yacht Club in Hamble has won the right to carry out a 'world-class' multi-million-pound expansion project after a thirteen-year fight to bring the dream to fruition.
Report Content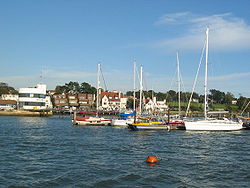 Dredging, quay wall replacements, a new slipway and a new network of 'walk ashore pontoons' can now go ahead at The Royal Southern Yacht Club in Hamble.
Plans also include installing a disabled berth complete with personnel hoist – the first on the river.
Up to 72 yachts will be able to visit the new 'Prince Philip Yacht Haven' enjoying electricity and water points and fully tidal pontoons.
It comes after the club, together with the Royal Air Force Yacht Club, won an 18-month bid for harbour works consent, planning consent and a marine licence. Work will start this autumn with completion as early as next year.
A combined membership of 2,500 can now look forward to 'world class' facilities, according to the team that drove the planning process forward – Marina Projects Limited.
Project director Mike Ward told Julian Robinson of the Daily Echo: 'This really is fantastic news for both clubs and underpins the vital contribution that they make to the river and local economy.
'The partnership approach adopted by the clubs, their desire to deliver a project with a wide range of benefits and a genuine commitment to an extensive consultation process was vitally important to achieving the consent success.'
The exact cost of the project has yet to be revealed but it is believed that it will run into millions of pounds. It will include a programme of dredging, construction of a full tidal access slipway, fully serviced walk ashore pontoons and replacement of a failing quay wall structure.
Club Commodore David Mead said the project had been 13 years in the making.
He added: 'We are looking at the next 50 years into the future with these proposals and it will be a tremendous boost for young and disabled sailors on the river. We are extremely excited.'
by Sail-World Cruising round-up
User Comments
You must register first or be logged-in to leave a comment.
No comments for this post.