Turkey: Three Years based out of Alanya Marina
Wade and Diane Alarie arrived in Alanya, on the southern coast of Turkey, after passing through the Suez Canal and the Red Sea in June 2020. After three years in the country they have learnt alot. Now they are moving on they have shared all their knowledge in this information-packed report, a must-read for anyone considering sailing to Turkey.
Published 3 weeks ago
My wife Diane and I arrived in Alanya after passing through the Suez Canal and the Red Sea in end June 2020. A COVID-19 lockdown had just been lifted and Alanya was the first place that would accept us, after lingering in Egypt and the Suez Canal.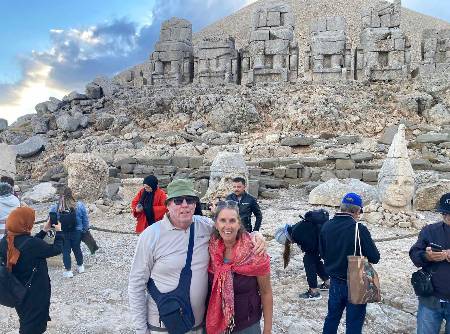 Alanya is a Turkish port of entry/exit, although this does not seem to be advertised well. In our nearly three years in the country, we did travel extensively and also visited marinas along the coast from Alanya to Bodrum. Like many Turkish cities, there is also a local marina, in the city centre – catering to locally owned and operated, mostly tourist boats. Alanya Yat Limani (Alanya Marina) lies on the west of the city, not in the downtown core and it is on Navionics charts.
Alanya Marina
The staff were warm and welcoming and have continued to be helpful where they could. To be honest, we were grateful to be welcomed (in the midst of the COVID pandemic) anywhere. We were attracted to Alanya Marina by their glowing, but outdated and no longer accurate website.
Sadly, many features that we considered attractive are no longer there (a dinghy repair shop and a weekly market bus for example) and some that we do not consider attractive (the ever persistent Illusion Nightclub) remain. Most Turkish marinas are built by the government and then leased long term to private interests who operate and maintain the facilities.
Not surprisingly, it seems that there is a lot of collusion amongst marinas with regards to pricing for dockage and services (for example, you must pay the marina for a visiting contractor 35 euros per person, per day) and for using the laundry machine (now 10 euros for a wash load, 13 euros if the marina supplies the soap).
Upon closer examination, that 35 euros per person, per day – actually has to be paid by each yacht a visiting contractor attends. The burden cannot be shared between yachts. Although in my mind, Alanya Marina is still considerably cheaper than many of the marinas along the well visited coastline from Izmir to Antalya.
It is cheaper, largely because it is 72nm to the first good anchorage, and does not lie along the Lycian coast.
Getting work done
Alanya Marina do not have many specialists that work on site, although they can bring in mechanics, refrigeration technicians, welders, canvas makers, carpenters etc. Like most marinas, it has no "on-site rigger or sailmaker", although they have a good relationship with Elvstrom Sails in Marmaris. We removed our sails and the marina shipped them off to Elvstrom for maintenance at a fair cost.
Also, we handed our dinghy to the marina and they sent it to Antalya for repair and production of new dinghy chaps. Yes, the marina charges a fee for that, but it is fair in my opinion.
There is a very skilled welder (Omar) who although is not an employee of the marina, is an on-site contractor. Omar is pricey (comparable to EU for example), very skilled and careful – but also quite slow. His work is first class, expensive, but slow. There is also a very skilled painter (Murat) who works on-site, and his prices are charged by the square metre. His work is also first class, expensive and relatively fast. Again, the marina gets quite a large percentage of the bill.
Shore facilities
The marina area has a pool (the use and maintenance has been a continuing source of frustration) – free for marina guests, an on-site spa (which we used on several occasions), a restaurant (which we used many times), a small "corner store", a newly resurrected BBQ/social gathering area and the already mentioned "Illusion Night Club".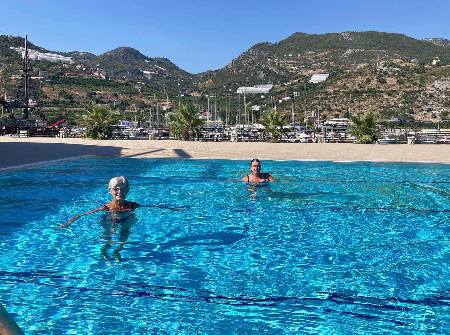 If you come to Alanya Marina, be sure to request a berth that puts you as far as you can possibly be from the Illusion Night Club (or Event Hall). It can be very noisy, continuing into the early hours of the morning. Many people have complained, but it is much easier to move your boat further away from the Night Club, close your hatches – and put in ear plugs.
The tourist "Pirate Boats" are also known to play very loud music at different times during the day, although rarely when you're sleeping. Of note, there is a very good Turkish bakery just across the street.
The marina has potable water at the docks, but we filter it at source just to be sure. We have seen many people regularly bring in large bottles of purified water, but we believe this is unnecessary. The marina electricity is also very stable, and they have two large, well maintained standby generators. Electrical outages in the city are not experienced at the marina. You must pay for water by pre-buying water card credits, and pay for electricity based on actual usage (monthly). They regularly read the electrical meters. When we arrived, the charge for electricity was 30 Eurocents per KW hour, and this increased to 50 Eurocents per KW hour in May 2022, much to our disappointment.
WiFi and connectivity
Marina wifi is actually pretty good, and it was upgraded to fibre optic in February 2023. Two networks are broadcast on 2.4GHz and 5.7GHz. Many people that connect use either a MikroTik Groove or a Ubiquiti Bullet with amplifier. At the time of writing, there were about 30 liveaboard boats, with several people working online. One thing about Internet in Türkiye is that there are frequently "dropped links" and we found ourselves frequently shifting from "no VPN" to "VPN" in order to see everything. This, I believe, is a result of heavy Government scrutinization of Internet sites and unrelated to the marina wifi.
The marineroes, security and gardening staff interacted very well with marina customers. Many of them speak English and like to chat with us. The lift operators are careful, and efficient.
Customs and Packages
All imported goods arrive in the country through Istanbul and there are a considerable number of people employed by the country to examine all goods that arrive. In the three years that we were in Türkiye, I have had packages come in by all couriers and Post – from China, France, UK, Austria, Canada and the USA (maybe 50-60 packages in total). I have always paid 18% VAT, no duty. The rules changed in June 2022, as the Government is desperate for new money – and now it has become much more expensive to bring in things that cost more than 150 euros (including shipping cost).
Although I never had any packages go missing, it can take up to four weeks to get a package through Customs in Istanbul. You need to be careful what you are importing, and verify before placing the order – that it will be able to enter the country (is the product permitted to enter).
The couriers make a slight effort to contact you (best to follow the package movement and proactively contact them). It should be no surprise that the couriers will not call or text a foreign number. You must supply a Turkish telephone number that can receive SMS.
You will need to supply identity information (passport copy or IKAMET / residence card) and the reason that you are importing the goods. Turkish Post never contacted me. The package just arrives and you have to pay money based on an assessment. On the other hand, there are many Turkish online retailers (n11, Hebsiburda, Trendyol, Amazon Türkiye etc) where you can source many goods that are not found in local stores – but are already in the country.
Unfortunately, due to the high cost of shipping, time delays with Customs and difficulties in dealing with Turkish couriers, I have seen several cruisers fly back to his/her home country to fetch some parts, and bring them back in their checked baggage (which never seems to be a problem).
Yacht in Transit – LiFePO4 batteries
I ordered some ThunderSky Winston LiFePO4 battery cells from SKY POWER in China. (Contact Julia Yu http://www.skypowerintl.com). These are not sold by any vendor in Türkiye. I'm going to lay out the detail here, because I know that many people will ask for it.
Surprising to me, I was able to import them as "Yacht in Transit" and not pay any import duties or VAT. Since they were coming in as "Yacht in Transit" the shipment did not have to meet Turkish safety or environmental standards, although these particular batteries are CE approved. In detail, this $3,095 USD purchase cost $215 to ship from China to Türkiye, and then another $2,684.50 USD to have it imported into Türkiye and shipped by "bonded courier" to me here in Alanya.
Although I paid no duty or VAT, most of this cost was in Government fees at the port, and "along the way". The boxes were opened and inspected by Customs at Istanbul, and much to my surprise – again in Alanya. Government fees in Türkiye increased by 123% in January 2023 and continue to set records. At least the shipment did not "linger" in high cost Government, bonded storage.
My agent for import was Eda Binal with Bluestar in Izmir (WhatsApp contact +90 543 668 7274). I can highly recommend her services.
I paid for the batteries on: 29/12/2022
I received the order on: 6/03/2023
The Cells were produced 29/12/2022 and on arrival, all cells tested within .001V of each other.
Getting Work Done in the Sanaya
Every city in Türkiye has an industrial area, where you will find shops that do repairs to machinery, plumbing, electrical, carpentry etc. The "Sanaya" district always contains wood working shops, machine shops, repair garages, welding shops and stores that specialize in automotive parts, o-rings, gaskets, bearings, seals etc.
If you can remove your equipment from the boat, take it to the Sanaya and have them work on it, for a fraction of the cost of what any marina will charge.
In Alanya, we frequently used the taxi services of Ahmet Sahin (WhatsApp number +90 530 412 73 71), who speaks English, German and Turkish fluently. Ahmet took us to the right repair shop, described our problem to the tradesmen and negotiated for the best price.
Ahmet does not take a kick-back from the tradesman for this, but you should compensate him appropriately for his taxi mileage/time and his translating services. It is highly recommended to use Ahmet's services.
Getting Around the City
Türkiye is the best country we have ever visited from the perspective of
transportation services. Intercity and municipal buses are cheap, and easy to use. Many people install the MOOVIT app on their phone. On basically every street corner, there is also a yellow taxi call button. If you push the button, in a few minutes a taxi will magically appear and take you to your destination. Make sure that the driver puts the meter on, otherwise there may be a dispute about the fare.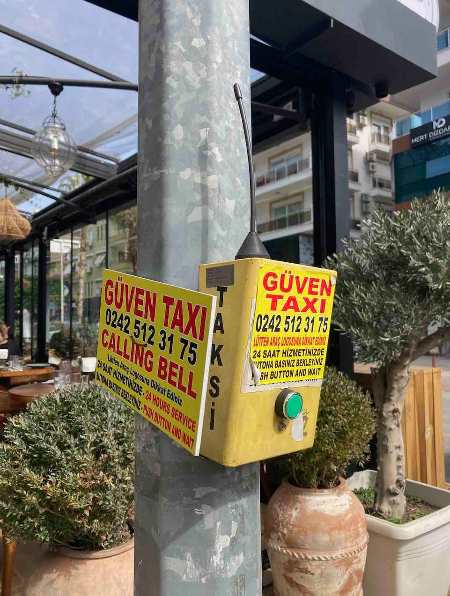 Alanya has a small international airport at Gazipaşa (GZP) and a large
international airport is nearby (120km) at Antalya (AYT). We used 7/24 Alanya Airport Transfer for reliable, economical transport to an airport, most often flying out of Antalya. There are other, similar companies with nearly the same name, but they are not as good.
Mobile devices and SIM Cards

Türkiye is the only country we have visited where the government has such tight control on mobile phone taxation (or tablet, anything that connects to the cellular network). If you arrive with your own mobile device (phone, tablet – anything with a SIM card inserted), and if you're on roaming, there is no problem. Roaming gives you country-wide access through agreements between your own carrier and the Turkish major carriers. However, if you want to put a Turkish SIM card in your device (and benefit from cheap network costs), then there are limits. Your first SIM will be tied to the entry date in your passport, providing a maximum of 90 days.
If you get an IKAMET (residence card), although your next SIM card will be valid through to the end of your Temporary Residency, your device will stop working at the 120 day point, unless the import tax on the device is paid. The Turkish carrier reports the IMEI number of the device to the Turkish Customs and they meticulously track this.
The only choice you have is to buy a Turkish device (which has had the tax paid) or to pay the import tax on your phone. This is a fixed price, and connected with your device, your IMEI number – currently 6091TL (this went up from 2700TL to 6091TL from 2022 to 2023). If you pay the tax, and drop your phone in the water – tough luck. You will have to do it again.
A popular alternative is to buy a MIFI device sold in the country (tax paid) and connect your phone/tablet to that. As long as you carry the device with you, you have cellular Internet and calling through Messenger, WhatsApp or other VOIP services. Unfortunately, this does not give you a "callable" telephone number or SMS – and this is vital to receiving information about package delivery.
Immigration
When we arrived, we entered on a 90 day visa, and when in the country -applied for a year long temporary residency (an IKAMET), using the marina address as our residence. The fact that we could do this "on arrival, and inside the country" is remarkable, and not common around the globe. This was accepted and in the second year, we simply asked for another year, and bought another marina contract.
In the third year, we asked for a two year permit, based on the next one-year contract and this was accepted. We left the country without using the last year of our residency. We were not asked to establish bank accounts. We were not asked to show proof of income. We were not asked to apostatize any documents. All of those issues started after our arrival, and may depend on your country of citizenship, age and status. We have also noticed that some people who have a "corporate owned boat" have been treated differently.
Inflation
Inflation in Türkiye is wild, much higher than anything reported in the news. I bought two flexible solar panels in October 2022 for 14,000TL. In February 2023, I bought two more panels (from the same vendor) for 21,000TL. Neither price was a good or fair price, but I was "trapped" because the vendors were limited and I wanted the same panels.
We notice the price of groceries and market fresh vegetables and fruit increasing by the week. Turkish minimum wage increases yearly, and last increased from 4253TL to 8506TL in January 2023, although the exchange with the euro has not changed in a year. Government fees (speeding tickets, telecommunications tax, IKAMET processing costs) have risen in the same fashion. I was told that the government lease to the marina increased by 122% in 2022 alone. These increases are of course – passed along to the consumer.
Wade and Diane Alarie
SV Joana
………………………………
About the authors:
After three years in Alanya Marina in Türkiye Wade and Diana are finally moving westwards again, bound for Greece, Crete, Malta and then an extended stop at Monastir Tunisia. Wade is well known as moderator of the Red Sea Passage Facebook group, a job he has done for a number of years and dedicated to making the Red Sea Passage to or from the Mediterranean a much safer one for cruising boats.
………………………………
Related Reports:
……………………………….
Related Links:
The opinions expressed in this article are the author's own and do not reflect the view of Noonsite.com or World Cruising Club.
………………………………
Find out all news, reports, links and comments posted on Noonsite, plus cruising information from around the world, by subscribing to our FREE monthly newsletter. Go to https://www.noonsite.com/newsletter/.