Tanzania, Tanga: A comprehensive update
Previous Page
Report Intro
Jack and Jackie Hunt, in their yacht SV Barbara Ann, have sailed extensively around Tanzania and this report offers detailed information on the facilities and attractions in Tanga.
Last Update - September 17, 2018
Report Content
The anchorage at Tanga
Whilst Dar es Salaam is the better place for provisions there are limited facilities in Tanga but this is offset by the welcoming yacht club, a mangrove walk and a lovely anchorage at a nearby sandbar, which at times, is a get-together meeting place.
Yacht Club
The Tanga Yacht Club is a wonderful place to visit. They expect a weekly membership fee from visiting yachts upon arrival. Mercy is the office manager there, and she will (very nicely) remind you of that fact on your arrival. The weekly club fees for visiting yachts is 40,000 TSH or a bit less than $20 US. The fees mentioned in the 2010 posting are no longer accurate. Cash is not accepted at the bar, which means you will buy coupon books for 10,000 TSH each, and use the coupons for drink orders. The club tries to keep their prices for drinks at a minimum, and the cost for beer, etc., is very, very reasonable. A local beer only cost 1500 TSH the last time we visited, which is less than $1 USD. There is also a very nice restaurant in the club (which accepts cash), run by two local ladies who put out some tasty and inexpensive meals. It could be said that after a few weeks here you may tire of the menu offerings, but that goes along with the small town feel of the place.
Anchorage
The anchorage off the yacht club is very safe, especially in southerly winds (see photo above, right). During the summer months, when the kaskazi (northerly) winds blow strong, Tanga's anchorage can be a bit uncomfortable, but never alarmingly so. The holding is excellent, in soft-ish mud. We have seen yachts drag here, but put it down to anchor types – CQRs and Plows fare worse here than Rocnas or Bruces. There are moorings, and you may be fortunate enough to find an empty one, although in the five or six times we visited we never got so lucky. Mosquitoes come out for happy hour, so make sure your boat is screened and you have lotion on in the evenings. Keep in mind that we are in malaria and dengue area. Fortunately, most cruisers who visit East Africa never catch either, but do take precautions.
Clearance
Clearing in and out from Tanga is very easy, by all reports. We haven't done it, ourselves, but know several yachts that have, and they all report that it's painless. We have seen Immigration officers visit the club, checking up on which yachts are in the anchorage. We were asked by a very friendly Immigration officer to show our passports, which we did; he was only interested in seeing that our visas were current. Mercy, in the yacht club's office, can help you with where to go to clear in and out. The older report from 2010 mentions obtaining transires for local port clearances. Although this may be the letter of the law, we haven't found it to be true in practice. In a year of travelling through this area, no one has asked for or mentioned transpires.
Attractions
We would be remiss if we didn't mention a special attraction that all the visiting yachts enjoy when they visit Tanga – the famous Mangrove swim/walk. A local lady, Sibylle, takes yachties on a tour of the mangroves, in a creek, on the flood tide. There's no charge for this, and it's a great way to see the local habitat. There is a bit of swimming involved, but nothing challenging. Sibylle is a long-time resident of East Africa and is instrumental in environmental activism. She was responsible for the first marine park in East Africa, on Chumbe Island, nearly 30 years ago. Don't miss her Mangrove tour.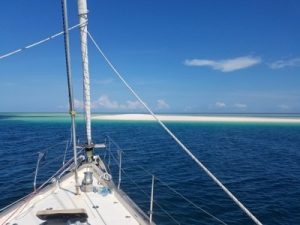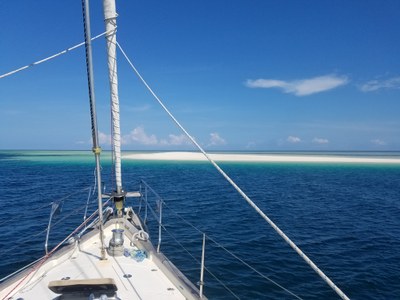 Just outside Tanga, near the entrance to the bay, is a popular sandbar (pictured left). We've anchored there several times to make water and to enjoy the sunset. Several yachts will sometimes go there for get-togethers at low tide. Tanga is home to a couple of yachts who also spend a great deal of time in Madagascar; they typically spend half of the year in Madagascar and half of the year in Tanga.
Around the Town
Tanga offers two medium sized supermarkets and at least one local fresh market. The only challenge will be to find some of your favourite western-style food items. Other than that, you can find good meats, fish, and produce quite easily. There are 2 or 3 good local restaurants in Tanga, including a very nice Italian restaurant within walking distance of the yacht club. The easiest way to get to town (about 2-3 km away from the club) is to walk about 500 meters to a local bus stop and catch the small shuttle buses that constantly run into town – 200 TSH per person. If one is too crowded, wait 5 minutes for the next one. To get back to the club from town, the best solution is a bejaji (tuk-tuk), for 2000 TSH.
Jack and Jackie Hunt
SV Barbara Ann
Related content
Tanzania, Zanzibar: New marina changes the face of cruising in East Africa
Cruising East Africa, Tanzania: A great place to sit out the cyclone season
User Comments
You must register first or be logged-in to leave a comment.
No comments for this post.