Tahiti: Coping with an Emergency in Paradise
After 20 years of cruising full-time, Australians David Frost and Kris Adams of SY Taipan experienced every cruiser's nightmare. An unexpected medical emergency in Tahiti saw them putting their emergency evacuation insurance to use but left them seriously out of pocket. Combined with the Covid-19 restrictions in French Polynesia they have had to totally re-evaluate their sailing plans. Here they tell their story in the hope it causes cruisers to consider the consequences of an emergency.
Published 2 years ago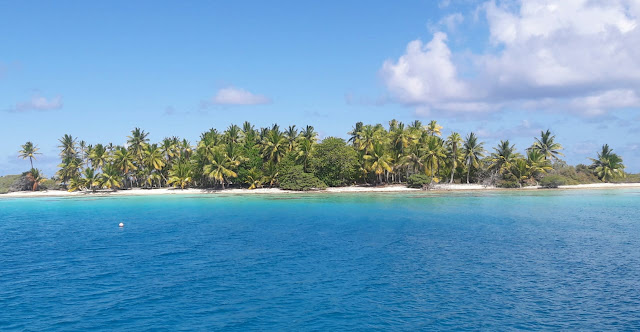 COVID has run away with our freedoms and unrelated health matters have caused a major re evaluation of our sailing plans.
Wandering about beautiful French Polynesia for over a year waiting for the end of the cyclone period (May), we had gone to Papeete to do a few maintenance jobs and prepare to haul out before setting off westward to complete our circumnavigation.
Medical Emergency

We were having a quiet coffee aboard Taipan in the Papeete Marina when David suddenly declared that his left arm was behaving strangely. Good friends, Grahame and Janakie from "Leela", were aboard and we immediately called the ambulance and they helped walk David to the marina gate.
Rapid response by the Fire Brigade in the first instance, then Ambulance shortly afterwards, meant that David was in the Tahoe Hospital in Tahiti in about 20 minutes and straight into Emergency, where they performed many tests and scans and administered drugs. David had suffered a stroke! The event was caused by a shower of tiny particles coming loose from plaque in his right Carotid Artery. He was admitted to the Neurology Ward and to cut a long story short spent the next nine days undergoing treatment and preparing for Medical Evacuation to Australia.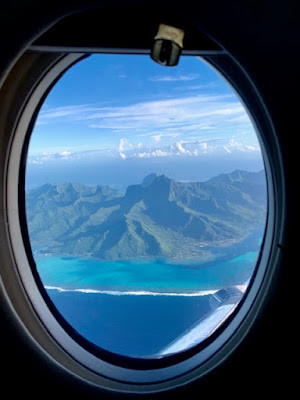 Insurance Pitfalls
The Australian Government, in the early chaos of the pandemic outbreak, closed Australian Borders and forbade Australians from leaving the country. At the same time they prohibited Australian Travel Insurance Companies from renewing, or writing new policies for Australians. Our Travel Insurance Company could not renew our travel insurance so in desperation we took out a little Evacuation and Rescue policy with a company called GEOS, for a mere $125 each.
Mounting Costs

With the Pandemic raging the Evacuation process was protracted. The Australian government had to give permission for us to return and Air Ambulances had to get international permits to enter etc. The whole debacle took seven days of negotiation to arrange our repatriation to Perth. At A$10,000 a day in the hospital, with no medical cover, it was altogether a very stressful process I never want to relive. GEOS only cover the Repatriation.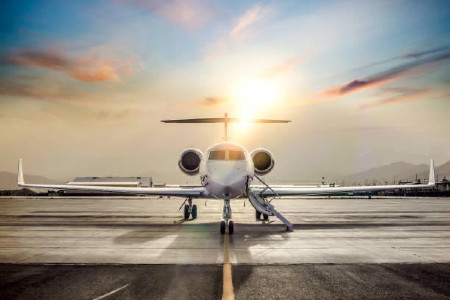 First Class Air Ambulance
On the 28th of March at 7 am we were collected by a team from New Zealand Air Ambulance, and aboard a nice little Beechcraft Nexis we were flown to Brisbane, with refueling stops at Nuie and Nauru, New Caledonia. There were 2 pilots and an emergency nurse aboard and we touched down at Brisbane at about 4pm after a six hour flight in beautiful weather. The whole team were outstanding, caring and fed us amazing food!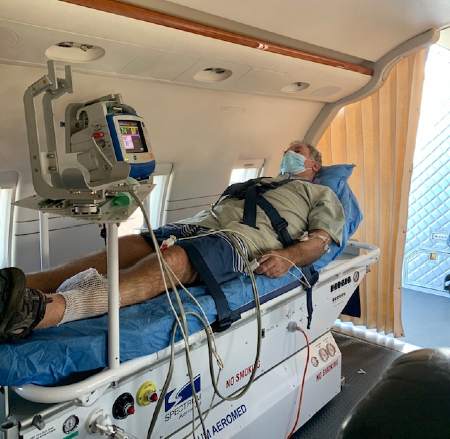 Customs and Immigration processed inbound clearances and we boarded the Life Flite Ambulance, a Challenger 605: all leather and mirrors apart from the 2 intensive care stretchers. There were 2 pilots, a doctor and an emergency nurse taking care of things. Again, food was great!
We touched down in Perth at 6pm Perth time, and I was chauffeured off to the Hotel quarantine and David was transported by Ambulance to Royal Perth Hospital Quarantine. I don't know what it all cost, but we were very grateful to the whole team at GEOS for getting us home.
Luck was on our Side
We were extremely lucky to be right in Tahiti. The biggest hospital in the Pacific outside New Zealand right on the doorstep. A highly skilled team of cardiologists and neurologists from France meant David was in very good hands very quickly. Had we been in a remote island anchorage, the outcome could have been very different.
Since arriving back we have done quarantine without catching Covid in the hotel! Corinne and Michael, our illustrious Panama to Galapagos crew – among others – were instrumental in making sure we didn't die of starvation in the hotel. David has, after multiple consultations, had an Enterectomy. That is, they open the carotid and scrape out the rubbish and close it all up. Good as new… Well nearly.
After being homeless and imposing on numerous friends and relatives for nearly two months we moved back into our farm house in Albany. It took a month or so to catch our breath at this point.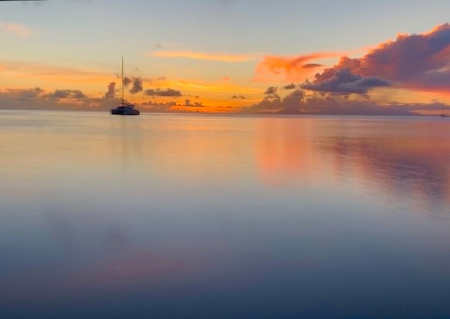 Getting Taipan back to Australia

Meanwhile back in Tahiti, Taipan was in the capable hands of Paul Stratfold an Australian delivery skipper. Grahame and Janakie had spent days putting Taipan back together as David had just completed an entirely new Lifepo4 battery installation. There were still some unfinished issues to be tidied up. Between them they returned Taipan to working condition for Paul to take over. Paul agreed to return Taipan to Australia for us and was hoping to come with at least one other crew person.
After protracted and frustrating liaison with the Australian Immigration it became apparent that he was going to have to go it alone. The intransigent authorities refused to let his Australian crew leave the country again to return to Tahiti to his work. If he entered he would be forced to remain. So Paul came from Tahiti to Brisbane, 3500nm, 25 days, alone and was put into 14 days quarantine on arrival!
Taipan had to be anchored in Southport uninsured. There are no facilities for arriving yachts. The marinas are unable to accommodate new arrivals unless you arrange for a deep clean of the boat and a local delivery skipper to move it to a marina. There are not even any moorings for the quarantine anchorage!
Paul has since moved Taipan to Boatworks and she's on the hard awaiting our arrival. Covid permitting.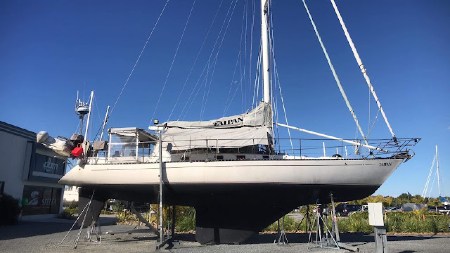 Cruising Plans – Covid Permitting
Life goes on on the farm while we wait for the East Coast to ease restrictions so we can fly to Queensland, pick up Taipan, perform maintenance and set sail for Western Australia. Australian border rules are going to make it very tricky. Sailing down the east coast to Bass Strait in one hit may be the only option. 860nm south from Southport Queensland to avoid New South Wales, which is a Covid disaster area right now and may be closed until Christmas or longer. To cross the Great Australian Bight we need to be positioned in Bass Strait or South Australia by mid Janurary. Then the Easterly winds will be steady for the run west. The shortest distance is about 480nm but that relies on being able to enter South Australia and work west along the coast. The distance doubles if that's not possible.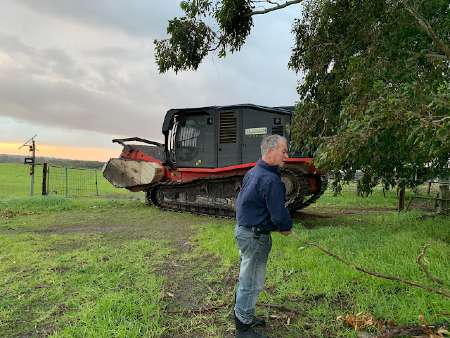 Conclusion
I hope our experience causes cruisers to consider the consequences of an emergency. Our "out of pocket" is over A$30,000. We are very lucky we could pay or we would have been out of the door. We were sorry to hear that GEOS has stopped insuring emergency evacuation.
David is doing well. We feel very lucky to have had 20 years cruising full time aboard Taipan, visiting many countries and making super friends around the world. Now we will slow down and potter on the Australian coast.
Thankyou for NOONSITE. A valuable resource for us and many others.
Kris and David
SV Taipan
…………………………………………………………………………………………………………………………………..
The opinions expressed in this article are the author's own and do not reflect the view of Noonsite.com or World Cruising Club.