SVG, Canouan, Charlestown Bay (Tamarind Hotel): Night Boarding and Burlgary – June 2019
Previous Page
Report Intro
(Incident: June 13, 2019) – As reported by the Caribbean Safety and Security Net: Boardings and burglaries continue to occur in Charlestown Bay, Canouan. Be sure to always lock your boat, even at night and to secure anything of value, concealed down below.
Last Update - June 27, 2019
Report Content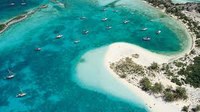 DATE: 2019-06-13 03:00
Country Name: SVG
Location Detail: Canouan Charlestown Bay (Tamarind Hotel)
EVENT: Theft
HAND: 1
Stolen Items: cash and phone
SECURED: Not Locked

DETAILS:
While the yacht owners slept a thief boarded and entered the closed, but unlocked, yacht.
Cash and a phone were stolen from the chart table.
User Comments
You must register first or be logged-in to leave a comment.
No comments for this post.