SE Asia: Cruising Notes on Malaysia and Indonesia
Long-term Belgian cruiser Luc Callebaut is currently in Indonesia with the "Grand Large Yachting World Odyssey 500". Having spent the past four years exploring Malaysia and Indonesia, he shares his notes on some of the favourite places he and partner Jackie have visited in this popular cruising area.
Published 4 weeks ago
Note: These cruising notes related to cruising the area in late 2022, early 2023.
After six years in the Philippines and the last four years exploring the Malaysian side of Borneo and the west coasts of Malaysia and Thailand with side cruises in Indonesia, we are now going to explore more of Indonesia before heading to Papua New Guinea and the Solomon Islands.
These cruising notes relate to our time in late 2022 and into 2023.
Malaysia: Around Johor Bahru
As an update to our last report about Sebana Cove Marina, where we spent over two months, the marina is still closed to new boats as we have seen every new arrival being refused berthing. Since the long awaited marina dock renovations have still not been started, it is probably a good thing to choose another marina in the vicinity.
Other than Senibong Marina (east side of the causeway with Singapore) and Puteri Harbor (on the west side), there is a new marina also in Johor Bahru (JB) that is very convenient if you would like to visit Singapore or to provision.
The R and F marina is literally right next to the Link 1 causeway to Singapore (east side of it). The GPS waypoint on the website put it right on the causeway. We were a little confused on the approach to the marina because there is a new causeway being built less than a kilometre before the present causeway. You have to navigate through a gap in the construction closer to the Singapore side of the channel.
Andrew Chua, the manager, is very helpful. The marina was free in November/December 2022. There was supposed to be a small charge starting in 2023. The floating docks are divided into two areas around the R and F Mall and apartment complex in construction. You can go into the Watersport office for free Wi-Fi and showers.
R and F Mall (a Mainland China development) was mostly empty when we were there, but the most interesting thing about it is, that from the mall, you can walk on a covered walkway all the way to the Malaysia Immigration exit point to catch the bus to Singapore (more about this later). Some restaurants, like the Chinese hot pot (interesting experience) and a few shops are open and the rest of shops that barely opened before the pandemic hit should start to slowly re-open over the coming years.
There is a small Jaya Grocer supermarket and with a Grab or car rental you can easily access all of the businesses in JB, although traffic is heavy and the complex of highways and roads make it challenging. We were very lucky to have friends that live in JB and work in Singapore to drive us around and provision in many locations.
One place of interest is Hydro Sealing Technology (www.hydro.com.my, Ph: 012-779 8908 email: [email protected]) where they quickly make seals for you if they do not have them in stock. There is no place that can fill your personal U.S. type propane tank, since the Malaysian valves and regulators are very different.
Singapore: Via the causeway with Johor Bahru
From the R and F marina, we walked the 650m of covered pedestrian bridge to the Causeway leading to Singapore. Before COVID we made a day trip from Puteri Harbor to Singapore via the Link 2 Bridge leading to Singapore and the border crossing went much faster than this time. By luck we only needed to get a Soda Stream cylinder exchange (not found in Malaysia but well represented in Singapore) in Woodlands, just where you arrive after crossing the bridge, because it would have been a very long day if we had gone all the way to the east side of Singapore!
As it was, we left our boat at 9:30 am and didn't get back until 5:30 pm without doing anything else other than a hurried lunch! The check in/out of both Malaysia and Singapore were very slow, with long standing queues – worse than arriving by plane! If you need a reminder why we like to cruise remote places and avoid big cities, this was a great way to get it.
Entering Singapore:
The biggest hang-up was entering Singapore. Neither in Malaysia check out or the bus to Singapore or on entering the check point in Singapore was it indicated that visitors were supposed to fill out an Online Arrival Card before passing Immigration.
After being rejected by the automated system of reading the passports and being told by a screen to see a live agent, we waited an interminably long time in a long line. When finally we came to the Immigration Officer who asked for the Arrival card proof, we had none. I have to admit the Officers were gracious enough to help us (holding up all those waiting behind us).
Having no SIM for Singapore, we went on the Wi-Fi from the checkpoint station, which happened to be very intermittent just then. We would get halfway through the form and lose connection then try and try to reconnect, then get halfway through the form again, only to get cut off yet another time.
Finally, the agent did what she should have done right at the start. She pointed to an area just behind, and said, "There are officers there with i-Pads that will help you complete the form…come back here right after and cut the queue." For such a supposedly organized country, they should alert people about the arrival card with panels everywhere and have lanes directing those without cards to the agents with the i-Pads right away.
You also need proof of vaccines (or a negative Rapid Antigen Test as our friend did on airport arrival). Thanks post COVID measures that will probably never be lifted again. (Think post 9-11 and the War on Terror.) [Editor's Note: These Covid measures were lifted in February 2023 – see Biosecurity Singapore for details.]
Indonesia: Sailing from Johor Bahru to Belitung
Checking out of Pengelih was quick, free and easy at the Pengelih ferry dock, in fact, it is our favorite Customs Immigration and Quarantine Process (CIQP) in Malaysia (we checked in/out there on 4 or 5 occasions and were always met by friendly officials all in the same building).
Note as well, that the small so-called marina next to the ferry landing pier is NOT a public marina, it was taken over by the Coast Guard and you will be yelled at if you try to enter with your boat or even by dinghy! So you have to anchor off the facility in the river and go by dinghy directly to the big ferry landing pier (just to the left of the "marina"), where there is a floating dock for dinghies.
Until COVID, sailboats did not have to check in and out of every port they anchor near, but now you need to check in and out of every port like a long time ago.
Since checking in with pets is not possible in Bintam and very expensive in Batam, we decided to sail directly to Belitung where the officials are more reasonable. Despite it being December (2022), supposedly the northern monsoon, we did not really experience many northerlies and we thus did a lot of motorsailing with seas at least mostly from behind or on the beam.
We did a few day hops (not going ashore) until we reached the end of the island chain and then did two overnights direct to Tanjung Kelayang, on the NW tip of Belitung.
Clearing into Indonesia:
Belitung: Tanjung Kelayang (02° 33.3328′ S – 107° 40.3720′ E) has 5m of good sand, is fine during southerly monsoon, okay in weak northerlies but very rough during northerlies during the monsoon.
We were lucky to have two days of calm so we could go to the main town, Tanjung Pandan, to clear into Indonesia. From the anchorage, we tied our dinghy to the long jetty in front of Evan's restaurant (+62 819-7778-1455). The free Wi-Fi at the restaurant let me contact Johny, a school teacher who acts as CIQP agent for boats needing to clear in or out (he is the local contact for Raymond Lesmana's rally boats) (+62 812-7143-4108).
Evan took me by car to Tanjung Pandan to see the Health/Quarantine department and to Customs. He took me to rendezvous with Johny, who took care of Immigration and Harbor Master formalities. Since we came in with a two year KITAS (Kartu Izin Tinggal Terbatas) visa, we did not need to choose between free visa on arrival (non-renewable) or a pay 30-day/ 1 renewal visa.
Evan and Eddy, his restaurant managers, can help you get diesel fuel of higher quality which was 22,000 Rupiah per one litre at the time, propane refill (U.S. tanks ok) and transport by car to town when you need it. Our second day, lucky with sunshine and little rain, we rented a scooter (100,000 Rp/day) from Uduk (ask around for possibilities).
Knowing that soon the NW wind would get quite strong, we looked by scooter at possible protected anchorages on the west coast of Belitung. The harbor in Tanjung Pandan is crowded and dirty and access to shore from other possible anchorages did not look that great.
The next day, when the wind picked up at 20kts+, the Tanjung Kelayang anchorage became very lively and the three sailboats in the anchorage started bobbing up/down/sideways and while we were better off on our trimaran, it became quite uncomfortable.
We had fronts passing with 30 kts constant and gusts all the way to 49kts! Glad to know we do not get typhoons here near the equator, ha ha! We did re-anchor more tucked in, hoping to be more protected from the huge swell by the small islets where tourists go for day tours but that did not protect from sea conditions very much.
After 24 hours of bouncing and not being able to go ashore, with weather bulletins showing the same winds for another 10 days, we decided to take advantage of any calmer period to escape this precarious anchorage and make it to the south-east of Belitung via the east coast.
We learned later that the Danish boat in the anchorage broke their snubber and shortly after, broke their good condition 12mm chain and left in a hurry (leaving anchor and 150ft behind to be retrieved later).
Our angels in the sky gave us a few hours of calm in the afternoon so we could motor out of the anchorage and then motorsail quickly to the NE corner and finally there the wind picked up again 20-25kt and we had a very fast and pleasant downwind sail along the east coast.
When in East Belitung in 2015 with the Blue Planet Odyssey fleet, I had a local pilot boat guiding our shallow draft vessels through the sand bars to dock in the Manggar River. But, having heard that since then the sand bars had shifted and the channel had not been dredged, we decided to go all the way down to Batu Itam Seaport, where our friend, Nata lives.
Batu Itam Seaport
(03° 14.8269′ S – 108° 04.4434′ E)
This spot offers a protected anchorage during the NW monsoon. With 7m of good sand, enter carefully from the SE to avoid the fishing sticks on the shallow banks that you keep on your port side. There's a small fishing dock in the river with friendly fishermen where you can land your dinghy and access the main road that leads to the small village and from there, anywhere on the island.
It's about one and a half hours by car/moto to Manggar and two hours to Tanjung Pandan. Fair internet coverage here. See Nata for a very friendly local interpreter, Whatsapp +62 813-6944-8420. Nata introduced us to the high officials at the village who made us feel very welcome and showed us around the tiny village (many were Nata's relatives).
With our fast dinghy, we went several times, a mile or so away, to Pantai Kili with our dogs, kept on a leash so they would not chase the wild monkeys or the wild dogs. A few hundred yards behind our boat was a sandbank that uncovered during low tide: the best was to land our dinghy on the bank, then we could let our dogs run free and bathe in the shallow pools. The locals advised us not to swim around our boat or ashore near the river because of infrequent but possible crocodile attacks, but we saw many people walking waist deep on the reefs to fish there so the risk has to be small.
Before leaving for our next island, we went to Tanjung Pandan so Jackie could go to the wet market and I could go see the Harbor Master to get our internal boat cruising permit. If you forget to check out from the Harbor Master of your first port of entry into Indonesia, you will be in a world of trouble when you need to show your paperwork for any reason and when you will be ready to check out of Indonesia later (see previous report about Batam).
With 15-20kts of W – NW wind, we had a nice downwind sail with genoa and mizzen sails to Kumai on Borneo.
Kumai:
When we arrived at the river delta, we anchored just behind the protection of the mainland, just off the ship's channel at 02° 53.83′ S – 111° 42.10′ E in 4m mud, well protected in W-NW wind.
Even that far from town, we had good internet. The next morning, we waited until the tide was incoming so we were able to sail without the engine, with the current's help, all the way to the main town about 10nm up river. We anchored just past a big navigation marker at 02° 44.23′ S – 111° 44.12′ in 11m mud, good holding, in a small yacht-designated anchorage near town.
Just as we finished anchoring, a small motor launch with Lisa and Majid came to welcome us and offer a river tour to Tanjung Puting National Park to see the orangutans. Perfect! It saved us time finding where to go. This nice couple have been operating a small backpacker hotel and river tours for many years and help cruisers with markets and fuel provisioning.
Jackie took a three day/two nights river tour to visit three different areas in the Park. She was with a group of eight young Danish sailors (all together on one 45ft monohull!) we had met earlier in Belitung and an Austrian English teacher on vacation from her teaching job in Java. We then had a fast but lively (read, gut-wrenching!) sail to our next stop-over because the wind was not behind as predicted but more middle of the beam!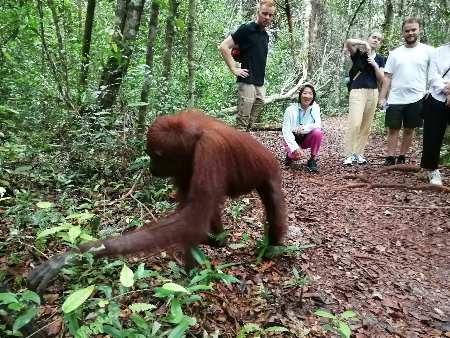 Bawean:
We first anchored near the main town on the south side near the fishing harbor at 05° 51.42′ S – 112° 38.23′ E in 14m thick sand with excellent holding. It is well protected during NW monsoon but you will get some SW swell if the wind goes more that way. It is a short dinghy ride to shore and pretty much the only place to tie your dinghy is at the colorful fishing boats dock situated between the two long jetties.
Ashore, we met two very nice ladies, Ms. Lena (Whatsapp +62 813 1577 5662 ) and Ms. Sayy (Whatsapp +62 851 5836 8099), local English teachers on the island, happy to socialize and practice their English with us. Lena's husband drove all of us around the island one day and we rented a scooter in town (50,000 Rp) to follow them to the lake and to a waterfall/ hot springs on two different days.
We also went to the pasar (local market) to provision on fresh food. If you visit, please give them our regards, they told us they would welcome our cruising friends!
One attraction is Gili Noko, located off the East side of Bawean (about 8nm away from the town anchorage), a nice, deserted sand spit with some pine trees that is rarely visited by tourists. Since our three Schipperke crew love white sand beaches and clear water even better than we do and we guessed we could find a nice protected anchorage near the mainland, we were on our way.
We could not find a suitable and protected anchorage right next to Gili Noko but we found a nice big area closer to the mainland near a public dock (connected to the main round island road). We anchored at Kar Pakiman 05° 47.51′ S – 112° 44.91′ E in 16m good sand, plenty of room to turn 360deg, with calmer seas as the NW to SW wind and swell does not reach here close to the coast. CM93 charts are inaccurate so navigate with caution.
There are lots of isolated shallow reefs near Gili and Gili Noko and near the mainland. Internet is good. We stayed a week here and dinghied to Noko (1.5nm away) every afternoon when the weather was good. Super clear and not cold water in the calm waters behind the sand bar that let you walk at low tide to Gili Island where many fishermen live.
Kangean Islands:
In order to break our passage, we decided to seek shelter from strong winds and seas in the well-protected southern bay at 06° 59.0400′ S – 115° 18.3600′ E in 10m with good sand/mud and well-protected during North monsoon. Watch out for uncovering sand mount at low tide near the entrance to the bay (charted incorrectly on CM93 but seen on Google Earth). It gets really too shallow in the different bays to explore any further and there is nothing of interest. There are infrequent fishermen in small boats attending to their traps and fishing by line. It is a good place to rest and do some repairs, but there is no internet.
Lombok:
Our sailing to Lombok was at first great with wind and seas behind but turned out less fun when we suddenly got wind and seas right on the nose! (the westerly wind passing south of Bali funneled and turned north then NW in the channel between Bali and Lombok).
We decided to base ourselves In Lombok for a year or so (while Luc went away to join the GLYWO500 fleet at all their ports of call) until mid-2024, so we checked three areas that would fit our plan.
Medana Bay Marina
08° 21.6790′ S – 116° 07.7430′ E.
We were here in 2015 with the BPO (Blue Planet Odyssey) rally and we were happy to revisit the marina and staff to prepare the arrival of the GLYWO500 fleet scheduled to be welcomed here in August 2023 . As usual Ace, Peter, Soraya and their staff were friendly and helpful.
There are about four places at a dock and 18 moorings, plus an anchorage 60ft and deeper and haul out facility. The bay offers good protection in southerly weather, but can get rolly when swell or wind comes from the NW. You can rent a scooter or car to go shopping in Mataram. There is also a small fresh market (pasar) just 3km away (walk one way and come back by mini-van if loaded!).
The marina/resort restaurant offers good food at reasonable prices.
On our way south, we had wind and seas on the nose again (despite weather bulletins showing no wind or weak westerlies) so we spent one overnight in Senggigi.
Senggigi Port
08° 29.7758′ S – 116° 02.5452′ E.
We anchored in 15m good sand, gradually shallowing near the beach. It is exposed to the western quadrant but a convenient overnight anchorage if unable to make the 30nm between Medana Bay Marina and the area near Marina Del Rey due to adverse wind/current. Daily fast boats depart from here to Bali and return. Internet OK.
Senggigi town and Mataram are the main towns (next to each other) to go for provisioning and shopping in Lombok. Catur Warga Computer Service Center (+62 81339252223) is located near the Epicentrum Mall. In the Mall, you have the usual "Mr. DIY", ACE Hardware, a medium size local supermarket* (Hypermart), the usual fast junk food places and a new dentist that is not fully booked so you can easily get in on short notice.
We recommend the Fresh Market stores in Senggigi and the Fresh Market store in Mataram, as they have more expat type foods than the regular supermarkets. Though they are the same chain, the Sengigi store has an extensive deli and cheese section, wine store and sells frozen pork and pork products that the Mataram store does not, but the Mataram store has a better selection of fresh vegetables and fruits than the former.
The big pasar (public market) in Mataram will have all fruits and vegetables available in Indonesia more extensively than the small pasars near the marinas so it's best to go early for fresh fish. If you are looking for better quality pet food, check JJ Petshop in Mataram.
Gili Asahan
08° 44.6781′ S – 115° 53.1848′ E.
The island's village has built about 10 boat moorings in about 50-60ft and we were told by someone no anchoring is permitted around this island. Contact Ardi via whatsapp +62 877-4078-5322 before you arrive so they can direct you to the proper moorings (there are many buoys that are not moorings but markers).
Mooring fee is only 50,000 Rp (~3 USD)/day with discounts for a monthly long term lease. It is easy to beach your dinghy at the village. The people on the island are very friendly and good food can be found in the five different small, international resorts.
Small taxi boats can take you to the mainland for 25K Rp/person where Ardi can arrange a scooter rental (50K/half a day) so you can drive to a local fresh market five minutes away in a small town where you can find limited items. Ardi, +62 823-4087-1421, a van driver speaking good English and very honest, reliable, and very helpful can arrange for a car with driver to take you to the airport (2 hrs away, around 450,000 Rp) or to Mataram for shopping (90 mins away) (cost about 600K Rp for the day).
Since we were going to spend many months on a mooring in Gili Asahan (while Luc was absent with the GLYWO500 rally boats), Ardi and the villagers agreed to build a new sturdier mooring so our boat would be safe during any bad weather.
Note: During the time Luc was away, the patrol boat from the Port Captain's Office came and boarded boats to check papers and to tell people that leaving a boat unattended for more than a month was not permitted. Boats must be in a marina for safety and liability reasons.
Marina Del Ray on Gili Gede
Just about 3nm from Gili Asahan, is Lombok's second marina. This newer marina has a long floating pontoon that can probably accommodate 20+ boats med-moored and has a dozen moorings.
Anchoring here is also possible nearby, but you have strong tidal currents that can make the anchorage very uncomfortable when wind and current don't agree. The bar/restaurant has a nice commanding view of the marina. To go on the mainland, you can take your dinghy to the small fishing port nearby and give small money for the security there to keep an eye on your dinghy. Ardi, the van driver mentioned earlier, can also pick you up there for a shopping trip to Mataram or to take you to the airport.
If you are going to Bali, you could take advantage of the fast ferry going twice a week (Mon/Fri) from Gili Gede to Serangan. The boat leaves at 12.30pm from Gili Gede to Bali and arrives in Bali at 2.15pm, adults/kids: Rp. 960.000 per person one way. This price included pick-up and drop off service to your hotel or villa in Bali (not Gilis/Lombok) from Happy Chappy Canggu, Umalas, Kerobokan, Seminyak, Legian, Kuta, Tuban, Jimbaran, Nusa Dua, Tanjung Benoa, Denpasar, Sanur and direct to Airport, then after Canggu club, also from Ubud, Uluwatu, etc.
They have a surcharge for the pickup and drop off. They run every day from Bali to Bangsal, Lombok and return and run every Monday and Friday (twice a week) in March for Bali to Gili Gede and return. You pay by wire transfer, send them proof by Whatsapp and they send you your e-ticket. All very quick and efficient. It is more expensive than taking a ferry from ports more north on Lombok but saves two hours by taxi to get to these ferries and then a longer bus ride once on Bali.
Long term at Gili Asahan
Should you look for a place to stay on your boat for long term and hesitate between the two marinas and Gili Asahan, let us tell you why we chose Gili Asahan over the two marinas. Gili Asahan is the most protected in all weather in all seasons, your money goes to the local village (also the least expensive) and you have several great restaurants ashore to choose from with reasonable prices for western food. You can arrange getting to the mainland for shopping trips or have water delivered to your boat.
If you like a yachting-friendly atmosphere or need work done on your boat, Medana Bay Marina is the best place as they have a haul out facility and can help you best (being on the mainland, you can also just walk to the local market nearby!)
If you are looking to dock your boat and leave it unattended, then Marina Del Ray is the best choice. But on your way to/from the two marinas, a short stop at Gili Asahan or anchoring nearby, to visit Gili Asahan, the resorts, and the small uninhabited beach island of Gili Goleng will be a rewarding holiday atmosphere you will enjoy!
Luc Callebaut and Jackie Lee
SSCA Lifetime Commodores
………………………………
This article first appeared in the SSCA Cruising Bulletin and is reprinted with permission from Luc Callebaut and the SSCA.
………………………………
About the Authors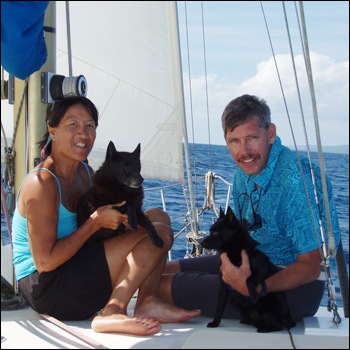 Boat Name: sv Sloepmouche
Boat Make/Type: Norman Cross 46 Trimaran
Draft: 5'
Homeport: Brussels, Belgium
Luc with his partner Jackie, have been exploring the warm waters of the world since 1992 on board their 42 -year old, 46ft Norman Cross trimaran. For the last 30 years they have lived and worked in the Caribbean, Pacific and now SE Asia.
Luc worked as a regional editor for Noonsite for many years and has assisted Jimmy Cornell with a number of his round-the-world rallies. When Jimmy asked him to act as Event Manager for the GLYWO 500, he accepted without hesitation. "I do my best to assist Victor Taburiaux, also an experienced rally event manager, during stop-overs to make the GLYWO 500 rally a success by taking care of all red tape and insuring the participants have a safe and fun event.

Find out more about Luc and Jackie here [https://cornellsailing.com/archives/past-rallies/the-team/#LucJackie]
Videos about their cruising adventures or videos with the Grand Large Yachting World Odyssey 500, can be viewed on their YouTube channel "Tropical Sailing Life" which contains more than 600 original, edited, titled, cruising videos.
………………………………
Other Noonsite reports from Luc and Jackie:
………………………………
The opinions expressed in this article are the author's own and do not reflect the view of Noonsite.com or World Cruising Club
.………………………………
Find out all news, reports, links and comments posted on Noonsite, plus cruising information from around the world, by subscribing to our FREE monthly newsletter. Go to https://www.noonsite.com/newsletter/.
Related to following destinations: Changi, Gili Gede Island, Indonesia, Johor Bahru, Kumai, Malaysia, Malaysian Borneo (Sabah), Medana Bay, Philippines, Port of Singapore, Singapore, South / Central Indonesia - Lombok, Tanjung Pandan, Thailand, West Coast (Malaysia), Western Indonesia - Bangka-Belitung Islands