Portrait of a Cruiser: Sue and John Woods of MY Solita
Australians Sue and John Woods have been cruising SE Asia on their 47ft motor yacht Solita for the last nine years. During that time they have explored the coastlines of Papua New Guinea, the Solomon Islands, Indonesia, the Philippines, Malaysia, Brunei, Singapore and Thailand. Sue and John have shared their knowledge of these lesser-known cruising spots by contributing extensive articles to Noonsite and encouraging a great many cruisers to explore SE Asia further. As they move back to land life they share their thoughts on the cruising life they are leaving behind.
Published 3 years ago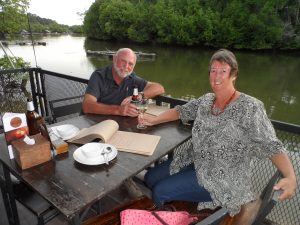 Names of Owners: Sue and John Woods
Nationality: Australian
Boat Name: Solita
Boat Type/Model and Size: Roberts Flybridge Cruiser, a 47 ft motorboat
Home Port: Cairns, Australia
Blog/website:
We didn't create a blog site or web page, as we had heard they could be a time-consuming activity that didn't let up. We were concerned that we needed something to remind family and friends of our existence, so we decided to write a 1-page newsletter every 3 months, with a couple of recent photos imbedded into our cruising news, and send it to any and all interested folk back home. We created a Newsletter Group on Gmail, and it was so easy to attach the 1-pager to a group email. We found this regular newsletter was enough to inform everyone of our whereabouts and what we were doing, and it often prompted replies from the busy people at home.
Perhentian Islands, Malaysia
How did you start cruising?
We initially set off from Wollongong, NSW, on a 40 ft yacht in the early 1980's. We cruised the Australian East Coast, Papua New Guinea and the Solomons before settling down to careers and buying a house. By 2004 we were ready to go cruising again and set off from Cairns in a 32 ft powerboat to explore the Kimberleys in north-western Australia. We just never went home, settled into Darwin for a few years and upgraded the small powerboat to Solita, a 47 ft motorboat, in 2006.
Describe what sort of cruisers you are:
We have been permanent liveaboards since leaving Cairns in 2004. We lived on board in a marina in Darwin for 6 years then headed overseas in 2010. We have been on board, cruising, ever since, with just 3 very short trips by air back to Australia during that time.
What type of cruising are you doing currently?
We have just spent 9 years exploring South East Asia, which has involved mainly coastal cruising with some longer off-shore runs at times.
Solita hauled at at Pangkor Island, Malaysia
What were the key reasons you selected your current boat?
We chose a powerboat for several reasons, and in retrospect, we think it was a great choice. Our first boat was a yacht, and it proved ideal for what we wanted to do – some blue water cruising along the east coast of Australia and over to PNG and the Solomons. This time around, we knew we would be living aboard for a long while, so we were seeking something much roomier, with a few more comforts and a large aft deck, as we tend to sit outside as much as possible. We were also 20 years older so we were after something that didn't require a lot of energetic dashing about, with us hauling sails in and out, changing tack at all hours and tripping over the deck hardware.
We researched the weather patterns in SE Asia and decided that there wasn't much in the way of wind anyway and that most cruisers in this area motored more than they sailed unless they were diehard purists. Motoring also allowed us to run a freezer and refrigerator easily, as well as other power-hungry devices, with the use of an inverter and good battery charger, and this made life very comfortable. We always had ice for the sundowners!
The shallow draft of a powerboat is also a bonus around Asia, where sometimes you need to cross a river bar, anchor offshore, mooch about in rivers. Our boat's draft was 1.3 metres, and there weren't many spots we couldn't get into.
Added to the equation was the price of fuel in Asia – significantly less than in Australia.
Planning passages was also easier in a powerboat – we knew that we would be doing around 7 knots, whatever the weather, so we could plan to arrive at our destination at a particular time, and that we could cover about 80 miles during daylight hours. We acknowledge there are limitations with powerboats regarding sea and weather conditions but we were not intending to cross oceans, just day-hop around semi-protected waters and coastal areas. All these factors gave us an overwhelming "yes" to buying a powerboat for our travels in S E Asia.
Indonesia sunset
What other boats have you owned?
John had owned several dive boats before we met but our first boat was a 40 ft sloop named Shilo, which we lived on for 4 years. After we sold Shilo and while we were doing the house/career thing, we had a couple of runabouts for day trips and diving excursions to the reef. We left Cairns in 2004 for a year's sabbatical in a 32ft powerboat, appropriately named Truant. After a fantastic trip through the Kimberleys to Broome on the Western Australian coast, we double-backed to Darwin and upgraded to Solita, in preparation for our major offshore cruising experience in SE Asia.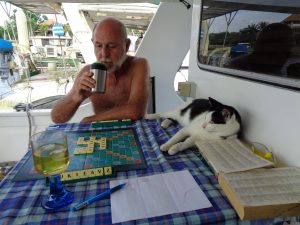 What changes have you made to your current boat?
Too many to mention, but the most useful change to our living onboard was to extend the aft deck to make a huge covered outdoor area. We extended the existing hard ceiling (which is also obviously the flybridge deck) just 1 metre but it made a huge difference. We put up a mesh screen at the back (with a wind-up section at the opening for the gate access) and 18-inch side screens to give us some sun and rain protection while still maintaining that open aft deck feeling.
We had a small permanently mounted table and 2 comfy chairs on the port side of the deck, and 2 large plastic deck lockers were mounted against the aft gunwales – these also doubled as seats. A BBQ was attached to the starboard side gunwale, and there was still plenty of room. We had 14 guests just on the aft deck one evening!
Most useful equipment fitted, and reasons for this choice:
Again, there were many upgrades of equipment but the one we appreciated the most was the installation of AIS. This allowed us to see who was around us, and more importantly, for other vessels to see us. This proved so useful in heavy rain, sea fog and in busy shipping lanes.
And I can't fail to mention our Weber BBQ, which allowed all types of cooking outside on the aft deck, thereby keeping the heat out of the boat!
Equipment regrets, or things you would do differently: Nothing comes to mind. We always think long and hard before buying equipment or changing things.
Crossing the equator off the Lingga Islands in Indonesia
List the countries you have cruised: In our own boats we have cruised Australia, PNG, the Solomon Islands, Indonesia, the Philippines, Malaysia, Brunei, Singapore and Thailand. We also chartered a yacht in Greece for 3 weeks many years ago.
Future cruising plans:
In a very recent bittersweet move, we have just sold Solita and are heading back to Australia for some land time out. We decided to sell our boat for several reasons – the main one being that after 9 years in SE Asia, we had seen pretty well all that we had wanted to see, and much more. We were getting a little jaded and thought it was time for us to move onto our next Big Thing before we were too old and decrepit to enjoy it. Another consideration was our house – it had been rented out for 15 years, and we felt it was well overdue for some TLC.
Finally, our finances were causing some concern. While cruising in Asia is so much cheaper than living in Australia, prices have been creeping up in the last couple of years, and this was just tipping our scales a little too much. Not sure what our next Thing will be, and we are not ruling out another boat in the future, but for now we want some time at home.
List the oceans/seas you have crossed: The Arafura Sea, the Banda Sea, the South China Sea and a small part of the Pacific Ocean.
Storm brewing over Kuantan, east coast of Malaysia
Approximate sea miles: We estimate we have clocked up around 30,000 sea miles in our 9 years in SE Asia, and probably another 3,000 miles when cruising on our yacht.
Scariest day on the water:
There were a few, but leaving Ambon Harbour, Indonesia, in a very nasty sea with a "wind against tide" thing happening was certainly one of the more memorable.
It was during our first few months in Asia and we didn't realize that sea conditions could remain rough long after storms had passed. The weather looked lovely as we zoomed out of the harbour on an outgoing tide, then we were offshore and the waves were steep and around 6-8 feet. We felt we couldn't turn back without broaching, so we just had to keep going until we could quickly get out of the tidal run in the lee of an island. We were worried about our boat but it was terrifying watching local ferries literally burying into the waves and amazingly popping up again.
Best cruising moment:
Approaching Singapore waters – whoever thought we would make it this far!! We had no concrete plans when we left Australia, and Singapore wasn't really on the radar. Singapore was a destination you flew to. The South China Sea and those busy shipping lanes sounded too daunting, but when done in short hops and with some experience on board, it was fine!
Favourite cruising area and why:
South East Asia for so many reasons. Its proximity to Darwin, Australia, where we were living at the time, was a significant factor, especially for cruisers like us on a powerboat. We had only to cross the Arafura Sea – a 36-hour hop – to be in Indonesia, where there are literally thousands of islands.
A local villager and his daughter come on board Solita in the South Riau Islands, Indonesia
When we left Australia in 2010 it was a little difficult to organise cruising permits, so we joined the Darwin-Saumlaki Rally and had our paperwork done for us by the rally organisers. It was 2 days of travel to get there, then 5 days of festivities in Saumlaki, which really made us feel welcome and very excited to be in Asia.
After this, we headed off on our own in Indonesia to make our way through the remote Molucca Islands to Sulawesi and Borneo. On this trip, we met so many lovely locals who were so excited to see a boat from overseas visiting their islands. Many of them would rush out to visit and check out the boat as soon as we had anchored.
A great farewell from locals at Palau Gin in the South Riau Islands, Indonesia
The stand-out place for us in Indonesia was the Banda Islands – so much fascinating history, fantastic scenery, wonderful people. It was also a good introduction into how we would be living in the future – shopping at local markets or small stalls in the front of houses, no western foods like bread, bacon/ham or cheese, no meat other than stringy chicken, only fruit and vegetables that were in season and grown locally, no wine!! Very early on in our travels, we realized our Aussie dollars would go a long way in Asia. Throughout Indonesia, there was little to buy, and we had stocked up well in Australia knowing there would be few shopping opportunities there.
After 2016 the Indonesian Government made many real changes to the management of visiting yachts, hoping to attract more to Indonesia. Visas became easier to get and procedures were streamlined. We noticed a lot of cruisers taking advantage of this, and we did ourselves on two more occasions.
Kite flying on the beach at Terengganu, east coast of Malaysia
Malaysian Borneo was a different experience – much more western influences and a higher standard of living, good choices regarding food, tourist activities and travel about the island. We spent time at a luxurious 5-star marina/resort, because we could afford it! Some of our best times there were travelling along the Kinabatangan River in our own boat, and seeing lots of monkeys, pygmy elephants and orangutans in the wild.
Malaysia tends to be the hub of cruising in South East Asia, as it is geographically central within the region, and has a stable economic and political climate. Malaysian Immigration offers 3-month visas to most nationalities, and these can be renewed after exiting the country for a period of 7 days, so many cruising folk base themselves here. From Malaysia it is not far to Thailand, Indonesia, Brunei and Singapore.
Crystal Palace at Terengganu, east coast Malaysia
Thailand also offers fantastic cruising, and a cruising boat could spend months just in Phang Nga Bay. We did! In addition to the spectacular scenery, the amazing hongs and the generally predictable and benign weather, Thailand has the best food in S E Asia! Cost-wise it is more expensive than the other Asian countries but well worth a visit or two.
We were keen to visit the Philippines as a friend back in Darwin had persuaded us it was the best cruising grounds in SE Asia. We made 4 separate trips to the Philippines in the next 6 years, and have to agree the cruising there is fantastic. There are so many wonderful anchorages, gorgeous beaches, spectacular reefs for snorkelling and diving. We dived with whale sharks, walked on beaches covered in tropical shells, passed volcanoes smoking away, travelled about the towns in crazy tricycles and visited amazing historical forts and churches.
We also had quite a lot of boat work done in the boatyards at Port Carmen, on Cebu Island. From 2012 to 2016 the prices were very reasonable and the standards of the work acceptable. We have heard since that prices for boat repairs and work, like everywhere in SE Asia, has escalated dramatically in the last few years. This is probably related to the increasing business from international yachts.
Overall, SE Asia is a very affordable region with much to offer cruising folk.
Did you have security concerns in SE Asia?
We never met an unfriendly local, though once or twice we were visited by young men in camo gear toting nasty looking weapons. Initially, we worried about lawlessness in remote areas of Indonesia but these gun-carrying guys were the law! They just wanted to see our paperwork – never mind that they couldn't read it.
Piracy was a real issue in the Philippines, when the local chapter of the Abu Sayaff began kidnapping tourists and cruisers for ransom. We had briefly met one German couple who were later kidnapped from Palawan Island. This threat was significant and greatly limited the numbers of cruising folk in the Philippines after 2014. We did visit again after this, but were very cautious and sought advice from local authorities before proceeding.
Solita at anchor at Malapascua Island, Philippines
Favorite anchorage:
Anywhere in the Calamian Islands in the Philippines. These islands are picture-perfect. This is where you will find white sandy beaches, great snorkeling, clean clear water, many protected bays, cute bamboo huts on the beach, local "bankas" fishing or parked up on a beach. The provisioning in Coron was quite adequate, and parts and services for various boat jobs were easy to find and cheap. There were also lots of fun things to do there – lots of diving activity, a safari park to visit, the old leper colony on Culion Island to walk around, caves on Black Island to explore….
Favorite cruising apps: We use several but like Navionics as a general navigational back-up and planning tool, and often use Google Earth for functional views of harbours and inlets before we approach them.
Favorite cruising websites: Noonsite of course!
Favorite cruising books: We love to read novels about areas where we are cruising, and have read some excellent ones set in SE Asia. Standouts for us are "The Rainbow Troops" by Andrea Hirata (set in Belitung, Indonesia) and "A Gift of Rain" by Tan Twan Eng (set in Penang, Malaysia).
What advice or message would you want to pass on to anyone new to cruising or thinking about casting off the dock lines?
Follow Nike's advice – JUST DO IT! But maybe do some research and planning before cutting those dock lines…..
Our kitten Max
Why cruise? What is it that inspires you to keep cruising?
The cruising lifestyle is probably incomprehensible to those who have never ventured far from home, but it has so many things to recommend it. The challenge to move yourselves and your home from place to place safely, and to be necessarily self-reliant, is incredibly empowering. To live so closely with natural elements and to have to adjust your plans and the way you function to fit in with what the weather throws at you can be demanding but also exciting and rewarding.
Cruising allows you to see so many amazing places that don't include multitudes of tourists and to view sea creatures, birds and animals in their own natural habitat. Meeting local people in their own environment is such a privilege – and a fantastic way to learn about various cultures and customs.
Last but not least, the cruising folk you catch up with are generally some of the most interesting, smart, helpful and entertaining people you will ever meet.
As cruisers, we see and experience so much of the world most people never do. We feel this amazing opportunity should come with some sort of responsibility, and the obvious one for folk living on the water is to try to help protect the oceans and improve their water quality. Most yachties are well aware of environmental concerns and utilise various strategies to minimize the use of plastics and other contaminants, but can we go one step further in this "pay it forward" scenario?
There are organisations that can use some input from cruisers as they travel about. International Seakeepers Society Asia (www.seakeepers.org – contact Gail Tay for more information) occasionally ask cruisers to do some water sampling for them in various locations. These samples are analysed as part of ongoing university research projects. We did some water sampling for Seakeepers on the east coast of Malaysia – it took very little effort on our part, it was an interesting and worthwhile activity for us and our samples contributed to water quality research.
The dynamic family crew on Sea Monkey, currently based in SE Asia, has developed and managed several projects in the past few years aimed at reducing plastic waste and educating locals about the necessity for waste management.
Several individual cruisers we have met have organised clean-up days in many beach and reef locations. They try to involve locals as well as other yachties in the process of removing plastics, old fishing nets and ropes and other nasty stuff from their environment. In the current climate of emerging awareness of water pollution and the ill-effects of waste matter on our oceans and its creatures, cruisers are well-placed to contribute to the cause in some meaningful way.
Cats love cruising too!
Any other comments:
Having pets on board is a contentious issue, but I can describe a little about our experiences.
We left Australia in 2010 with our ageing cat Meggs on board. He had been a land cat until we left Cairns in 2004, and had taken to cruising life like the proverbial duck. Sadly he passed away in the Philippines in 2015, at age 15. We remained cat-less only 6 months until we bought Max, then a kitten in a Malaysian market.
We love having a pet aboard – they are great company, can be very entertaining, will listen to all our complaints and rants without comment and tend to know exactly when a cuddle is required. However, there is a downside. They restrict your movements to a degree and it is important to acknowledge this before taking a pet on board. We found land travel is possible with the help of friends and fellow cruisers who would visit daily to feed the cat, or utilise visitors from home who would holiday onboard and cat-sit while we also trekked off on our own. We have dog-sat for cruising friends several times. Alternatively, there are professional catteries and animal boarding businesses.
Related Content:
To see all the reports submitted to Noonsite by MY Solita over the years go here.
Andy and Julie Nemier of MV Infinity took part in this series in January 2020. They are the second motor boat owners to take part.
If you think you have an interesting story to tell and would like to take part in our Portrait of a Cruiser series, please contact Sue at editor@noonsite.com for a questionnaire.
…………………………………………………………………………………………………………………………………..
The opinions expressed in this article are the author's own and do not reflect the view of Noonsite.com or World Cruising Club.