Portrait of a Cruiser: Karin and Tony Stubbs
Previous Page
Report Intro
Almost at the end of a 28-year circumnavigation, Tony and Karin Stubbs live the cruising life at a slow pace. They also choose to live it simply being totally self-sufficient and only having the most essential equipment on board their 34ft Sweden yacht. This has enabled them to visit many out of the way places and over the years have sent Noonsite a number of reports and updates including from Cambodia, Yemen and Hong Kong.
Last Update - November 15, 2019
Report Content
Karin and Tony racing in Puerta Galera
Names of Owners: Karin and Tony Stubbs
Karin became totally deaf when she was a child 7 years old. She has to read lips and because she lives with Tony she has learned also to read lips in English. She speaks fluent English but has never heard it, however, most people aren't aware of that. They just think she has a Dutch accent, which she has.
Nationality: Dutch and English. Tony speaks many languages but not fluently.
Boat Name: "The Amber Nectar" named by Paul Hogan before we did the Round Britain Race organized by Fosters Lager of Australia – so the name means beer!
Boat Type/Model and Size: Amber Nectar is a sloop-rigged Sweden Yachts Comfort 34 built for the boat show in Stockholm in 1977 in the Swedish colors and is 10.3.m long. She is No. 120 of the 620 built but the only one with a yellow gelcoat.
Home Port: Zutphen, Netherlands
Blog: www.blogambernectar.blogspot.com
How did you start cruising?
Tony: My parents lived aboard a converted wooden rescue boat from World War I and I was born on that boat in 1944 in London during World War 2. I was 16 years old before I first lived in a house on Cyprus in 1960. I lived on wooden sailing boats for 20 years.
Karin: In 1991 my brother invited me to join him on his first Atlantic Crossing in his 32 foot Sadler. I already had sailed from Spain to the Canaries two times, but after the Atlantic crossing, I decided to go and live aboard with Tony. He said I could be skipper and decide where we went and for how long. But I had to deal with the bureaucracy of officials in every country!! Being deaf that was always a challenge but I have to say that I was always given help from the officials. I was never put down, people supported me. Everybody was nice and it was often fun.
Describe what sort of cruisers you are:
We are very slow circumnavigators who now and then do an ocean crossing or an offshore passage, but mostly we do coastal sailing wherever we are and normally anchor rather than waste money in a marina.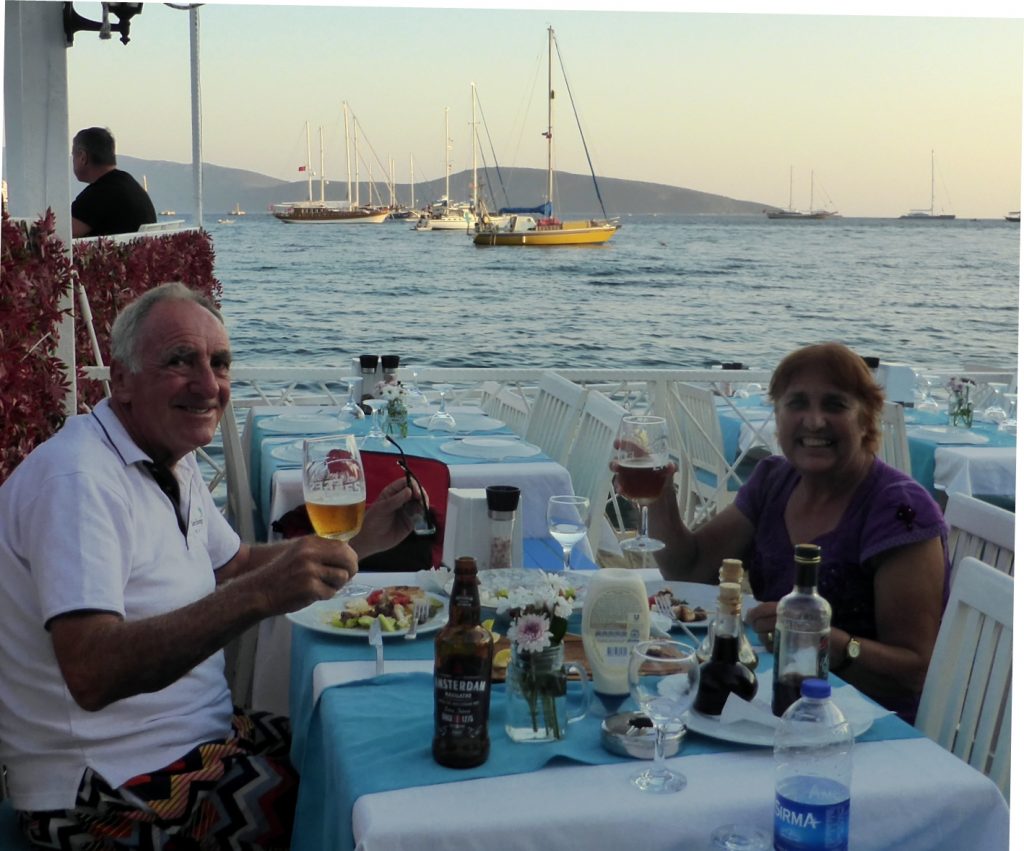 What type of cruising are you doing currently?
We have nearly finished our circumnavigation which started is 1991. Around the world in over 10,000 days! Currently, we sail the summers in the Mediterranean and have wintered 2 seasons (2017 and 2018) in Cyprus.
We have no permanent home. The winter season of 2019-2020 will be different.
We sailed this year (October) from Finike, Turkey to Larnaca in Cyprus and hoped we could stay another winter there. However, the marina was full and we had to find another place. We decided to sail back to Finike but then we remembered that you have to stay away for 3 months after having been in Turkey for 3 months. That was a setback. So, our new winter destination became Crete and we intended to sail to Spinalonga Lagoon. But that plan was turned upside down because we are now detained in the harbor of Sitia on Crete and can't leave until we have provided a "certificate of rehabilitation" after asking for assistance from the Coastguard.
What happened?
Just 12 miles out of Sitia along the coast of Crete in strong winds we were rapidly taking in water, it was flowing fast into the boat and we didn't know where it came from. Within 10 minutes there was 40cm of water. We have a sail drive with a rubber diaphragm and we thought that that had been torn… we pumped and bailed but that was not enough, the water was just reaching the engine so we called the Coastguard, which came along and we turned the boat into the wind and then the water flow stopped…and we got time to investigate. In the end, it was our own fault and a stopcock for a 5cm hose to a bilge pump was not turned off and the sea siphoned in. The stopcock is deep down in our stern locker and not something you see daily, but we should have checked it. Our mistake.
The port captain was very angry we had called the Coastguard and detained the boat and thus us. We now have to contact the Dutch Embassy because we have a Dutch-flagged yacht and await instructions on how to get the certificate which declares the boat seaworthy again.
I am describing this incident because as long as all is well the sailing life can be wonderful, but with a small misstep, you can land in a lot of trouble and because you are not in your home country and you have often language problems it is much more difficult to solve them. I am sure we will overcome this hurdle and find a new winter marina, but in the meantime we are stuck. Fortunately, it is a very nice and beautiful village here in Sitia in NE Crete, but not so safe with storms in the winter.
Amber Nectar underway
What were the key reasons you selected your current boat?
Tony: I wanted a very good cruiser/racer to fulfill my dream of a circumnavigation and when I found a Sweden Yachts Comfort 34 for sale in Plymouth I grabbed it and have never regretted my decision. It is a very strong yacht indeed and our accident in the Panama Canal in 1998 could have been much worse had Amber Nectar not been so sturdy (see below for more details).
What other boats have you owned?
Tony: I have owned mostly small sailing and racing dinghies like my Flying Dutchman and my 470 but have crewed on many racing yachts. With my parents, I have sailed on many different kinds of boats; Thames sailing barges, a converted Bristol Channel Pilot Cutter, even a catamaran, etc.
What changes have you made to your current boat?
We have had at least two grave accidents with our boat in the course of our sailing life and we have of course made many changes.
We lived for 9 months in the Panama Canal Pedro Miquel Boat Club to repair/refurbish the boat after an accident in the 2nd lock in Gatun. Our boat was crushed between the lock wall and two other yachts when the big ship ahead of us illegally put pedal to the metal and sent a small tsunami down the lock. So we had to be towed. Karin sued the canal and won us a lot of dollars in a settlement just before the Americans gave the Panama Canal back to Panama in 1999.
Amber Nectar's boatyard accident in Australia
Then in 2005 our boat fell over in a boatyard in Australia (Yamba Marina Boatyard) whilst on the hard (not our fault because their cradle broke) and we had to repair a big hole in the boat and make changes to our rigging.
But the biggest change was the doghouse Tony built from plywood and fiberglass in 2012 in Malaysia. Two times Karin had sewn a sprayhood for the cockpit from Sunbrella canvas but then it was Tony's turn. We are very happy with it and because it is so strong you can stand on it for navigational purposes and it makes taking the sail down a bit safer.
Amber Nectar
Most useful equipment fitted, and reasons for this choice:
"The Amber Nectar" is fitted with very little (electronic) equipment and has only the essential stuff: GPS, depth sounder, Autohelm ST 4000, VHF and a SSB receiver which has not worked since our knockdown off Hong Kong in 2008. No radar, watermaker, chartplotter, or the other bells and whistles.
We subscribe to the K.I.S.S. principle. Keep It Simple Sailors.
We have a Fleming Windvane steering system, bought in San Diego in 1999, that is our most cherished piece of equipment and is serving us well.
We have two solar panels that run the Engel fridge freezer.
We also have a Paratech Sea Anchor and have used that in the Atlantic Ocean.
Since 2016 we have an AIS transmitter which is a great asset. Sailing over the top of Sumatra, just after Sabang our steering chain on the pedestal broke so we didn't have steering anymore. The wind was howling and it was a rough sea. Numerous big containerships were rounding that area to go into the Malacca Straits. Whilst repairing the chain and cables we didn't have to worry to be in the path of one of those giants, the AIS transmitter gave them our position and showed that we had no speed because they passed us from different angles but all at a safe distance. Without AIS it could have been very tricky indeed.
Now we are in the warm and wonderful Mediterranean Sea with humid winters but we have a big dehumidifier and that makes life very comfortable on the boat. No more humid beds and clothes plus the windows stay dry after cooking. Sometimes we get 4 liters of water a day in the tray of the dehumidifier.
Friendly locals in Suakin, Sudan, one of our favorite stopovers on our Red Sea passage
Equipment regrets, or things you would do differently:
We never had a windlass, Tony pulled the anchor up by hand. We sometimes used the winches but we now, at last, have a manual windlass in the bow. We should have bought that earlier.
List the countries you have cruised:
England, France, Spain, Portugal, Canaries, St Lucia and all the Caribbean Islands, British -American- Spanish Virgin Islands, Puerto Rico, Jamaica, St. Vincent, Grenada, Trinidad & Tobago, Venezuela, Netherland Antilles, Swan Island, Honduras, Guatemala, Mexico East Coast, Belize, USA East Coast from Florida to Maine, Turk & Caicos Islands, Panama & San Blas, Costa Rica, Mexico West Coast, USA West Coast (San Diego) , Polynesia & Tuamotus, Tahiti & French Polynesia, Niue, Tonga, Fiji, Vanuatu, New Zealand, Australia & Tasmania, New Caledonia, East Timor, Philippines, Hong Kong, Malaysia & Borneo, Brunei, Indonesia, Singapore, Cambodia, Thailand, India, Yemen (Socotra), Djibouti, Sudan, Egypt, Israel, Cyprus, Turkey, Greece.
New Zealand
Future cruising plans:
We will sail next summer in Greece and then maybe there comes a time when we are going to stop after Tony enters Portugal to complete his circumnavigation. Only 5 more countries to go.
List the oceans/seas you have crossed:
North Atlantic, South Pacific, Indian Ocean, Southern Ocean, Red Sea, Tasman Sea, Coral Sea, South China Sea, Bay of Bengal, Arabian Sea, Caribbean Sea, Mediterranean.
Approximate sea miles:
No idea how many miles we sailed but roughly 50.000 miles +++ (?)
Scariest day on the water:
We have had many scary days on the water and often before you realize what is happening you are already past it. One of those scary moments was a nightly encounter with an unlit oil rig in the Gulf of Thailand. Our own navigation lights shone on an enormous steel structure and we just avoided a direct hit…very scary.
Another moment was sailing at the wrong time through a pass with a very strong current in the Philippines (Hinatuan pass). We were delayed by a big thunderstorm at the entrance of the pass with no visibility and then our "window" was shot, we had no slack water but instead a very strong flood. We couldn't turn around anymore, the current was too strong, we had to go with the flow. We went with 9 knots through the pass and then entered a huge overfall (tiderip) with huge waves, which was scarier than going through the pass.
Best cruising moments:
Our best cruising moments have been numerous but sailing into New York harbor with the statue of Liberty in front of you was spectacular.
Also sailing at night into Sydney Harbor was eerie, nothing was moving, just some shrimp boats. We had the whole harbor for ourselves…knowing how busy it can be in the daytime.
Arriving after 3 weeks sailing in Nuku Hiva was a never-to-forget moment as was arriving in New Zealand at Urupukapuka Island with the flowering Pohutukawa trees (we didn't know those words then).
Racing in Borneo
Tony loved the Borneo Rally (we were the overall winner ) and we loved the atmosphere at the Yacht club in Puerto Galera in the Philippines and the Yacht club at Hebe Haven in Hong Kong.
Favorite cruising area and why:
We both love to travel up a river and on Borneo there are many possibilities. The Klias River, The Rajang River, The Kinabatangan River and in Brunei the Mangrove forests of the Temburong. Borneo was one of our favorite cruising areas and a bit home away from home. Labuan Island Marina was a place where we always returned to and where we had made many friends.
Baie de Prony in New Caledonia
Favorite anchorage:
We have always anchored wherever we were but that changed when we arrived in Malaysia. Partly because the government Marinas were cheap but also because the holding for anchoring was often not good. We have sailed the Sea of Cortez in Mexico which has spectacular anchorages. New Caledonia has an abandoned mining area called Baie du Prony which is beautiful and where you can hike forever. New Caledonia was also very good for the fishing around the island. We circumnavigated New Caledonia twice.
Sail Repair
Favorite cruising apps: Navionics Europe. Windy weather app. We still use printed cruising guides.
Favorite cruising websites: Noonsite.
Favorite cruising books:
At the beginning of our cruising (1993) we devoured sailing books and magazines. Mostly the classics like Hiscocks, (former friends of the Stubbs family), Smeeton, Hall Roth etc. and Nigel Calder for technical info. It mostly depended on the swap you had with other boats as to what you were reading. We were also fond of Cruising World and Yachting Magazines but soon the supply dried up as we arrived in countries where nobody was sailing.
What advice or message would you want to pass on to anyone new to cruising or thinking about casting off the dock lines?
We have some advice for starting cruisers:
Never listen to negative stories about other places because that way you are getting nowhere. Every place is lovely in its own right. We have gone many times to places other people were negative about and we had a lovely time. We have been 6 months on a river in the "most boring town of Australia" and we loved it there…trust your own judgment.
However, if people have navigational advice or warnings, then listen and try always to get "Local Knowledge" which can save a lot of hassle, time and money. Sometimes we take a ferry to see where it is going and decide then if we can go there with the boat. Scout out your surroundings and destination.
You can't have it all, for every glorious sailing day/passage/anchorage there will be also a lot of disappointments, bad weather, foul anchorages, no shore access, defective outboards, leaking dinghies, and bureaucratic officials. Plus problems with things you forgot to do. You have to stay on the ball at all times and keep watch 24/7 and that is not always easy. The sailing life is relentless and for a long time it can go smoothly but one moment you are caught out and then you have to accept that it is not going your way. Happily, most sailors are resourceful and can cope with adversity.
Try to avoid so-called experts and professionals. We have done ALL the work ourselves for 30 years and even installed the engine in Trinidad.
Sailing has its wonderful moments, leaving and arriving at anchorages, and in between all the hours and days you spend at sea away from land. Never boring, catching fish, reading books, keeping watch and enjoying sailing day and night. Our advice is: make the most of it, take care and above all relax and enjoy the ride…
Chinese New Year on Labuan Island, Malaysia
Why cruise? In a few sentences, what is it that inspires you to keep cruising?
We love cruising, even after 28 years. The freedom to go cruising is still attractive but we are getting older and we notice that we are staying longer in the same place. We have had plans for the future but we take it now one day at a time. We hope you have as much fun as we have had circumnavigating.
See a selection of reports sent into Noonsite by Tony and Karin here.
…………………………………………………………………………………………………………………………………..
The opinions expressed in this article are the author's own and do not reflect the view of Noonsite.com or World Cruising Club.
Places
User Comments
You must register first or be logged-in to leave a comment.