Morocco, Mohammedia: Cruisers' Reports
Previous Page
Report Intro
Last Update - November 08, 2018
Report Content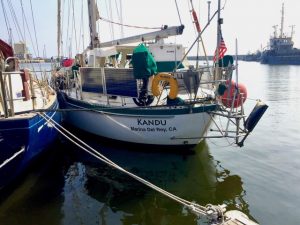 Mohammédia: November 2018 by Q4YB
Arrived here at dawn on 24 October 2018 – called port on VHF ch. 11 and they said to call marina on the same channel. No reply but were directed to find A berth and tie up. Met by a friendly worker who helped us tie up. It's a tight marina and we were lucky to have an alongside berth for the day.
We expected to have to stay a whole day and night as heard stories of lengthy clearing in and out procedures. Not at all- the authorities met us within half an hour of arrival and came into the boat.
We had three different people all asking the same things and filling out forms, police, customs, immigration – but all were extremely polite and helpful. It definitely helps to speak some useful French phrases – one police officers English was very good, as was the marina attendant, but the others English was poor and so you need some basic French to get the paperwork done.
We expected to have to give some 'gifts' of cigarettes or some money but these were all politely declined. The authorities didn't take a single penny from us for anything in fact- and were very friendly to deal with. They were grateful for coffee and biscuits though, and I think that plus a friendly attitude helped a great deal.
We thought we would have to 'encourage' them to let us go the same day but when we asked it was absolutely no problem and we could go whenever we wanted.
Security is good – a manned guard at the marina and police officers with barriers at the port road entry/exit.
Police keep passports until departure but they are open 24 hrs – they even helped us with directions and questions about shops.
They give you a shore pass which you need to keep to get in and out the port on foot, but then happily gave us our passports back to get into the town.
Diesel was available, but they don't take cards or Euros – only Moroccan Dirhams (MAD) – so we spent a hellish day walking and taxiing around Mohammedia trying to find a bank or bureau de change that would take a Debit card to give us local cash. Absolutely no chance anywhere and in fact, everyone we spoke to at bureau de changes seemed baffled by the mere notion of trying to change/withdraw cash from a bank counter using a credit or debit card.
We had to visit several cash machines and used different cards with varying withdrawal limits to scrape enough cash to pay for the diesel we needed. One card was even retained by an ATM for security/fraud reasons, but the helpful bank staff retrieved it right away from inside and came outside to give it back to us which was a helpful surprise.
In the end, we got 9000MAD together to buy 800 litres of diesel, and the taxi driver tried repeatedly to take us completely the wrong way even with us showing him on google maps.
When we arrived in the morning the diesel price was 9.95MAD per litre and when we got back in the later afternoon it had gone up mysteriously to 10.35MAD (!). Oddly, they gave us a receipt for 9500MAD even though we spent only 9000MAD.
The 'fuel berth' was extremely tight and we were lucky it was HW. It was a 14m Motor Boat we were delivering to the Canaries – if it had been any longer we might not have made it as the turning area near other boats is small.
The marina fee was about €36 and the port fee was €26 (they accepted Euro cash for this in the end when first we were told only Dirhams).
Also, our generator impeller had given up – weren't hopeful here of finding a replacement but they amazingly had a catalogue with the right one – but they would have to send to Casablanca for it and it would cost €144!! We declined.
The town itself that we saw wasn't unpleasant nor particularly pleasant, we got very little hassle and didn't feel unsafe, some locals curious and a couple of beggars, some younger guys trying to talk to us at the cash machine but quickly moved on.
Amazingly we found a Dominoes Pizza in a nicer part of town – my goodness it was the most awful thing I've ever tasted. I hadn't eaten in over a day nor slept in two, but still, I couldn't finish it. Mohammedia has a very distinct smell about it, and the pizza tasted like the smell!
I'd stop in here again if needed – very few choices on the Moroccan coast but the people were friendly, welcoming and helpful, and no doubt benefits from cruisers stopping in.
A word of warning that if you're reading here you probably know about already – the entire coast quite far out is littered with small fishing boats and fishing buoys – some unlit – although we were surprised at how many were actually well lit given the stories we'd read beforehand.
We did the coast at night and you definitely need multiple pairs of eyes on deck, binoculars and proper use of radar.
There are periodically pairs of buoys with flashing red lights on them, and usually a small fishing boat nearby perhaps close or within a mile or so. Twice we didn't see them until very close and we didn't dare to go in between them for fear of getting snagged.
We had clear skies and a full moon and occasionally we saw fairly substantial fishing boats with no lights at all.
After Mohammedia we were headed for Agadir but with some fuel calcs, spare fuel in Jerry cans from Gibraltar and with good weather we decided to head straight for Lanzarote, but after we were abeam the Moroccan port of Essouria heading Southward.
Mohammedia, Morocco Docking and Clearance: September 2018 by SV Kandu
September 17, 2018
Unable to reach the Yacht Club du Maroc, a private enterprise, prior to departure, we set sail from Gibraltar in the hope that space would be available. A forecasted large NW swell had us forego the shallow entrance of Rabat, and Casablanca has no facilities for receiving yachts.
Upon our morning approach, Port Control Mohammedia responded to our VHF call on 16. We were instructed to enter the port and head directly to the marina where someone would point us to a berth. Warned in reports of underwater obstructions near the marina, we arrived at high tide. The private marina resides tucked away in the corner of the commercial and fishing port. Seeing no one of authority, we stayed just off the marina's two large pontoons, toward the commercial portion of the port rather than the likely shallower small fishing port. Within 10 minutes, an official-looking person with a collared shirt and long pants, holding a handheld VHF guided us to raft up alongside one of two possible boats, the choice was ours. They have limited space for visiting yachts. Looking at our depth sounder during our manoeuvring into place, the depths were more than adequate, never below 18 feet. The official, who we never saw again, asked us to drop an anchor which I said I would do later, but intending only to stay for 2 nights, with no bad weather forecast, we did not.
All officials came to us within an hour or so, boarded our boat, and processed us politely and professionally in English and French, No "gifts" asked none gave. Leslie made coffee, which they gratefully received. No charge for clearance. They took our passports for an hour to process, stamp, and return them to us with short passes (as we were in a commercial port with high security), and held on to the ship's original documentation to ensure we checked out properly. Check out was as simple and painless after 9 a.m., presenting our passports. Taking only 15 minutes, we had our exit stamped passports and original ship's document. Agadir officials said we should have received a blue paper from Customs, but did not belabour the point with us.
The YC charges two fees, theirs and the ports. Warned of the high price and that they charge per day, not per night, I was mentally prepared to see a high bill. Accepting only cash, up front, the YC manager was pleased I had made the effort to have Moroccan dirham on hand, having exchanged in Gibraltar before our arrival. He charged us for two nights, not three days. Perhaps because we planned to leave at the same time that we'd had arrived. The two-night YC charge was slightly higher than the port charge, but for a 12.7m monohull, the charges were about 500 dirhams each, 1000 total, or $55/night. Price includes 220 power and portable (we don't trust) water, separate men and women's toilets and hot showers (clean and adequate), excellent security, trash, access to their restaurant across the port, and weak to non-existing WiFi. Our pontoon was for larger boats and was shared by mostly sports-fishing boats.
While there are smaller local cafés nearby, to get to the centre of town, a 10-dirham taxi ride makes it easy. ATM's are common. We used the ATM at the train station and purchased via cash our tickets through the ticketing vending machine. We hopped aboard the frequent (±every 30-minutes) half-hour train to Casablanca (showing up at least 15 minutes late), costing 32-dirham R/T, and walked 20-minutes to the Hassan II mosque, taking the 100 dirham English-speaking tour, by far the best and most worthy experience we had in our short stay in Casablanca. Rick's Café Americain was charming and elegant, although more expensive than we're used to paying (4x the cost of the normal hole-in-the-wall places we frequent), very delicious, and the portions are large enough to share between two (wished we had known earlier). As with most less technologically developed cultures, non-written prices must be negotiated before you engage in buying open market food items, but especially with taxis, where you might pay as much as 3 times the going rate. In perspective, sometimes that means paying $3 instead of $1, but it can also mean paying $50 instead of $20.
SIM cards are an excellent deal in Morocco, 20 dirham ($2.25) for the Maroc Telecom SIM which allows you some limited calling then you add separately a top-up at a tobacco/convenience store to acquire data or more phone. 10 dirham per 1 GB data. Valid for 30 days. We bought 50 dirham worth (about $5.50). SIMs are purchased at a Maroc Telecom or other brand store.
In summary, Mohammedia is a friendly, efficient, and secure place to berth if Casablanca is on your must-see list. Reportedly, the most populous Moroccan city, except for the Hassan II Mosque and the train station, we found this historic city to be unattractive. The old colonial architecture described in tour guides is not maintained and disappointing to behold. To be fair, we did not pay for a guided tour, nor did we have a local showing us the charm of what may otherwise be a very lovely place. Bryce did get to surf at Florida Beach, but even that experience was just okay.
Eric Rigney
Leslie's brief FB excerpt:
Casa Blanca on the ocean claims to be the largest city in Morocco. But not having a yacht marina directly in Casa Blanca, we headed instead to port Mohammedia 10 kilometres north from the city. From Gibraltar, we left with perfect wind and tide circumstances hopping the Gibraltar straights shipping lanes to the south like a rabbit to avoid the big tanker traffic. With Kandu docked in Mohammedia, we took advantage of the inexpensive train and taxis to see the sights in Casa Blanca. We visited Dar Bouazza Beach for some long overdue surf and the renowned Rick's Cafe for excellent 1920's art deco ambience and delicious Moroccan couscous. We were spellbound by the most impressive architecture found in the large and beautiful Hassan II Mosque (inside and out as they allow non-muslim visitors to tour the interior for US$11/person). We also walked the city to visit the acclaimed business city centre, local souk and the famous Rialto Cinema…all of which were underwhelming. Not a beautiful or romantic resort town, two days was plenty. Sadly, most of the city was run-down and dirty…with hopeful construction everywhere.
Mohammédia: January 2018 by Gerard Westheimer
Authorities: The authorities are very kind and helpful and are really efficient.
Harbour: There are just a few berths available in the Marina and the price for a 15m yacht is Dhm 365 a day. The harbour master of the commercial harbour asked for a 15m yacht – Dhm 275 a day. So this is altogether a really expensive harbour.
Town: In the old town the central fish restaurant is interesting to visit.
Storm: A storm destroyed in the first week of 2018 nearly all the poles of the two jetties. It will take some time to repair.
Gerard Westheimer
Report December 2016 from SY Moya (France)
Here's my experience using the yacht club in Mohammedia, overall very good.
Here are few hints: there is no need to call in advance to reserve a berth, just show up. The VHF is ch11 although nobody answered, the fact that we landed after hours may have been the reason. They will try to make room for you if there is no room at all you can try to anchor south of the wall in front of the beach and use the tender to go to the Yacht Club and use the facilities (see them for fees).
Yacht Club Facilities
The yacht club is small, at the far end of the port, very safe. The sailors and security people are nice, friendly, courteous and professional. They speak French and Arabic, and most speak English as well.
There is no chandlery on site, however, there is a fishing port just nearby where some parts and tools can be bought. Mechanics can be found to perform work as well, check with the Yacht Club.
There is no laundry on site, however, the cleaning crew can do it for a fee, talk to the Yacht Club boss for directions.
Security
Being in a commercial port you will have to clear a gate manned by the police every time you want to go in and out, the police will issue you a Shore Pass. Very secure. I felt safe leaving the boat there for train trips to Casablanca and Rabat.
Clearance
On arrival or few hours after (or the next day), you will receive a visit from: the Port Authority, the Yacht Club, the Gendarmerie Royale, the Police (Surete Nationale) and the Customs.
Guns and/or ammunition HAVE TO BE declared to the Gendarmerie Royale and the Customs if in doubt ask.
The Port Authority will fill out documents that look like the Customs, but they are not the Customs. The Gendarmerie Royale is tracking boats along the coast in their continuing fight against drug trafficking, they will take pictures of the boat. The Police will stamp your passports. The customs may or may not issue you a Temporary Import Permit for the boat, form D716.
All officials have been courteous and professional. Having copies of documents help a lot. Speaking French help, but they all speak English well.
Fees
The Yacht club charges 40Dh (incl taxes) per DAY. This includes the use of the facilities: internet, washroom, showers (hot water). Over the two weeks I spent there I found the facilities clean (bring your toilet paper though).
The port authority charges 210Dh+Tax (22%) per DAY for the use of the port, for boats between 10 and less than 20m. Boats less than 10 meters are charged very little. My boat is 10.05 metres…
Very important: the Port Authority offers a rebate if you stay longer than a week, but it has to be asked before and paid in advance, strangely they do not advertise this and it has to be asked. They accept Dirahms but Euros can be used (not always).
Ashore
Mohammedia has banks, stores, a Carrefour Market and a traditional market within walking distance (less than 3kms).
There is a modern train station as well. Taxis are cheap and can be found everywhere, you can ask the Yacht Club to call one for you. Taxis only accept Dirahms but can drive you to a bank. Taxis should cost less than 20Dh.
Mohammedia has few things to visit, a really nice market. It is really close to Casablanca (no Marina nor Yacht Club in Casablanca and you will be asked to leave) and Rabat. Rabat Marina (also known as Bouregreg Marina) can be dangerous or impossible to visit if the swell is from the west, Mohammedia is always safe to visit. From Mohammedia the train to Casablanca (go to Casa Port) is 32Dh both ways and to Rabat (go to Casa Ville) 56Dh both ways.
The experience in Morroco has been good.
Thibault Da Cruz
Moya
France
Report November 2015 from SY Proteus
Mohammedia, Morocco — Your last update is from October 2015 (below), but I thought it might be helpful to add that it was no problem to anchor just outside the harbour at first (or even for a night) – in about 4-5m just off the public beach – and go in with the dingy to check in with immigration/customs and wait for a spot. The holding is good in sandy mud. If you're really wanting a space, just wait for an overnight: the turnover is usually quick.
Because of the adjacent petrochemical port, security is extremely tight. Actually, surprisingly tight. They require a short pass to get out and back into the port outer gate. There is a Carrefour (and a liquor store!) in town and the taxi ride is super cheap: around 10 dirhams.
Fuel was possible, but if your boat is deeper than 1.5m, the fuel pump is only accessible at high(er) tide.
Report October 2015 from SY Sea Bear
The report posted below is still very accurate. We are currently berthed here (October 20, 2015), and have been for 10 days – our boat is a 13-meter catamaran. There is still no public marina facilities open in Casablanca. The marina in Rabat is often very difficult to enter and exit.
All of the staff at the marina, the customs, and the police are very kind, and very helpful, asking for nothing in return. Of course, a few euros or dirhams here and there is always very much appreciated. We left the boat for several days to visit Fes and Casablanca. It is very safe and secure here.
We are waiting for a weather window to head to the Canaries, so have been here 5 days more than expected.
The only real negative side of this marina is that it is right in the middle of a big industrial area, and the air is very polluted. The boat is covered in soot each day, and when it rains, it seems to pour soot from the sky.
The marina is very small but tries to accommodate as many visiting yachts as possible. I had tried to make a reservation here a couple of months prior to coming, but they said they were full. I think they don't actually take reservations, but work on a first come first served basis. Once inside, it seems you can stay as long as you like. Even when full, they tried hard to accommodate new boats as they were ducking from the winds blowing in from the Atlantic.
Arriving in the marina, one is told to radio to the marina office – we did, but no one picked up. I called the coast guard to ask what we should do, and they said to simply wait for the marina staff. As the marina staff never answered our call, we simply hovered for approx. 40 minutes, wondered if we should go back outside and anchor when finally several men from the marina came show us the dock space they had prepared for us. So my advice would be to simply hover until the marina staff arrive. If there is absolutely no place, they may advise you to go to the anchorage, but if there is a spot, you are far more likely to be given it if you are present. The anchorage outside is very good and large enough in most conditions, other than N or NW winds.
There are several good grocery stores to provision from. The large Supermarche, easy walking distance from the marina (less than 2km) is better than the smaller Carrefour. Taxies are abundant and cost 1 Euro, or 10 Dirhams to go almost anywhere in town. Most medications can be bought from the pharmacy without a prescription. Some medications they'll ask for a prescription, but if you persist, and explain your circumstances, they'll sell you most anything.
Overall, the marina has worked out well for us.
That's all I can add to the previous post.
Lauri Trites
S/V Sea Bear
Report 2012 from SY Aardvarc
This is an update based on our experiences there for two weeks in October/November 2012.
We set off from Cadiz heading for Rabat and timed our arrival for high water having read about the problems with swell at the entrance.
Sadly our arrival, after an overnight sail, coincided with a swell of 5 metres and the breaking waves at the entrance was dramatic.
We called up the marina and they told us the port was closed and suggested we head on to Mohammedia, a further 30 miles south-west.
The entrance to Mohammedia is wide and sheltered and is accessible in any conditions.
We arrived early afternoon and were greeted by a South African couple who encouraged us to raft up alongside them. Shortly afterwards the Marina Manager, Ahmed, arrived to welcome us. He spoke very good English and perfect French. He could not have been more helpful and since we were planning to leave the boat for a few days, arranged to move a fishing boat off a finger pontoon so that we could use the secure berth. Mooring fees approx £15 (18 euros) a night for 12m loa.
Many other boats arrived on their way to the Canaries or Madeira and space was found for them all although the larger ones had to anchor and drop a line astern to the pontoon.
There is no evidence of a new marina as mentioned in a previous Noonsite posting.
Diesel and petrol is easily available (you may have to wait for high water, depending on your draft) and is very cheap (less than one euro a litre).
We were visited by Customs, Coastguard, local Police and Port officials. They were friendly, polite and welcoming. Formalities were minimal. The security is tight with a permanently guarded perimeter to the port ( friendly helpful security staff). Please say hallo to the lovely friendly black and cream dog who hangs around the guardhouse and will be pleased and genuinely smiley if you give him some food!
We were safely able to head off by train for several days and had a great time exploring Marrakech, Rabat and particularly Fes.
The shelter is good and if the wind picks up the marina staff run around attaching extra lines to the pontoons to support them.
There are two pontoons, one for shallow draught boats/multihulls, both attached to the shore and there are showers ( two cubicles) with hot water. WiFi is available at the tables set up outside the small marina office and works well.
The harbour water quality is affected by its proximity to the commercial port and the fishing fleet.
The people in Mohammedia are very friendly and welcoming. It is not touristy at all, the station is modern and the trains very cheap, if tardy.
Restaurants are good (sea bass tagine at Restaurant du Port is especially good).
We spent 2 weeks there waiting for a weather window to Madeira and are keen to go back.
Ed, Heather, Robert and Diana
SY Aardvarc (Arcona 400)
Places
User Comments
You must register first or be logged-in to leave a comment.
No comments for this post.