Morocco: Agadir Marina and nearby cities
Previous Page
Report Intro
A cruiser reports on a great marina to be 'stuck' in and a good base for visiting Paradise Valley, Essaouira, and Marrakesh.
Last Update - December 20, 2018
Report Content
SV Kandu in Agadir Marina
The day before our departure to the Canary Islands, I discovered an irreparable leak in our engine's fresh water pump. It would take more than 2 weeks before our replacement would arrive in hand. Moroccan customs are notoriously painful. Thus we remained berthed in Agadir Marina for more than 4 weeks, a great place to be "stuck" and here's why:
Entrance waypoint: 30°25.2 North, 9°37.0 West.
We called two days in advance by phone from Mohammedia to insure they had space for our 12.7m monohull (+212 (0) 5 22 79 84 84). They did. Apparently, although they monitor channel 9, they don't reply. Upon our Friday morning arrival, we hailed the marina on VHF channel 9 with no reply. As we arrived, we were waved toward our berth and assisted in tying off bow first, our preference as we have a windvane. The dock pontoons are low and short. The distance between pontoons is large enough for catamarans. When a heavy swell comes, boats sway with great force. Chafing gear and extra lines are recommended. The staff does what they can to assist.
Checking In:
Morocco houses Immigration, Customs, and National Police at the marina office, 24/7. Their sole role is to process pleasure craft. I think they hear us hailing, but don't always reply. Once you're tied up and settled in, they come immediately to your boat and process you quickly and professionally. We offered them coffee which they seemed to like. They filled their forms, we provided them copies of our ship's documents, and they took our passports to be stamped and returned 1-2 hours later. They asked for a blue customs form from Mohammedia, which we never received. They accepted our explanation without issue.
Speaking French help, but English is fine. Note: they asked if we had a drone. If we did, they would have held it in their office until our departure. There were no charges for processing.
Checking into the marina office was casual. Check out is the same. They want to see your ship's document for measurements. Their credit card machine doesn't usually work, so be prepared to pay cash when you plan to leave. An ATM nearby usually works, but other ATMs are not far away. Make sure your statement reads "Paid in Full" to eliminate any potential misunderstandings. Let officials know when you plan to leave, at least 12 hours ahead, or the night before if you wish to leave early. They do break for lunch and they do have shifts, so best not to wait until the last hour to check out. Note: the marina office is closed on weekends and holidays, but you can pre-pay your slip fees. They are very accommodating.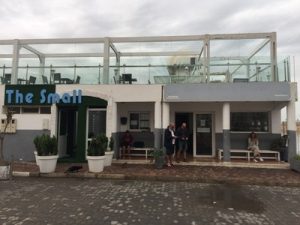 Marina Details:
Water (reportedly potable – although we still filter it) and power are included in the slip rental, as well as toilets, a hot shower, and WiFi. Water requires a pipe thread to garden hose adaptor. The meagre toilets and shower stalls are locked behind a single door, with the key hidden outside. The toilets (2) are sitting down with toilet seats but bring your own toilet paper. The poorly maintained single shower has enough hot water for one and a half showers and is clean enough for those who aren't particular.
Security is excellent, 24/7. The common gate leading to the pontoons is not locked but closely monitored. We left our boat to travel to Essaouira and Marrakesh. The free WiFi in and around the office (See left. Image of marina office courtesy of SV Kandu) is adequate for basic needs, including phone and video chats. We were able to slowly upload short videos and handle all Facebook and Internet needs for communication back home. For decent phone and data service, go to Telecom Maroc and buy a sim for 20 MAD. Once you have your sim, head over to a local Tabac or convenient store to top up on phone and data service…50 MAD buys you 5 gigs of data.
A nearby fuel dock offers diesel, gasoline, and cooking gas at normal local gas station rates. We gravity fed our own propane tanks at the station's boatyard using our own adapters.
One bummer about Marina Agadir is its proximity to the sardine fish packing plant just north. The smell and occasional dead fish floating around your boat can be a bit much for some. It doesn't bother me, but then I don't shower enough to notice.
Provisioning and Shopping Options:
Light provisions can be found close to the marina, but a 20-minute walk there and a 20-40 MAD (Moroccan dirham) taxi ride back from Carrefour and/or Uniprix, or from the main Souk (closed Mondays) is worth the time and incidental cost. Marjane is a super modern supermarket near Mr. Bricolage (Home Depot), accessible by the #98 bus (3.5 MAD pp, one way) discussed in more detail later. Car rental agencies occupy one block near the marina (we liked Lotus), or the marina can arrange one (we did this too). We paid about $33/day for a 4-seater small diesel car. When we first took possession of the car, it had almost no fuel, so our first stop was the station to top it up. Parking on the street or in a lot where there are attendants is normally 2-5 MAD, not 10! Apparently, some insurance is automatically included within the rental rate. Good thing as we were broken into (small back passenger window) while parked at a beach. Nothing was stolen, but insurance covered half the window replacement; we paid US$70. The window was replaced in a couple hours
If you need any assistance buying parts, getting supplies, or with repairs, Youssef Ajewher, a kind local yacht service person and former merchant ship engineer, working privately at Marina Agadir would be glad to assist you. He helped us with many issues, including medical, getting recommendations, driving us around, bargaining and translating for us. He even knows where to dine. Having him care for us was a great relief and time saver. He accepts whatever you think his services are worth. If it were a simple errand, we paid him a little more than twice what a round trip taxi would cost because he knew where to go, who to talk to, and how much to pay. Sometimes, he spent nearly the whole day when we had a medical issue, making sure we knew what was what, and advocating for us. Obviously, we paid him more when he spent so much time, and he was grateful. I love that guy! Youssef Ajewher, +212 (0) 6 77 45 68 87, email: [email protected]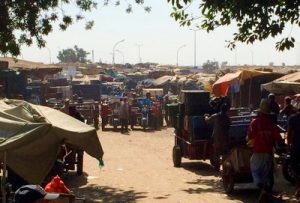 Souks and Other Local Sights:
Agadir is a great place to visit and an excellent base from which to visit, Paradise Valley, Essaouira, and Marrakesh. We enjoy the sights, sounds, and scents of Moroccan souks (open marketplaces). Agadir's souk is huge (see left). Be sure to explore the nooks and crannies. (Again – note that the Agadir Souk is closed on Monday). Spices, olives, dates, almonds, walnuts, fruits and vegetables, butchers, bakers, souvenirs, electronics, cleaning supplies, clothing, it's all there. The freshly peeled prickly pear cactus fruits are fun and wonderfully sweet and tasty. Expect to bargain, and even then, to pay more than a local. Bargaining is not our strength. Inside Agadir's souk are wonderful micro cafés with inexpensive and delicious Moroccan dishes. Don't be afraid to try out a café or two. On Fridays, couscous is served with vegetables, chicken, or beef. A portion serves enough for two and chicken couscous is 20MAD ($2.20 USD) which comes with additional sauce/broth. I recommend getting the bag of sour milk, a sort of buttermilk that marries perfectly with the couscous if your stomach handles dairy. They serve the milk with a bowl of plain couscous to mix with into a paste as an additional separate treat. I tend to leave an extra 5MAD as a tip. To get to the souk from the marina, walk awhile or take a taxi for about 30 MAD, or take a bus for about 4 MAD each.
Another souk a bit further away from town central, more rustic and active than Agadir's, can be found in the town immediately south of Agadir at the end of the #98 Bus. Catch the bus just north of the marina (just north of the large roundabout by the fish market) and take the 98 bus to its terminus. It's also your bus back. As you exit the bus, facing in the same direction as the bus, walk a few blocks further up and to your right. Ask around for the souk or marche.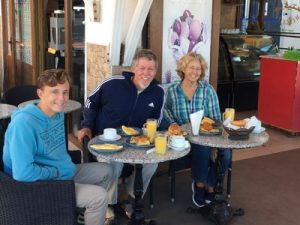 This part of town survived the 1960 earthquake and its souk feeds the south of Morocco, selling mostly in bulk and wholesale. Chickens, turkeys, goats, cows, and camels are slaughtered between 5-8 a.m. The whole thing is an extraordinary experience sending you back in time. Our favourite Agadir promenade restaurant is Herguita (see right), a little place located just south of the La Coupole restaurant. It's a wonderful stroll alongside locals and tourists. The Herguita breakfast and lunch/dinner combos can't be beaten for price, taste, service, and location. Breakfast of fresh squeezed orange juice, café au lait, Moroccan pastries is 20MAD. A two-egg a la carte cheese omelette is 16MAD. One lunch/dinner menu: soup or salad, brochettes or tajine, ice cream or mint tea for 60 MAD ($6.60) serves two of us. The avocado-date-milk drink is Bryce and my favourite.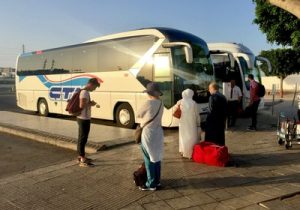 Travel to Nearby Cities:
Through travel agency 'AdmireMorocco' located on the Agadir promenade relatively close the marina, we booked a local sand dune sand boarding trip located near Tamri (north of Taghazout right on the coastline) that included a traditional tajine lunch in the home of a Berber family; the three of us loved it.
PARADISE VALLEY is less than an hour's drive from the marina. We rented a car. Don't be fooled by the first beautiful stream-side date tree orchard with a Paradise Valley sign. Continue to take the 'highway' (currently under construction) much further into the valley, hugging the majestic sedimentary rock wall faces, layers of rock resembling pages from an enormous geological book. Keep going until you come to a 'parking lot' from where you can hike up, then down into the quaint picturesque valley. Little "resto's" are everywhere along the 2-3 km trail, ready to serve you fresh juice or even a tajine lunch.
ESSAOUIRA is a picturesque well-kept old fortified seaport that can be a day visit from Agadir. Two and half hours by car, buses are a likely option as well since the old town is small enough to tour entirely on foot. The excellent wood crafting is not to miss.
For MARRAKESH, reserve seats on a CTM or similar bus for 200MAD round trip per person. Take a red-coloured taxi from the marina for 40 MAD to the Gare Routier (bus station). I don't know how often a bus fills up, but tickets can be purchased in advance and paid with my credit card at the Agadir station. Image of local bus courtesy of SV Kandu.
The bus is very comfortable but no onboard toilet. The bus makes one toilet stop. Note: 2MAD is the standard fee for a toilet visit. It's about 80MAD (maybe less) by taxi from the Marrakesh Gare Routier to the centre of the old town. I recommend pre-booking a Riad in old Marrakesh (bed's breakfast type accommodation). They are inexpensive, private Moroccan/exotic guest homes designed with a garden patio in the centre, centrally located within walking distance of nearly everything, and include a delicious breakfast. Some have pools; all have rooftop terraces. The beds are often hard and our room's shower didn't have hot water (no morning coffee required!), but we only paid $40/night for three adults at Riad Chennaoui. We booked the night before through Booking.com.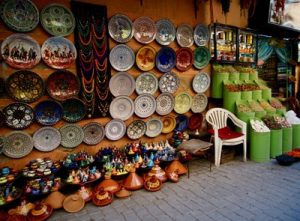 Two to three nights should be adequate time to enjoy most of Marrakesh, but there's no rush either. A guidebook like Lonely Planet is all you need. Not necessary to hire a guide.
JAMAA EL-FNA – In Marrakesh's main square called Jemaa el-Fna, we found a food tent, #31, serving only Moroccans. We ate there twice. The Café Glacier rooftop is the best way to experience the square as the sun sets; great photo ops, day and night. From there, you can enjoy the street performers (snake charmers, African drummers, acrobats) without their aggressive demands for money. Some sailors found Marrakesh to be an aggressive, overly populated, tourist trap. We avoided travelling there on the weekend.
SURFING: And the main reason why we came to Agadir was for the local Atlantic surfing scene. There are several spots north and south of Agadir that are good. A 20-minute bus ride (just 7 MAD) north from Agadir on either L31, L32, or L33 is a favourite spot due to the nice accommodations at Richie's Cafe located at K11 on the beachfront route just south of Aourir and Banana Beach. It's generally a beginner wave, but fun when Anchor's Point, further north off Taghazout is not pumping. Taghazout is a surfer hangout surrounded by up-and-coming tourist resorts. Even more north just south of Tamri village is Boiler's Spot where a big ship's boiler can be found rusting in the wave break. It is a more intermediate to advanced break where Bryce had a great time when the swell was strong. Wetsuits starting in October are generally used.
Some things we didn't do that sounded like fun:
1) Fez, just too far for us even from Mohammedia.
2) Book a camel trip to a desert Bedouin tent adventure. Sounds great, but we did camels in Egypt, and everything we were finding here was a bit too expensive for us. Those who did it, loved it.
3) There's also a renowned film studio, but it's a bit of drive from Agadir. Ouarzazate is the most famous where Lawrence of Araba was filmed and more recently: The Sheltering Sky, Last Temptation of Christ, Alexander, Gladiator, Black Hawk Down, Kingdom of Heaven and Prometheus to name a few.
Whether planned or not, an extended stay in Agadir proved of great value to us. Hope our insights help you get more out of this friendly corner of Morocco.
Eric Rigney
s/v Kandu
Places
User Comments
You must register first or be logged-in to leave a comment.
No comments for this post.