The 54-mile long Nord-Ostsee-Kanal (North Sea-Baltic Sea Canal) has strict rules which must be observed by yachts transiting it. This report offers extensive details of the regulations.
Published 6 years ago, updated 5 years ago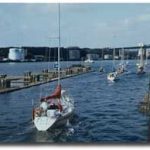 The 54-mile long Nord-Ostsee-Kanal (North Sea-Baltic Sea Canal) has strict rules which must be observed by yachts transiting it. A set of the rules, in German (Merkblatt für die Sportschiffahrt auf dem Nord-Ostsee-Kanal), can be obtained at either end of the Canal.
The height limit is 129 ft (39.6 m) and there is a speed limit of 15 km/h (8 knots). Yachts are expected to make the transit under power and although sailing is permitted in certain parts, tacking is forbidden and the engine must be on standby.
Boats capable of 6 knots under power can complete the transit in one day. The transit must be accomplished during daylight hours. If this is not possible, a convenient place to stop halfway through is at Rendsburg, which has a yacht club. The transit fee is payable at Holtenau locks.
Because of the high amount of radio traffic, the traffic control office or lock-keepers should only be called on VHF radio if absolutely necessary. Transiting vessels must monitor the correct frequencies permanently.
VHF channel 13 (call Kiel Canal I) Brunsbüttel lock area
VHF channel 2 (call Kiel Canal II) Brunsbüttel – Breiholz reach
VHF channel 3 (call Kiel Canal III) Breiholz – Kiel-Holtenau reach
VHF channel 12 (call Kiel Canal IV) Kiel-Holtenau lock area
In addition to VHF Kiel Canal 4 and the lock signals, you can now also contact the Kiel lock master directly on Tel: 0431-3603-152
Yachts without a pilot may use the canal only during daylight hours, except in the approaches to the yacht harbors at Brunsbüttel and Holtenau. When waiting at locks, yachts must stay behind commercial vessels.
Yachts may moor only in the following places within the limits of the canal:
Brunsbüttel yacht harbor (km 1.8)
Waiting area at a north side of Brunsbüttel (km 2.7)
Waiting area at Dückerswisch (km 20.5) – one night only
Waiting area before Gieselau lock (km 40.5). Note: foreign yachts which have duty-free stores on board may only stop here if already cleared by customs.
Waiting area at Obereider Lake (Rendsburg harbor) (km 66)
Waiting area at Borgstedter Lake (km 70)
Dock at Flemhuder Lake (km 85.4) – one night only
Holtenau yacht harbor (km 98.5).
In an emergency, yachts may also moor behind the dolphins intended for larger vessels.
The light signal applicable to yachts at the end locks are:
Single red light: entry is forbidden.
Flashing white light: proceed.
Three vertical red lights: all vessels must stop.
Yachts unable to use their engine or without an engine may be towed through at the owner's expense.
Yachts without radar must stop in reduced visibility.
More details for yachts available on the website.
www.wsa-kiel.wsv.de/Service/Publikationen/Anlagen/engl_Merkbl_Sportbootfahrer.pdf
Additional Resources:
SV Seefalke approach youtube video for Kiel Canal locks – August 2018