How to Crew in the ARC
Previous Page
Report Intro
Each year over 250 yachts of all shapes and sizes set out from Las Palmas de Gran Canaria, heading across 2,700 nautical miles of the North Atlantic bound for Saint Lucia in the Caribbean as part of the ARC – the Atlantic Rally for Cruisers.
Last Update - February 06, 2017
Report Content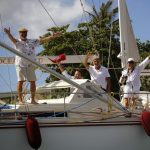 Last year marked the 30th edition of the rally, which for many aspiring ocean sailors has become a "bucket list" item. The dream of endless days, each becoming warmer and non-stop down-wind sailing has quite an appeal, so how do you find a boat to sail on?
Despite such a large fleet, demand for crewing spaces is very high, so best to plan ahead if you want to "do the ARC". Here are our top tips for those with Atlantic ambitions.
Ask Your Friends
Most ARC boats are crewed by family and friends, so be alert for opportunities. Find out if any boats from your sailing club or marina are doing the ARC – see the ARC entry list at www.worldcruising.com/arc  – and go and say hello. Once registered ARC boats receive a large annual ARC flag and are encouraged to fly them en route to Las Palmas. Look out for the flags.
Join the Crew List
ARC organizers World Cruising Club operate a popular Crew-Connect website which puts the prospective crew in contact with owners offering spots, not just for the ARC, but for other rallies and independent cruises as well. Your chances of finding a good match will be improved by adding a detailed crew profile and a photo. Last year more than 100 crew found their places in the ARC via the site – www.oceancrewlink.com
Help Deliver a Boat
Remember that boats crossing with the ARC have to be sailed to the start in Las Palmas on the island of Gran Canaria. Owners often lack crew for the delivery, so offering to help sail south to the Canaries will put you into the group from day one. Even if your delivery boat can't take you across, you will be in the right marinas and bars to connect with other ARC sailors en route. Being aboard a boat already, and having a skipper on hand to vouch for your sailing abilities, will set you ahead of the many other prospects wandering the docks.
Pay for Space
There are always boats offering crew spaces on a pay-to-sail basis, which can be a good option. It means your space is fixed well in advance, allowing for time to book flights and hotels. Plus, with the right boat and skipper, it can be a great way to learn about ocean sailing. Check that your chosen boat is fully coded and insured for charter, then search the internet for reviews and recommendations. The ARC blogs on the World Cruising Club website are a great way to get a feel for the atmosphere on board a boat. Expect to pay between £3,000 and £4,000 for space. Charter boats often advertise with magazines like Yachting World. Also, contact World Cruising Club for a list of charter boats in the current ARC.
Advice for Prospective Crews
Be honest about your sailing skills and don't pretend you have more experience than you really do. Stretching the truth could put you in a difficult situation, and potentially put the lives of everyone on board at risk. Everyone prefers a willing learner than a false 'expert'! Ocean sailing is about more than sailing skills; you'll be living, eating and sleeping in a small space with relative strangers. Think about other transferable skills and attributes. Ask three or four people to be ready to provide references to prospective boat owners. Your referees could be other boat captains you've sailed with or people who can vouch for your character. Prepare a Sailing CV to give to potential captains, and make sure they can reach you via a mobile number or an email address.
Have your own modest sized kit bag with your gear for the trip. Don't overload – less is more. Bring your own follies and lifejacket unless the skipper has advised otherwise. Make sure your passport is in date for at least six months beyond the period you expect to be sailing and get yourself suitable travel insurance that specifically covers ocean sailing and the countries you will be visiting. And finally, make sure you have an emergency budget to pay for flights and a hotel room in case anything goes wrong.
Bon voyage!
User Comments
You must register first or be logged-in to leave a comment.
No comments for this post.