French Polynesia: Paradise No More?
Previous Page
Report Intro
Whenever we conjure an image of sailing the South Pacific, it's almost inevitable that an iconic name like Bora Bora or Tahiti will float to the surface. Perhaps we have Michener to thank for that, but also Thor Heyerdahl, Robert Louis Stevenson and many others have planted the dreams of French Polynesia in our heads. However, in recent times there has been a great deal of attention drawn to these islands, and much of it unflattering in these times of Covid-closed borders and pandemic-stunted dreams. Current opinions about French Polynesia for cruising boats range from "C'mon in – the water's fine" to "It's already too crowded – sail on by." The reality, out on the water, probably lies somewhere in between.
Last Update - December 26, 2021
Report Content
Noonsite has asked three cruisers, that have been in French Polynesia for a significant amount of time, to weigh in with their views on the current situation in the islands for visiting yachts.
………………………………………………………………………………………………………………………………………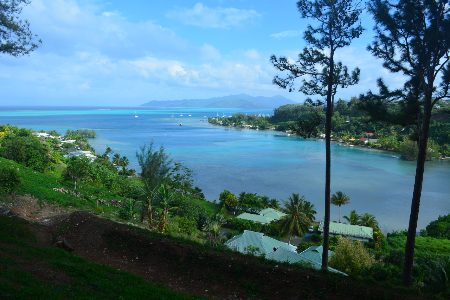 Olivier Meurzec
French cruiser Olivier Meurzec and his wife spent 13 years cruising the world, visiting 35 countries, and have been in Polynesia since 2015 having moved ashore and settled in Raiatea. Still using their yacht "Mary Ann" to enjoy cruising locally, Olivier is in contact with a lot of sailors, both local and some transients. For a while he was very involved with the AVP (Association des Voiliers en Polynésie).
Polynesia has this tremendous image of paradise on earth: clear, blue skies, beautiful lagoons and mountains, crystal clear waters and the loveliest people. Although this is still true in some parts, and certainly is still felt that way for 6-star tourists flying into Bora Bora, it unfortunately does not reflect the experience for many a sailor in large parts of the territory.
Paradise No More?
In 2014 the government decided that the sailing community could boost tourism income and changed the rules of stay for boats from 6 months to 3 years. The rational was simple: the territory is huge, and it can easily accommodate a lot more boats. This policy was a resounding success as the boats that previously had to leave after one season (or import their boat at 30% duty!) now could spend 3 full seasons before heading further West (or import their boat at only 7% duty). Many made use of these changes.
As a result, the number of boats present in FP (residents plus transient) exploded to hundreds more than before. Absolute numbers are difficult to gather as there was no real statistics kept before.
The so called "36 months route", which supposedly spread these numbers over a vast territory, omitted to consider that all the transient boats (as well as most of the resident boats at one point or another) would stay in Tahiti: easy for getting spares, repairs, medical care and of course is the point of arrival and departure of international travel.
Tahiti already was quite saturated, and these massive new numbers led the situation to become untenable – made worse when the local authorities decided that the main anchorage near Papeete (Taina) was to be cleared due to a development project (which now lies dead in the water). Close to 100 boats were anchored there. No real alternative was offered as at the same time both marinas in Tahiti (Papeete Marina and Taina Marina) were already full to bursting. Boats ended up anchoring anywhere they could, the drama being further aggravated by the orders given to many boats to sail to Tahiti from wherever they were in FP as part of the Covid restrictions.
It is worthy to mention that between 2014 and today, not a single new infrastructure has been set up in Tahiti or Moorea to welcome these additional boats (besides a minor expansion, visitors pontoon for 4-6 boats and dinghy dock at Vaiare Marina on Moorea), and to that degree, the sailing community is now paying the price of overcrowding after being enticed to come in large numbers. There have been (and one is still in progress) plenty of marina projects, but all have – so far – been shelved because of some (sometimes very minor) objection from the local residents – the same that also complain that sailboats are obstructing their view of the lagoon and "pollute" the waters.
Result: chaos, contradictory orders from authorities ("move!", "stay!", "stay 48 hours only!", "don't anchor anywhere!", etc…) and increasingly rejections by locals.
Both the authorities and the media started pointing the finger at the large numbers of boats, and in Tahiti and Moorea (and some other places at the height of the Covid pandemic), the locals started seeing sailboats as parasites: "they ruin the view", "they pollute the lagoon", "they pay nothing", "they destroy the coral", "they drop their garbage anywhere and pick fruits from our trees", etc…
In truth, the locals have a point, as sheer numbers are overwhelming and no alternative is on offer. Some sailors, as in any community, are black sheep – drop their garbage, swim naked in front of local families, and pick fruits in trees (every tree belongs to someone in FP, and whereas the locals are very generous, they absolutely don't tolerate people "stealing" their crop) – and they (the black sheep) are the ones everyone remembers.
Airport Anchorage today
The clearing of the Taina anchorage in Tahiti has led to another small anchorage near the airport to become extremely saturated with boats, and in the path of the local fishing boats. This of course means more tension. I have received reports that some boats have returned to anchor at Taina, either the result of the usual lack of follow-through here (clear the boats and then forget to enforce), or the realization that the clearing move had led to serious complications. In any case, the airport anchorage is currently less congested.
Rather than try and pacify the situation, the local authorities, in particular the local maritime agency, confused everyone with contradictory communication. At one point in Moorea (the "sister island" to Tahiti, where many boats love to anchor), the mayor ordered all boats to move every 48 hours, while the central government prohibited any movement of boats! Another time, after a young boy was killed by a speed boat while swimming next to his boat in Moorea, the authorities prohibited sailboats from anchoring in Moorea, but speed boats are still permitted to speed!.
Moorea has recently issued a new "PGEM" – a sort of lagoon occupancy rule – which prohibits anchoring in all but a very few places, and implements a quota of 30 boats maximum on anchor in the lagoon (the small marina in Moorea already has more than 60 resident boats there). Moreover, of these 30 spots, 20 are in more than 25 metres of depth, making them unsafe most of the time. In other words, Moorea is now all but completely prohibited for sailboats. The only relief is that currently the PGEM is not fully enforced and the AVP has launched a legal challenge.
All this has led to a very unpleasant situation, spreading to all the Society Islands (Tahiti, Moorea, Raiatea, Huahine, Bora Bora): insults from locals (Tahiti, Raiatea, Huahine), anchor lines cut by some locals (Raiatea), physical violence against sailors (a female was seriously battered in Huahine), while the police or gendarmerie does precious little to take action. Hence more locals take the law into their own hands, and it is clear that this will lead to more trouble ahead.
The media, for the most part, continues to amplify the increasing rejection of sailboats by the local population.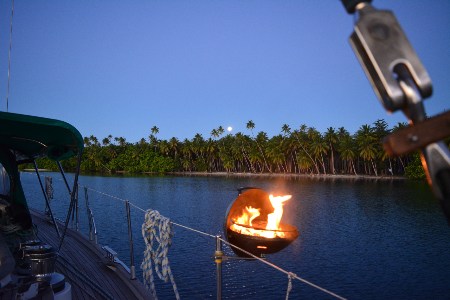 So, paradise no more? It depends where you go.
Thankfully, some of the islands are still welcoming sailors:
• The Marquesas for the most part have understood that sailboats are not polluters, and provide jobs and income.
• Most Tuamotu islands have enough space to not be bothered by boats on anchor (as long as they watch their anchor and chain and don't damage the coral) – some like Fakarava recently prohibited anchorage in the nicer part of the island and now imposes diving with a local operator, but it is an exception.
• The Australs and Gambiers are still very hospitable to well behaved sailors.
The concern is of course that, as Covid restrictions start being lifted (in a limited way) in the Pacific, more and more boats will continue to arrive, partly encouraged by the various Pacific Rallies. This is not desirable.
The territory badly needs more infrastructure: marinas, shipyards, dry storage, mooring fields, and as long as there are no such facilities, the situation will only get worse. The authorities have, as a first move, decided to reduce the "36 months route" to a 24-months stay permit. This might help, but it's not enough. I believe it will be extremely difficult to reverse the situation, the more so as there is no such attempt from the authorities or the media.
So, paradise no more in the Societies Islands, clearly, and one should think twice before deciding to head down to Tahiti: there is no room for newcomers.
Olivier Meurzec
SY Mary Ann
………………………………………………………………………………………………………………………………………
"Capall Mara" at Raroia, Tuomotus.
John and Sally-Anne Potter
Long-term liveaboards John and Sally-Anne Potter arrived in French Polynesia in May 2019.
We have had, for the most part, a very enjoyable experience. But I agree with Olivier – there is trouble in paradise. All of those facts about overcrowding are accurate. COVID has brought things to a head but the feelings existed before.
John and I have been cruising 24/7 since 2005. We have visited 50 countries by yacht, spend money in the local economy and always respect local rules and customs.
We have never before been made to feel unwelcome, however back in July we had a disturbing experience.
We were anchored in a bay on the west of Raiatea in order to visit a local restaurant for lunch. There were no moorings so we anchored in deep water well clear of the reef. When we returned about two and a half hours later, one of our lines had been cut. It was part of the apparatus to lift the dinghy.
A local boat came up and a young man told us it was a private bay and we could not anchor. He denied any knowledge of the cut line. It left a very bad taste in our mouths after a very nice, very expensive meal at a restaurant where we were one of only two tables occupied for lunch. There were at least 5 local people employed there.
Are there private bays where anchoring is not allowed and if so how are they designated? A simple courteous warning would have had us move on. Damaging our boat was a low, cowardly act.
We went to the Gendarmerie Nationale in Uturoa, Raiatea, to report the incident armed with our account of the incident translated into French. The female officer said I needed to pay a fee to anchor and that it was a private bay (Baie Pufau. I was taken aback and said we had no knowledge of the fee and I had not heard this from anyone else. She
spoke little English.
Her superior came out. He spoke more English and said there was a fee. He said the national government should tell cruisers. He said we could only anchor for 2 nights anywhere. I asked what would be done about the damage and reluctantly, the younger officer wrote an account that only vaguely resembled mine.
I was directed to DPAM, presumably to pay the fee. I felt like I was the criminal. At DPAM a very nice lady said there was no fee but we can only anchor for 2 nights anywhere in the lagoon. She said the Baie Pufau is not private but is a very bad place!
She sent all the paperwork to Papeete – we received no reply. There is no rule to say anchoring is allowed for two nights only.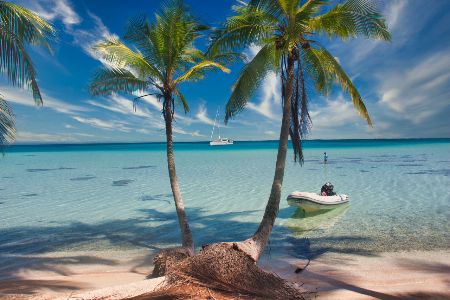 In November this year it was announced that the local officials were investigating putting down mooring and charging a fee; as is done in Bora Bora.
We have met lots of local people who say it is just a few who are against boats in their lagoon, but that few are vocal and for John and I it is awful to feel such animosity. There is no easy solution in progress. An influx of more boats is not what is needed.
One more thing I wanted to add is that the sense of entitlement held by many cruisers is offensive. We experienced this during the most recent lockdown that we spent in Bora Bora. Movement of yachts was prohibited as was movement for locals. Cruisers moved at will around Bora Bora as if 'it didn't really matter'. This in the face of locals who couldn't move. I applied for permission and was denied. It makes me very mad!
We will go as soon as we can when the cyclone season is over.
Sally-Anne and John Potter
SY CAPALL MARA
………………………………………………………………………………………………………………………………………
Cook's Bay, Mo'orea
Jan Alexander
Jan Alexander and her husband arrived in FP on their Corbin 39, Hanna, in July of 2018 and spent most of their first year in the Marquesas. With no fixed timeline for cruising and no fixed itinerary they have been in FP ever since. Not intending to stay in FP much longer, they are nevertheless in the process of paying the 7% import tax on their boat, as borders to the west are largely still closed and sailing back to the Americas is not in their plans.
Let's start with some indisputable facts. There are a lot of extra boats here. Many of us were here in March of 2020, preparing to move west after cyclone season, but alas that was not to be. Add to those of us "stuck" here (honestly not too much of a hardship) the boats which were already legitimately underway from the Americas, bound for French Polynesia (and then points west) when borders started slamming shut left and right.
Even though many people, like the ARC World ralliers, only came in on 90-day visas (and subsequently had to leave), their boats were stuck here, mostly taking up premium space at the very few marinas and boatyards in the territory. We all survived the first lockdown, but tensions were high, the future uncertain, both ashore and afloat. That brought us pretty close to two-years-worth of boats stacked up.
Now exacerbating the situation, in spite of closed borders, cruising boats have continued to arrive throughout the pandemic, proceeding with their own preconceived agenda rather than looking at the bigger picture of a strained welcome from our Polynesian hosts. Not too surprisingly, there are echoes of discontent across social media every time the local press mentions the sailing community. It may be from a small segment of the population, but it's undeniable. Partly generated by xenophobia, part based on misconceptions, part jealousy perhaps, and a handful of other reasons, but whatever the basis, it weighs on us.
The anchorage at Rikitea.
I have spoken with many cruisers who have arrived in French Polynesia from 2018 through the present. We were in the Gambiers in early 2021 and saw a steady stream of dozens of boats arrive in the remote port of entry of Rikitea. A large majority, regardless of when they arrived here, will say they have never been made to feel unwelcome. For the most part, I would say the same, though as a fluent French speaker, I pick up on language that English-only cruisers would not hear. On the flip side, I personally know 5 boats who have been victims of theft, vandalism, physical or verbal assault, so yes, there is real and documented aggression against cruisers. Is it everywhere or pervasive? Is it new since the Pandemic? No, but just like the backlash on social media, it's enough to give pause for reflection.
I think the causes for this uncomfortable situation are complex and date back further than the pandemic, but here we are today, trying to make the best of it.
There are still many places where anchorages are plentiful and the welcome is sincere. The Gambiers, for example, is not at all a tourist-oriented archipelago, as pearls are the main industry. The few dozen cruising boats are spread out around the off lying motus and tend to congregate at the main island when the supply ship comes, every 3 weeks or so. There always seemed to be a bit of awkward jockeying for the modest supply of fresh vegetables when they arrived, but on the other hand, several residents were quick to offer fruit from their gardens, usually not wanting anything in return. There are no boating facilities, and in fact barely a basic hardware store, but there are stunning remote anchorages to enjoy.
One can say much the same for most of the Tuamotus, with a couple of notable differences. There is virtually no fruit to be given or traded in the old Polynesian tradition and the welcome more subdued. Also in the larger islands, where there is more airplane-based tourism, it can sometimes feel like we are just another commercial transaction, tolerated but not appreciated, though we have indeed enjoyed some very memorable personal interactions. Like the Gambiers, there is little infrastructure for boats, although a group of young entrepreneurs in one small atoll have formed a yacht service business and there are concrete plans for a small marina there. The boatyard in Apataki has been investing in new equipment and clearing new space for boats on the hard. So on the whole, the Tuamotus remain delightful cruising grounds.
I can't speak to the situation in the Australes, other than to mention second hand reports of overcrowding at the most often-visited island. Last season there were up to 15 boats in the lagoon, compared to a previous average of 5 or so and some in the community were reported to be unhappy about this number of boats.
The Marquesas have seen very few tourists since the start of the pandemic and so cruisers remain an appreciated, though small, source of income for farmers and artisans alike. After the temporary and stressful overcrowding in the main harbours there during the first Covid lockdown, Nuku Hiva is back to its modest prepandemic number of boats, about 30 these days, in a bay capable of handling 100. Nuku Hiva boasts a new chandlery, run by liveaboards who came in as cruisers and found themselves "at home" there. As the first port of call for most boats arriving from the Americas, I'm sure this will be a welcome addition to Nuku Hiva's appeal.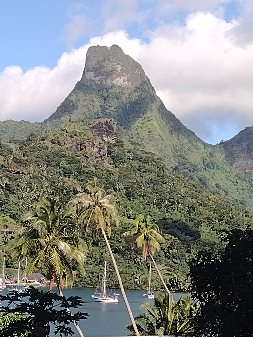 This brief tour of the archipelagos leads us to the Societies, where the relationship between Polynesians and transient cruisers is the most complex and full of tensions.
The Societies are where boats and boaters need to go for goods and services; medical care, skilled tradesmen of all sorts, boat parts, everything that a metropolis of the South Pacific has to offer. It is also where the anti-boater sentiments run strongest and loudest. In Tahiti, the marinas in and near Papeete are mostly full and take no reservations. The only authorized anchorage in that area is also problematic. It is two miles to the nearest dinghy dock, and it's being transformed into a mooring field which gives priority to local boats with long term contracts, like the existing mooring fields. The big picture there shows a lack of understanding of the needs of transient boats on behalf of the authorities. There has been no significant increase in infrastructure since the government started allowing boats to stay up to 36 months before import duty is due.
Mo'orea, the "sister island" just next door to Tahiti has just had draconian and unworkable restrictions imposed on its anchorages. They are not being enforced at the moment, and are being contested on a couple of fronts, including by the AVP, the local sailing association, but they are law. What some may not understand is that these restrictions were imposed by the FP government, not the government of Mo'orea, and they are much stricter than what the local committee on Mo'orea had recommended. To me this indicates a serious disconnect at the government level. On one hand, it claims to actively encourage nautical and sustainable tourism, yet on the other it has just signed sweeping anti-boating legislation into law, with total disregard for the input of the community affected by it.
Bora Bora has already all but forbidden anchoring, in favor of moorings, mostly in locations not convenient to goods and services in the main town. Raiatea and Huahine nearby are actively discussing plans to do the same.
So, in pretty much all of the Societies there is movement at the government level to place unnecessary restrictions on what some here call "anchoring in the wild". Most of us consider this just anchoring in pleasant surroundings, rather than being pigeonholed in a marina. Even if we wanted that (I think most cruisers don't) there simply isn't space. I have seen plans for a proposed marina in Huahine. They're just finishing an expansion of the existing marina in Mo'orea (whose slips are pretty much already spoken for). There is a tiny new one, with a handful of moorings, also in Mo'orea, but these don't come close to meeting the needs of transient boats. They are more likely to become places for resident boats on a permanent basis or where people store their boats while they fly out for a visit "back home". On a government level, there's a faction which says nautical tourism is an important sector to develop, as they keep giving tax advantages to charter companies, yet also a blindness to what we long term nautical tourists really want and need.
To me, the most disappointing part of this whole "cruising-in-paradise?" picture is not the government policies, but rather the resentment of our presence on a personal level. There have been thefts and aggressions which predate the pandemic, and even formal demonstrations against our presence. It's true that, like in every segment of the population some boaters exhibit bad behavior, we all get painted with the same brush of "They pollute the lagoon, physically and visually", "They're squatters", "They use our services without paying", "Cruisers go home" and more. To be honest, it's a bit painful. We do our best to have positive interactions with everyone we meet, to have a modest footprint, to tell people here how lucky they are to live in such a stunning place and how much we appreciate it. At the same time, when people ask us how long we've been here it feels like they're really asking, "Why are you still here?" and requires kind of a defensive answer that borders to the west are virtually all still closed.
Especially when Polynesia has a reputation for its graciousness and generosity to strangers, with an ever-higher concentration of cruisers, we are perhaps wearing out our welcome. While I would never suggest bypassing this spectacular cruising area, I would say it no longer has its arms wide open to us. There will always be some friction between some residents and some cruisers, so I think the advice I would give to anyone planning to sail this way is to be aware of what and where the underlying issues are, to tread lightly, and to be the most gracious guests you can imagine.
Jan Alexander
SY Hanna
………………………………………………………………………………………………………………………………………
Footnote:
Just announced as we publish this article, French Polynesia will no longer extend the period during which foreign vessels can stay in the territory. During the pandemic, the authorities had accepted to extend the normal 24 months, given the fact that all countries West of FP were closed. Extensions were granted up to the end of 2021, and will NOT be further extended. This means that those boats that should have left earlier, will now either have to leave by December 31st (problematic as it's the middle of cyclone season), or import their boat by paying the 7% tax on the value of the boat (value set by a maritime expert). The AVP is trying to challenge this, but so far to no avail.
Update: 9 January, 2022 from AVP
Customs has just announced that they will extend the permission to stay for yachts stuck in FP to end of March 2022 (as opposed to end of December as announced previously). This is no doubt the result of AVP's actions towards this aim. At least nobody will have to leave to face a cyclone in the Pacific! Unfortunately, many have already paid the 7% import tax to avoid having to leave, and now have to decide whether they will stay longer or just write off the value of the tax and continue their trip anyway.
………………………………………………………………………………………………………………………………………
We welcome feedback from other cruisers in French Polynesia – simply post your comment below.
………………………………………………………………………………………………………………………………………
Related Links:
………………………………………………………………………………………………………………………………………
The opinions expressed in this article are the author's own and do not reflect the view of Noonsite.com or World Cruising Club.
Places
Apataki
,
Australs
,
Bora Bora
,
Clipperton Atoll
,
Fakarava
,
Fatu Hiva
,
French Polynesia
,
Gambiers
,
Hao
,
Hiva Oa
,
Huahine
,
Makemo Atoll
,
Mangareva
,
Manihi Atoll
,
Marquesas
,
Mataura - Tubuai
,
Maupiti
,
Moerai - Rurutu
,
Moorea
,
Nuku Hiva
,
Other Atolls (French Polynesia)
,
Papeete
,
Raiatea
,
Raivavae
,
Rangiroa
,
Rapa
,
Society Islands
,
Tahaa
,
Tahiti
,
Tahuata
,
Taravao - Port Phaeton
,
Tikehau Atoll
,
Tuamotus
,
Ua Huka
,
Ua Pou
,
Update History
26 Dec, 2021: Added link to announcement about anchorage restrictions on Huahine (23 Dec.)

User Comments
You must register first or be logged-in to leave a comment.