France: Navigating the Canals and Rivers in a Small Yacht
After dealing with inquisitive Orcas off the coast of Spain while on a recent yacht delivery, Martin Evans decided to take his yacht back to the UK from Greece via the canals and rivers of France. Unfortunately, he found this idea wasn't without its problems and complications either.
Published 2 years ago
After dealing with a pretty serious Orca interaction back in June on a delivery yacht, I felt that I would undertake a different mission home from Greece to the UK on my little yacht.
With the current ban on boats under 15m sailing around the tip of Spain with the Orca problem, I was more than happy to take my boat up and through the rivers and canals of France. I was hoping that I would be able to sneak through with my 1.6m keel and manage to get through to the Seine and from there north to the English Channel and Brighton as my final port of call.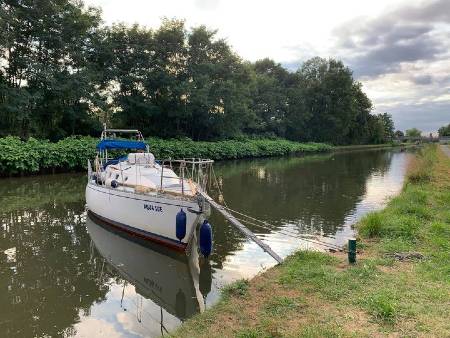 A Word of Warning
If anyone is considering doing this, just a word or two of warning. There hasn't been much traffic doing this route since Covid began. When I pulled into the small marina in the Confluence in Lyon, the Capitanaire said we were the first British boat he had seen in months. The Rhône wasn't too bad, neither was the Saone River.
But the real problems began at the entrance to the canals. I should have turned around and headed straight back down to Port Saint Louis from there. The depth being the issue. Unfortunately I thought that since the guidebooks, websites and various other publications I had read all stated 1.8m as the maximum allowed draft, I would be ok with my 1.6m.
Shallow Water and Lots of Silt
I'm sad to say that I was very much wrong. Very much. I would estimate that in parts there is no more than a meter of water in the full canals. The silt that has built up is tremendous in some places. The greater majority of stopping-off points are unavailable to anything but shallow barges and suitable craft for the canals and rivers.
I can't blame anyone other than myself – but the maintenance of the canals has been seriously neglected for a few years. If the shallows don't get you, then most certainly the weeds will. There were some stretches that fouled my prop completely and forced some serious overheating and stress on my engine. Breaking down on the canals is a bit of a nightmare. Especially when you are grounded and have a fouled prop and an overheating engine.
Back to the UK by truck…
So if you are thinking of doing the Canal du Centre and Canal Lateral a la Loire and do not have a lifting keel, or at the very most 1.4m under your boat, then my advice would be to reconsider your options.
I managed to literally plough through the silt to a boatyard near Pont Les Vanneaux that has a crane and I'm now negotiating to have my boat lifted and transported by truck back to the UK.
My boat has been more a tractor than a "motorboat" the past few weeks. The time it takes to negotiate all of this is significantly longer than anticipated, even though I intended to rush the trip as much as possible. There are simply no options for rushing as obviously you don't want to leave a destructive wake, plus the distance between Canals being so short, you really are never able to motor outside of the operating hours to do a little "catch up".
And then there's the Mast
Again, this is my own inexperience and my own fault for being in this situation. But one more thing I thought important to mention to anyone considering this trip is the mast and its removal. I had mine unstepped in Port Saint Louis De Rhône with the plan of it being transported to a yard in the north, in Le Havre or Rouen.
What I wasn't expecting was the lack of demand for this service. Due to no masts needing to be sent north at the time I unstepped, I was quoted well over 3500 Euros to have my mast transported on its own. Nearly the same cost as sending the boat and the mast from there included. To date my mast is still there in storage and it's proving to be quite an inconvenience as to how I'm going to get it back to my boat now that it is being trucked back to the UK.
More Complicated than Anticipated

So, if anyone has recommendations for transport companies, please do leave a comment. I am pretty desperate to find someone at this point and have spent considerable time gathering quotes and numbers to contact, either back to the UK or indeed the north of France where I can step the mast and sail back over.
My experience of the French waterways has proven to be a lot more complicated than I had anticipated. Nobody's fault but my own.
Martin French
SY Aqua Sue
………………………………………………………………………………………………………………………………………
Related Articles:

………………………………………………………………………………………………………………………………………
The opinions expressed in this article are the author's own and do not reflect the view of Noonsite.com or World Cruising Club.
………………………………………………………………………………………………………………………………………