Cruising Life Lessons: Storing and Handling a Liferaft
Previous Page
Report Intro
A life raft is an essential piece of safety equipment for yachts venturing offshore and careful consideration is needed when deciding where to store it on board. Retired policeman and now full-time cruiser David Geraghty provides a light-hearted, but cautionary tale, about what happened when he was replacing one liferaft for another that he felt better-suited his requirements.
Last Update - November 22, 2022
Report Content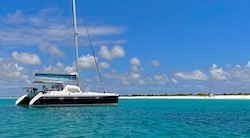 Prior to sailing off into the sunset from Bermuda a few years ago I 'acquired' an eight-man life-raft. It was a little too big for my needs and just out of test but it was a big improvement on the other one that I didn't have.
I manhandled it aboard AURORA, my 44' Privilege sailing cat, and encouraged it into a small locker under the cockpit floor, firmly closing the lid behind it hoping never to require its services.
Fast forward to Grenada a couple of years later. A fellow cruiser offered to sell me a much newer life-raft, which was more size-appropriate and still in test. The cheap price made this an offer I couldn't possibly refuse, so I eagerly handed over my beer tokens and conveyed my new purchase back to AURORA intending to find a local needy fisherman to whom I could later donate my old raft.
Removing the old
Putting my new purchase to one side, I opened the locker lid and climbed in, planting my feet shoulder-width apart and hoping that my aging back was up to the task of removing the old life-raft. I wrapped my arms around the large bundle and managed to grab hold of a rope, or heavy string, which lay out of sight behind it…and I heaved.
It has since dawned on me that another name for a rope or heavy string, especially when associated with a life-raft, is a 'rip-cord'.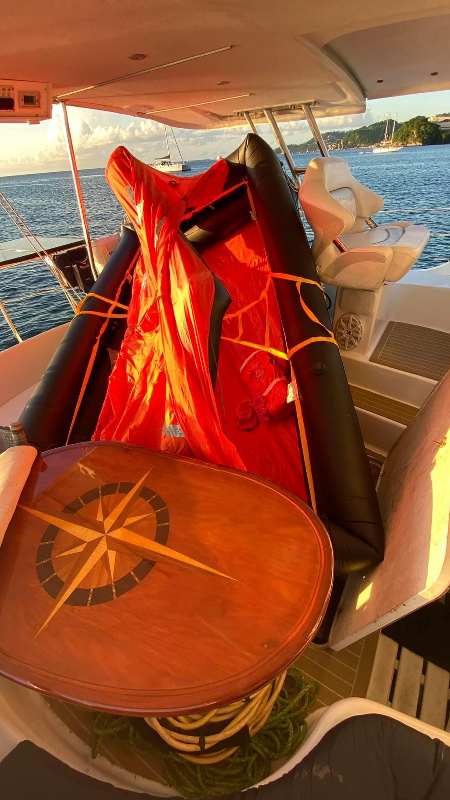 The loud pop made me jump, but not as much as when the inflation canister detonated, suddenly erupting the life-raft and throwing me over backwards out of the locker.
When I managed to get to my feet, I dived head-first back into the locker hoping to get the ambitious little craft out of the confined space before it reached its full potential.
However, having recently obtained its liberty, it was far more determined than I had imagined and despite my best efforts, it promptly filled every void and unused space in the cockpit.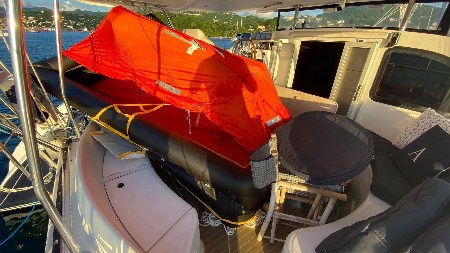 An Eventful Experiment
I have learned a couple of things from this eventful experiment. Firstly, life rafts are likely to work exceedingly well even if they have not been tested for several years. Secondly, to replace an inflation canister and repack a large life raft costs almost as much as buying a new one.
This story does however have a happy ending. I have a new liferaft, which I hope to never use and there is a local family with three young children who are very excited to try out their new paddling pool!
David Geraghty
SV Aurora
………………………………………………………………………………………………………………………………………….
About the Author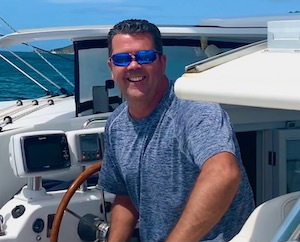 David served as a police officer in Bermuda for 30 years. Several years prior to retirement he purchased his first sailboat, a Privilege 435, which was in need of extensive renovation. He taught himself to sail and embarked upon a total refit project, all of which he did himself. During the course of the refit, David slowly formulated his retirement plan and three years ago set off from Bermuda to the Caribbean in the newly named AURORA, where he has been cruising full time ever since. He is currently in Sint Maarten.
………………………………………………………………………………………………………………………………………….
The opinions expressed in this article are the author's own and do not reflect the views of Noonsite.com or World Cruising Club.
………………………………………………………………………………………………………………………………………
Find out all news, reports, links and comments posted on Noonsite, plus cruising information from around the world, by subscribing to our FREE monthly newsletter. Go to https://www.noonsite.com/newsletter/.
Places
User Comments
You must register first or be logged-in to leave a comment.
No comments for this post.