Colombia, Caribbean Coast, Santa Marta: Feedback from Cruisers
Also, see comments from cruisers posted at the bottom of this report.
Published 6 years ago, updated 4 years ago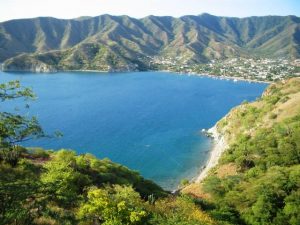 Posted April 2017
Marina Santa Marta for the Hurricane Season:
We stayed the hurricane season 2016 at the IGY Marina Santa Marta from July to December 2016. The marina was 5 years in operation. We travelled Colombia extensively and knew the boat was safe and protected. We enjoyed our stay and can share our experiences as follows:
The marina offers modern swimming platforms with water and electricity. The girls in the office are very friendly, competent and helpful. They speak fluent English. The marineros are competent and helpful too.
A small shop offers basic stuff at inexpensive prices and the social area with a BBQ is inviting sailors to meet together. An air-conditioned Captains Lounge is great if it becomes too hot.
Berth prices can be checked in the internet http://www.igy-marinasantamarta.com/en/marina/rates-prices/ [Broken Link]
Check actual discounts with them by email with Kelly Hernandez: [email protected]
Clearance procedures are managed by Jonathan. This is a complimentary service provided by the marina. Jonathan takes over all necessary steps. You just need to give him your passports and ship papers. An agent is no longer necessary here. Great service.
The marina is a short walk away from downtown Santa Marta. Plenty of Cafes and Restaurants are nearby. A supermarket (Carulla) is 5 minutes walk away.
The marina management, however, does not respond to suggestions made by visitors. The washrooms were not clean always, due to a lack of organization and control. This does not match with IGY standards.
Negative: Due to its close location to the town, loud music can disturb your sleep, especially during high touristic seasons Easter holidays, July/August and December/January.
Sometimes there is air pollution with charcoal dust from the nearby port. The dust, however, can be cleaned from the deck easily with water. During heavy rainfalls, water is coming into the marina basin from the street bringing all kind of garbage and dirty water.
Ship Chandleries are not existing in Santa Marta. The marina just offers a very basic stuff. However, we found plenty of parts and material in the many Ferreterias (hardware stores) in town. (Calle 11/Avenida 11)
The boatyard next to the marina (Taller Marina Santa Marta) is part of the marina but has a separate management. They have a modern travel lift. Obviously, they are not interested to have visiting sailors. For our 38 feet boat, they quoted US$ 978 for hauling out, launching and 4 days on the hard. We tried to negotiate with them informing (proving) that in Grenada or Trinidad or Panama we will pay less than US$ 400. No result.
Michael
SV FantaSea
04/2017
Posted October 2015
A comprehensive report on a 3 week stay in Santa Marta Marina
We just spent 3 weeks at the Santa Marta IGY marina. Here is what to expect. The amenities on the grounds include a small convenience store with ice, alcohol, chips, and drinks. They have a small bar in a plain wooden shack that is manned at seemingly random times. They have two washers and two dryers that run on tokens bought at the convenience store, at the moment costing 7500 pesos each. Kelly at the desk speaks excellent English and I would recommend her advice regarding taxis and trips inland. She scheduled us with a taxi driver to take us to Minca and advised us on what to do in the area. Kelly can arrange for someone to clean your boat bottom and do other simple tasks, but otherwise, there is not a ton of maintenance services available.
They say you shouldn't drink the water. We did and were fine, but note that we have a UVC filter on board and had already experienced some traveller's diarrhoea previously in Cartagena, so maybe we got used to it. We were left with some particulates in our water tanks after 3 weeks there. Not sure what they are, but we haven't died yet. The fuel dock has easy access and fuel seems good.
I would ask if the marina is holding any events – while we were there they had a fun barbeque one weekend that was well attended by cruisers and had excellent food. They occasionally rent out the large parking lot at the marina for large parties, so there is the possibility of loud music at night. They had a large function while we were there, complete with a concert stage, but overall, the acoustics are such that it wasn't really that bad. It all depends on your tolerance of mariachi music.
Currently, a few operators run boat tours through the marina several times a day. I have no idea what they could be looking at, but prepare to be a tourist attraction! We would wave at them and try to make them laugh as we had our sundowners in the evening. Security consists of a guard and a gate (which is easy to get around) at the front entrance, but we never saw any patrolling of the docks at night. There are a lot of people cleaning and maintaining the pleasure boats during the day, though, and that offers some protection. Nothing was stolen and we never saw any suspicious people walking around.
Wi-Fi is included and consists of a weak, slow, intermittent network theoretically available from the boat, but a reliable and very fast network with good access from the air-conditioned Captain's lounge. The lounge has a TV and book exchange. They use a thumbprint recognition device for lounge entry that worked erratically, at least for my fingers. Sometimes it would let me in after identifying me as "Luis." That is not my name. Showers and bathrooms are protected by the same technique.
There is an intermittently-working ATM by the coffee shop near the marina, but nothing close. Getting groceries was a cab ride to the SAO Olympica until the day before we left when they opened a brand new Carulla four blocks from the marina. Usually, Carullas have ATM's, but we did not verify this the one time we shopped there. Although smaller than the SAO, Carulla has the much better selection and quality.
For a nice night out, I would recommend eating at the PanAmerican, which is in the big yellow house/hotel by the traffic circle just outside the marina. The other restaurants you can walk to are decent as well, although service can be slow. Of note, many of the restaurants in the Santa Marta guide on this site, such as Ben and Josep's, have closed – there is a lot of turnover in this town. Check TripAdvisor before you go.
We weren't aware of this until it was too late, but you also are granted access to a swimming pool on a military base that is a taxi ride away. The kids swam at the beaches nearby which are not award-winners but offer nice sunset views– the sand was a bit mucky from the soot, but they liked it that way. We would get one of the covered shacks for a varying price between 6-10 mil. The beach vendors are plenty but are in general not very aggressive: "No, gracias" works well.
The downside of this marina is that there are ships upwind of the marina that take on coal and spew diesel soot everywhere. We had to wash sticky black dirt (we think it is diesel soot) off of our boat every few days (just a rinse won't do), and it would turn the bottom of your feet black. Yuck!
Melinda Burnett
Posted January 2015
An update on clearance costs and procedures
We visited Santa Marta marina in Colombia in September 2014 and stayed for three weeks, departing in mid-October. The official requirements for boats visiting Colombia are changing quite often, but this is what we found when we visited.
Clearance Procedures and Costs
Boats still have to use an agent to book into the country. We used Dino as he was recommended by the marina who contacted him on our behalf, and he turned up about an hour later to start the arrival procedure. He charged us 485,000 COP (about US$200) which I think is his/the standard rate. He speaks very reasonable English, is cheerful and helpful, both with the official business and with anything else that you want to know about.
The formal requirements that Dino sorts out take several days to complete, but ours seemed to be straightforward. The Customs officer may do a personal visit to the boat, but this sometimes does not happen if he is too busy. The following requirements are all sorted out by Dino:
– The temporary import permit for the boat is valid for one year.
– The immigration visa is valid for 90 days (not 3 months). This can be extended, but the application to do so must be started before the end of the 90 days.
– The cruising permit, which is required even if you are staying in the marina and not going anywhere else, is valid for 2 months. If you want to extend this there is a charge of 190,000COP which Dino can assist in sorting out.
– Dino also sorts out the zarpe when you want to leave (no further charge). He needs a minimum of 2 working days to sort out the paperwork but is good at explaining everything needed.
Dino suggested that your zarpe from your port of departure should have on it your intended port of arrival in Colombia. That is if you are intending to go to Santa Marta, put Santa Marta as your next port of call. Dino told us that if you put Cartagena and then arrive in Santa Marta, the authorities will be very suspicious as to why you have gone somewhere other than the place on your paperwork. Also, Santa Marta and Cartagena are two separate port authorities. If you leave Santa Marta you need a zarpe from there to enter Cartagena and you need to use an agent again to complete the port arrival procedures. When you leave Colombia you can anchor off the coast or islands en route to your next destination providing that you do not go ashore.
The Marina and town
The marina in Santa Marta opened in 2011 and it is smart, clean and well maintained. There is a security guard on the gate 24 hours a day. The receptionist in the office, Diana, deals with visiting boats, speaks good English and is very helpful. From early morning until late evening you can usually find one of the dock assistants if you need anything or have any questions, though they do not speak a lot of English. There is a shower/toilet block next to the office which is ok but gets very over-used at weekends as the marina is also the base for a lot of local motorboats. The main problem in Santa Marta when we were there was that the water on the pontoon was not drinkable – the city water filtration plant was not working properly. The marina seems to be a reasonable place to leave a boat while travelling inland and that is certainly very worthwhile.
Santa Marta is an interesting town, has good supermarkets and other shops, and good street food vendors. Colombian fruit and dairy products are particularly good, alcohol is limited in choice and expensive.
Jane Francis
s/v Pammy (UK)
Posted January 2014
Agent and Marina Highly Recommended
We have been at Santa Marta marina for the last 7 weeks. The marina here is first class. The staff are friendly, security is top notch and almost anything can be organised. At present they are building a haul out facility which I believe will be ready early 2014.
This is a great stop for cruisers on route to the San Blas islands or Cartagena. It is an interesting city and the marina is almost in the city. It is a great stop off if you want to do the four-day trek to the lost city.
When arriving in Colombia you must use an agent to clear in and out. You cannot do this on your own. I would like to take the opportunity to recommend Dino from "Dino Shipping Agency" email: [email protected] Dino provided us with a friendly, professional and easy clearance. Not only did he handle our entry and exit into Colombia but he was most helpful with any other problems we had. His English is excellent and his fees were totally transparent. Dino sorts everything out and there is no need to do anything. He can be often seen walking the docks late into the evenings arranging clearances for yachts or ask the office to contact him for you on arrival.
Paul, Joyce and Darien Baillie
s/v Byamee
See another positive report about this marina posted February 2014 here.
Related content